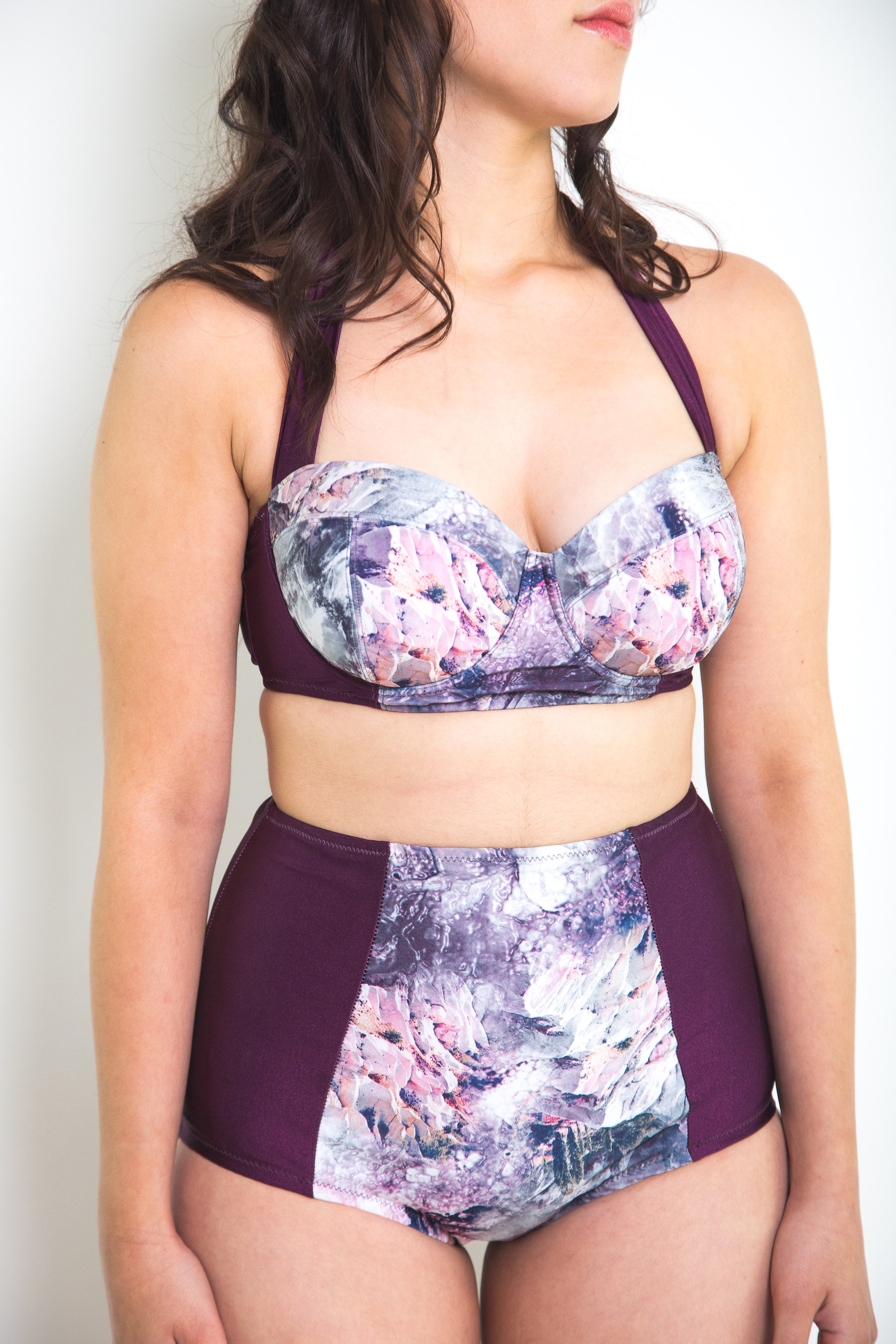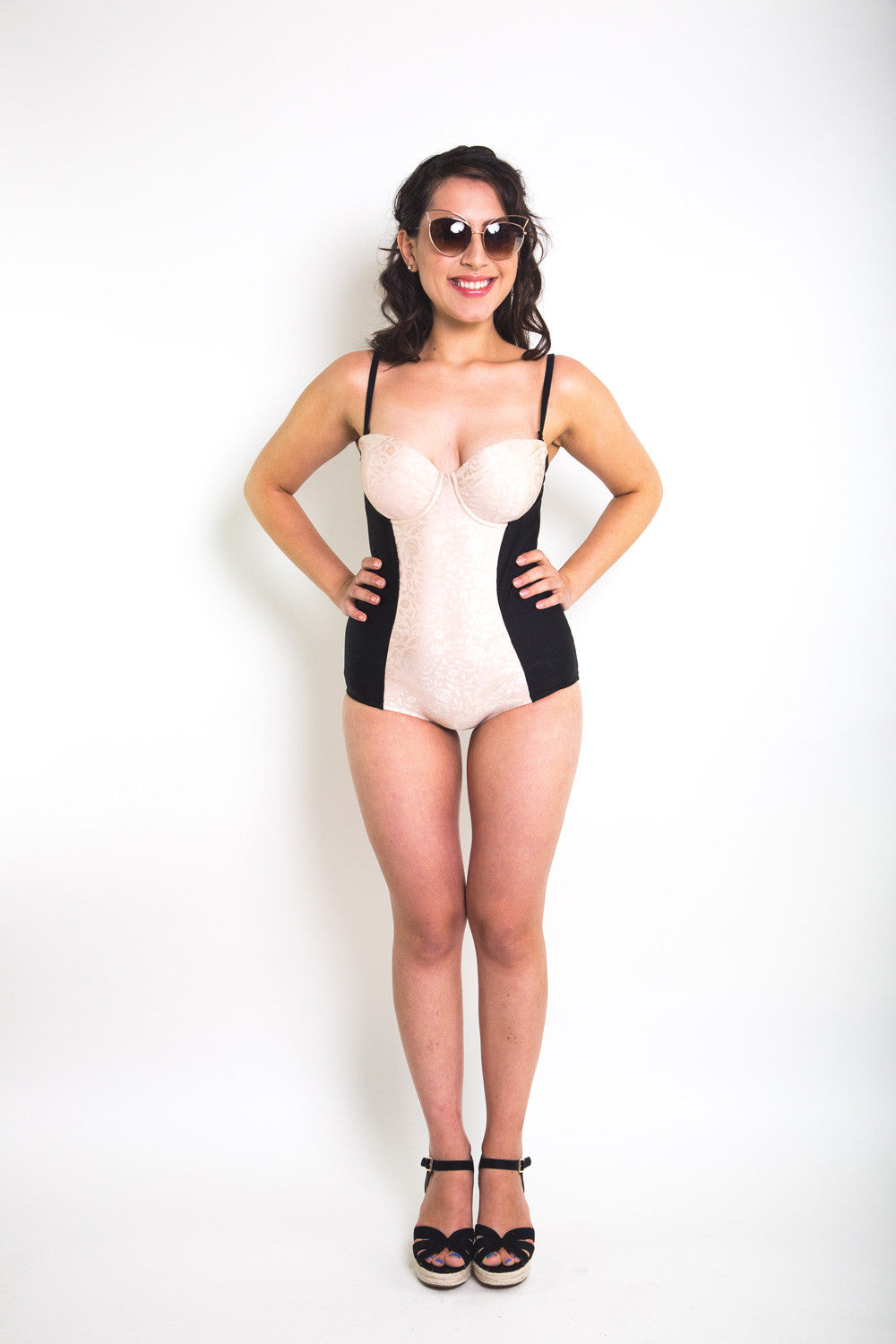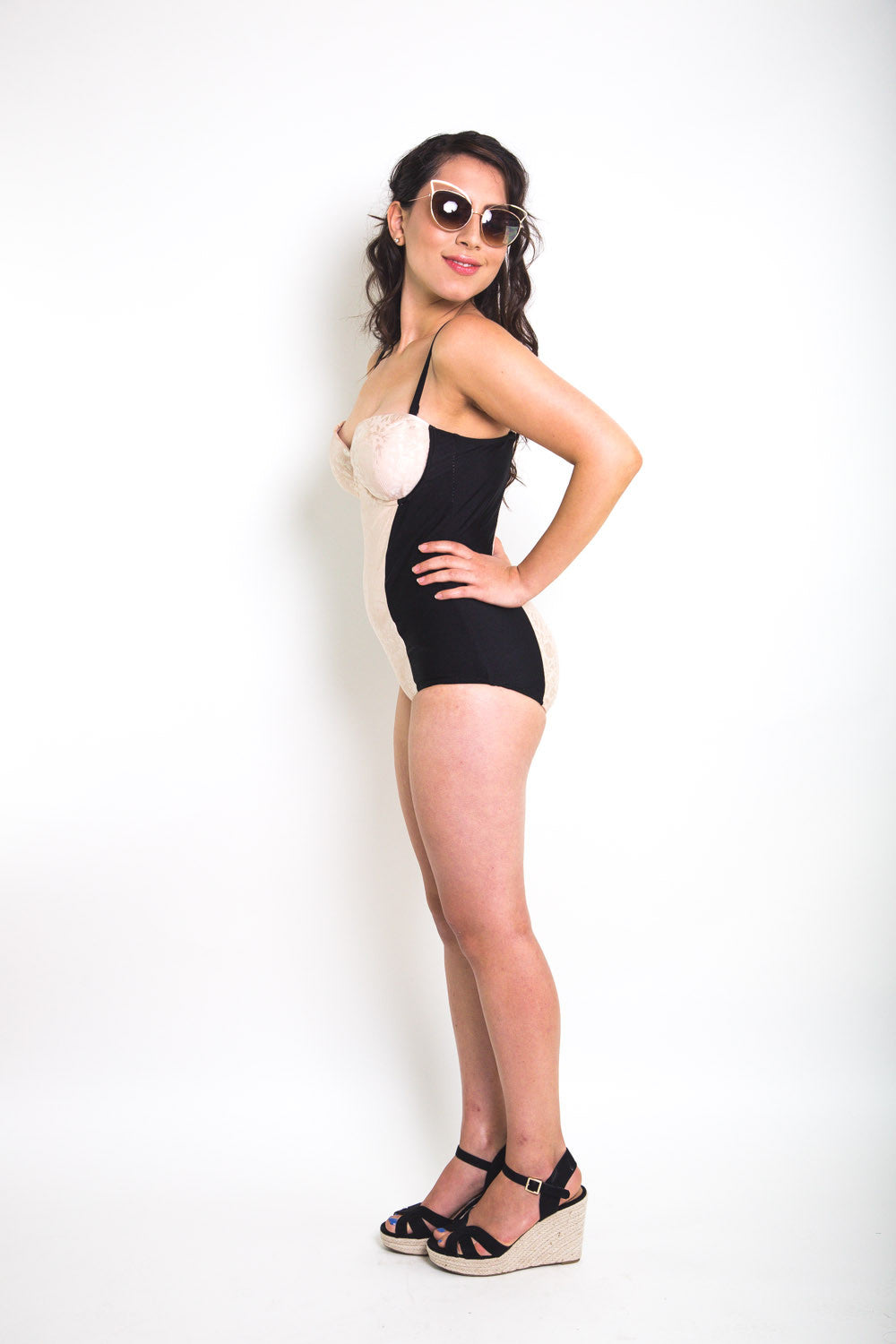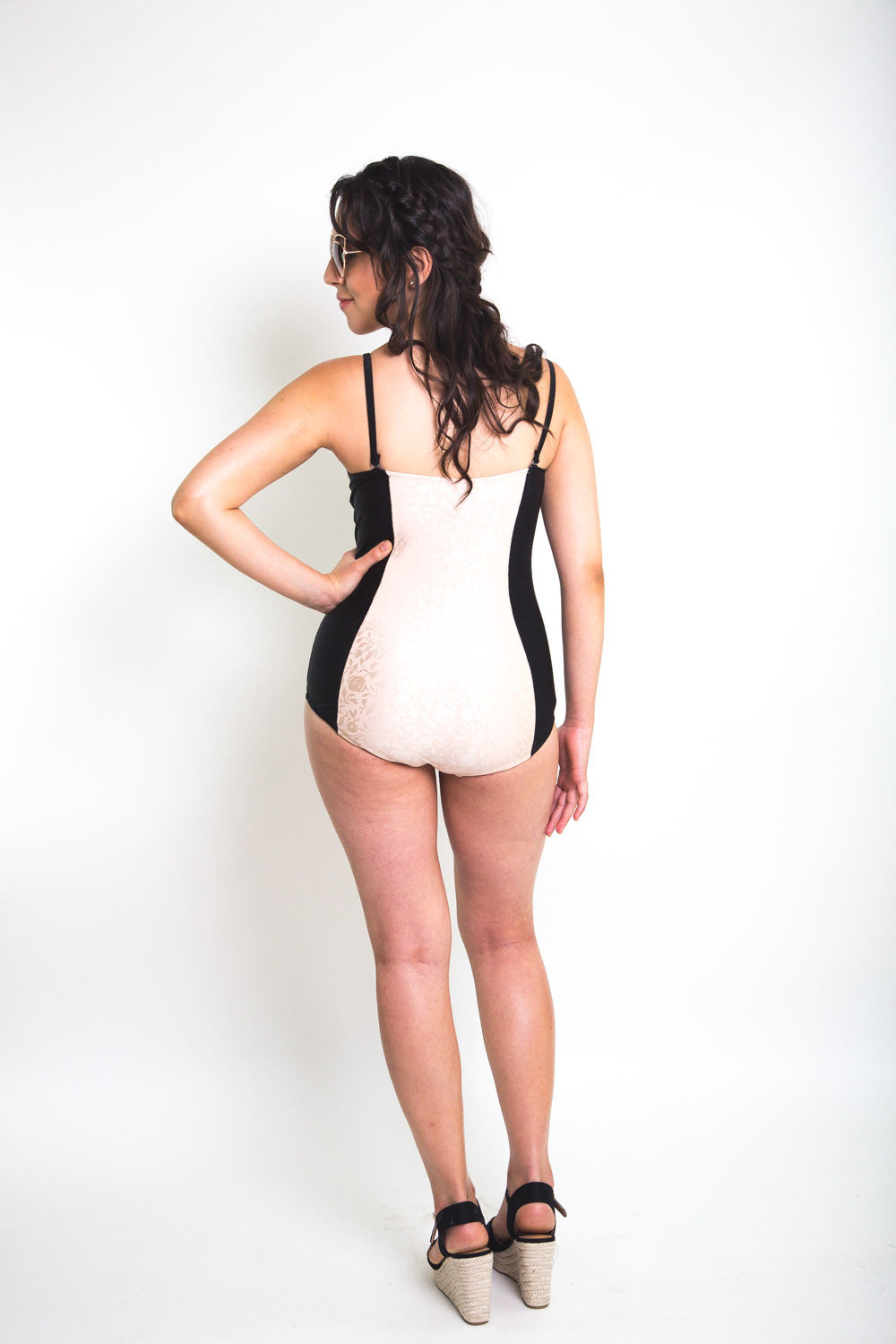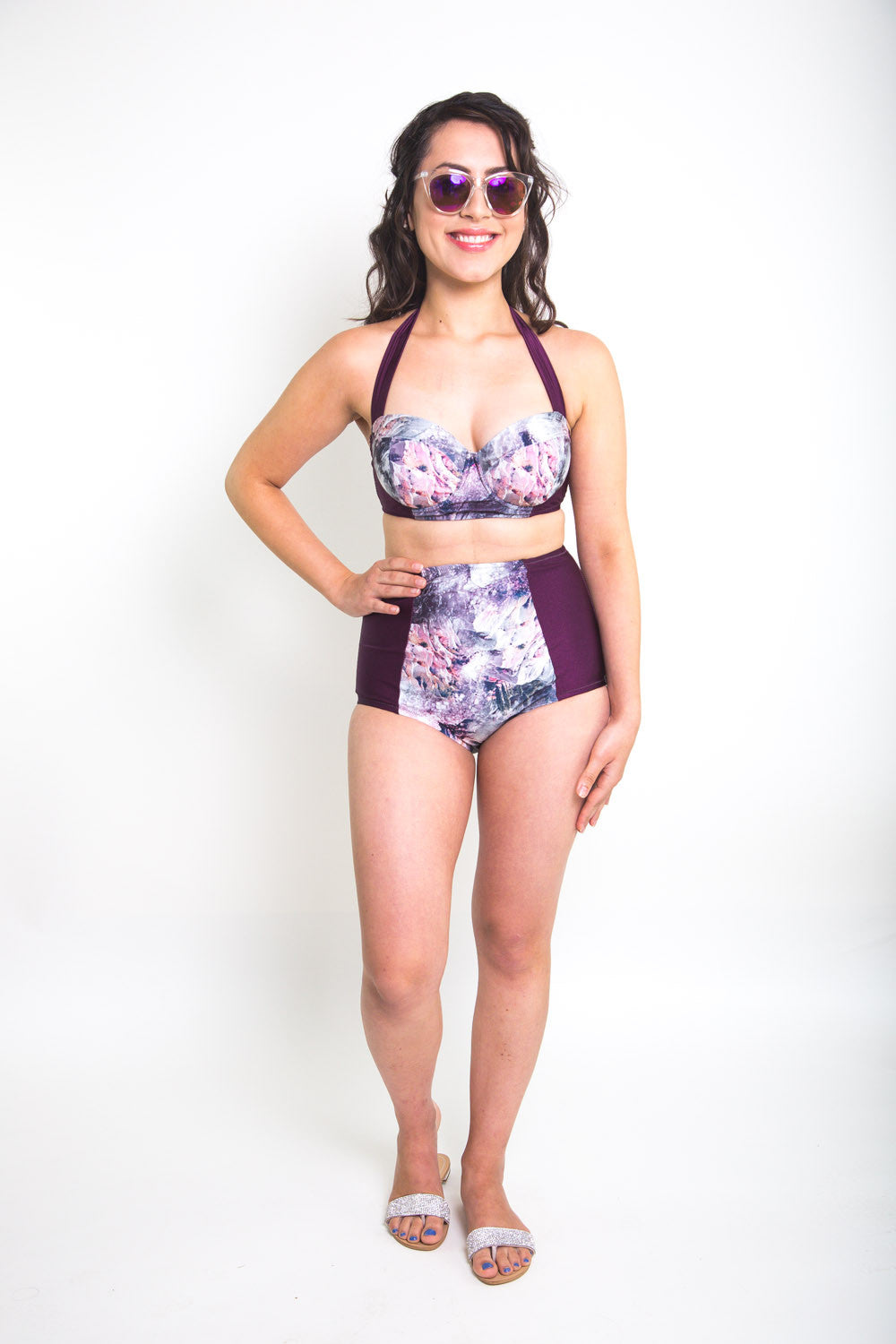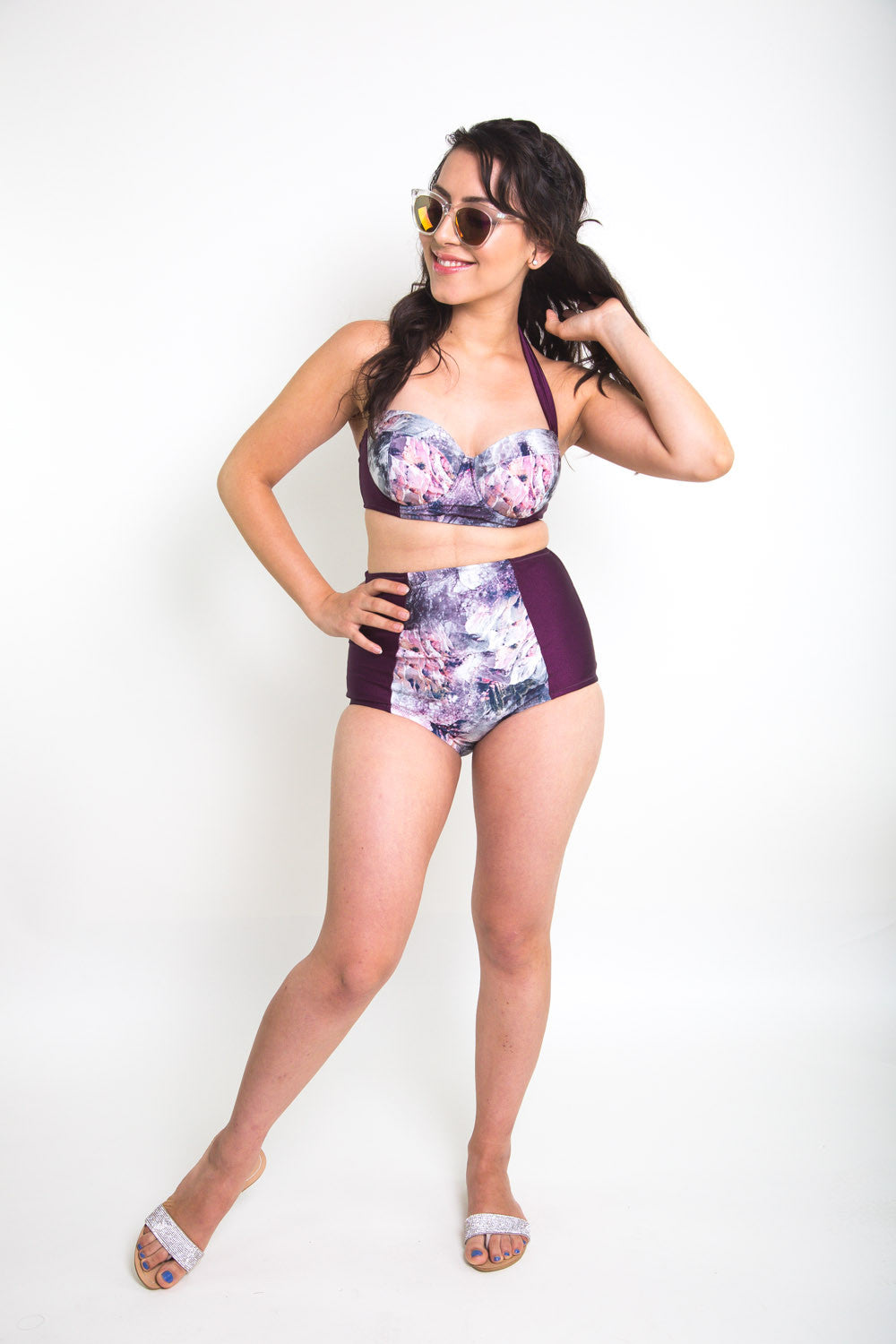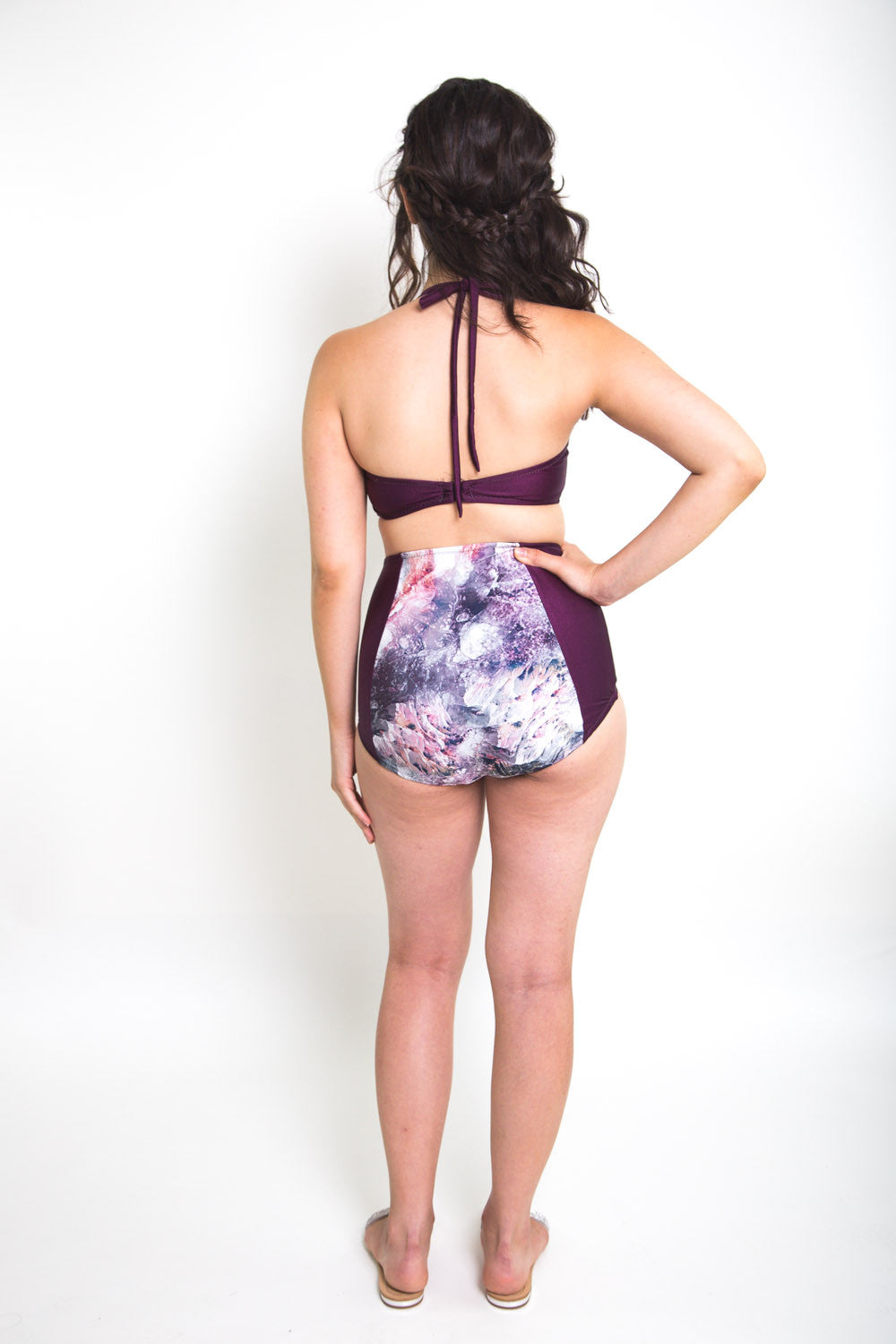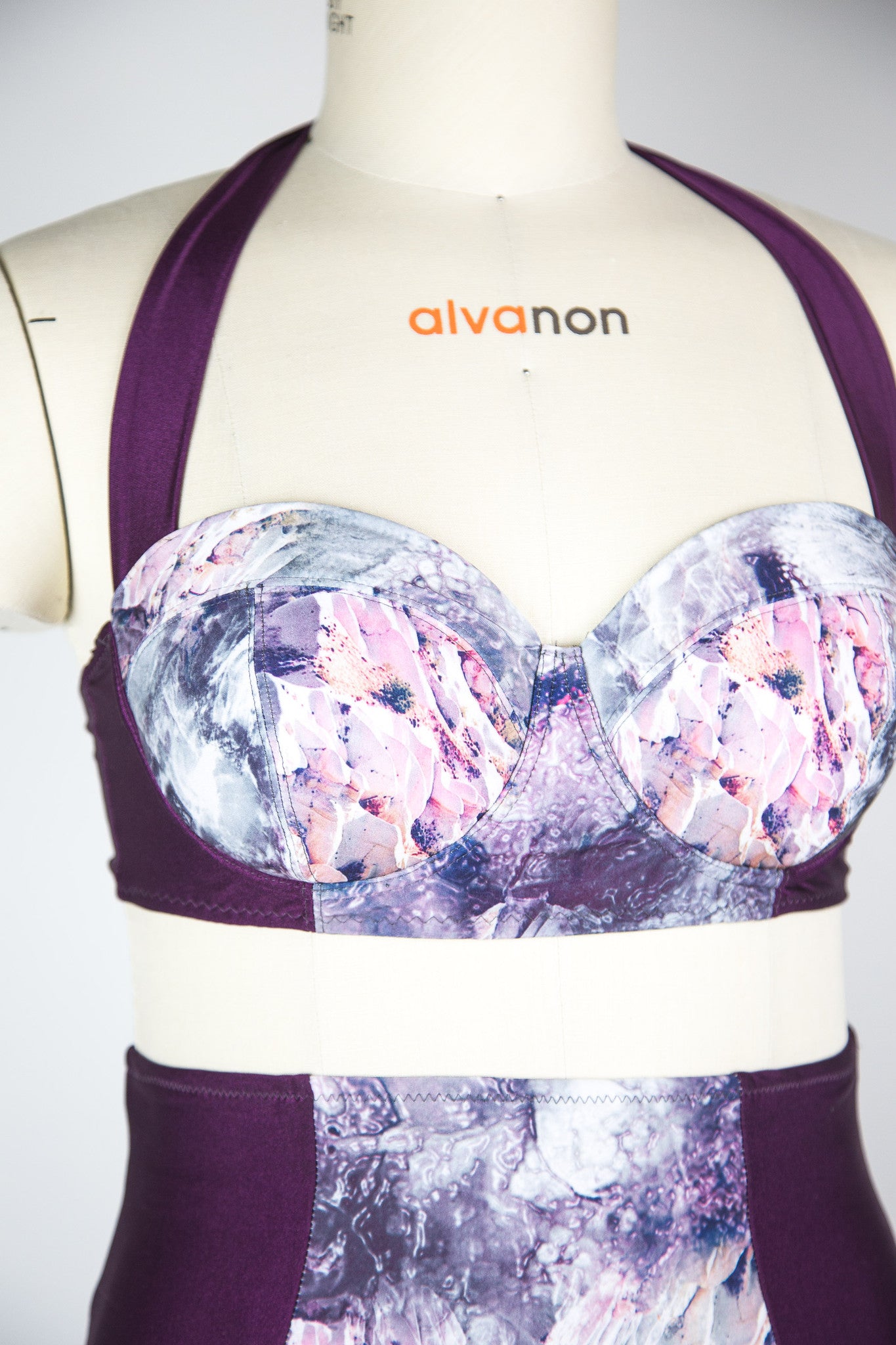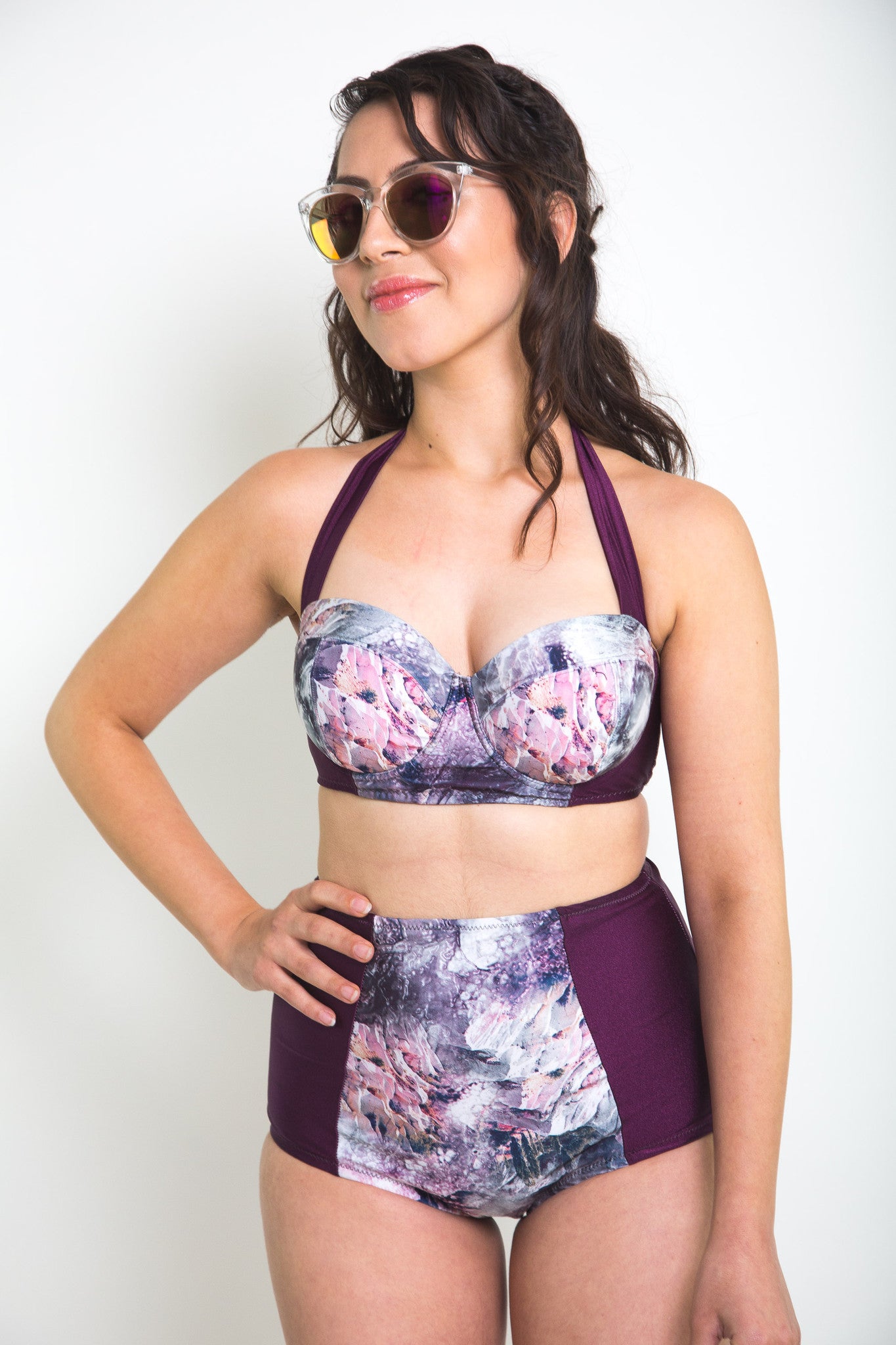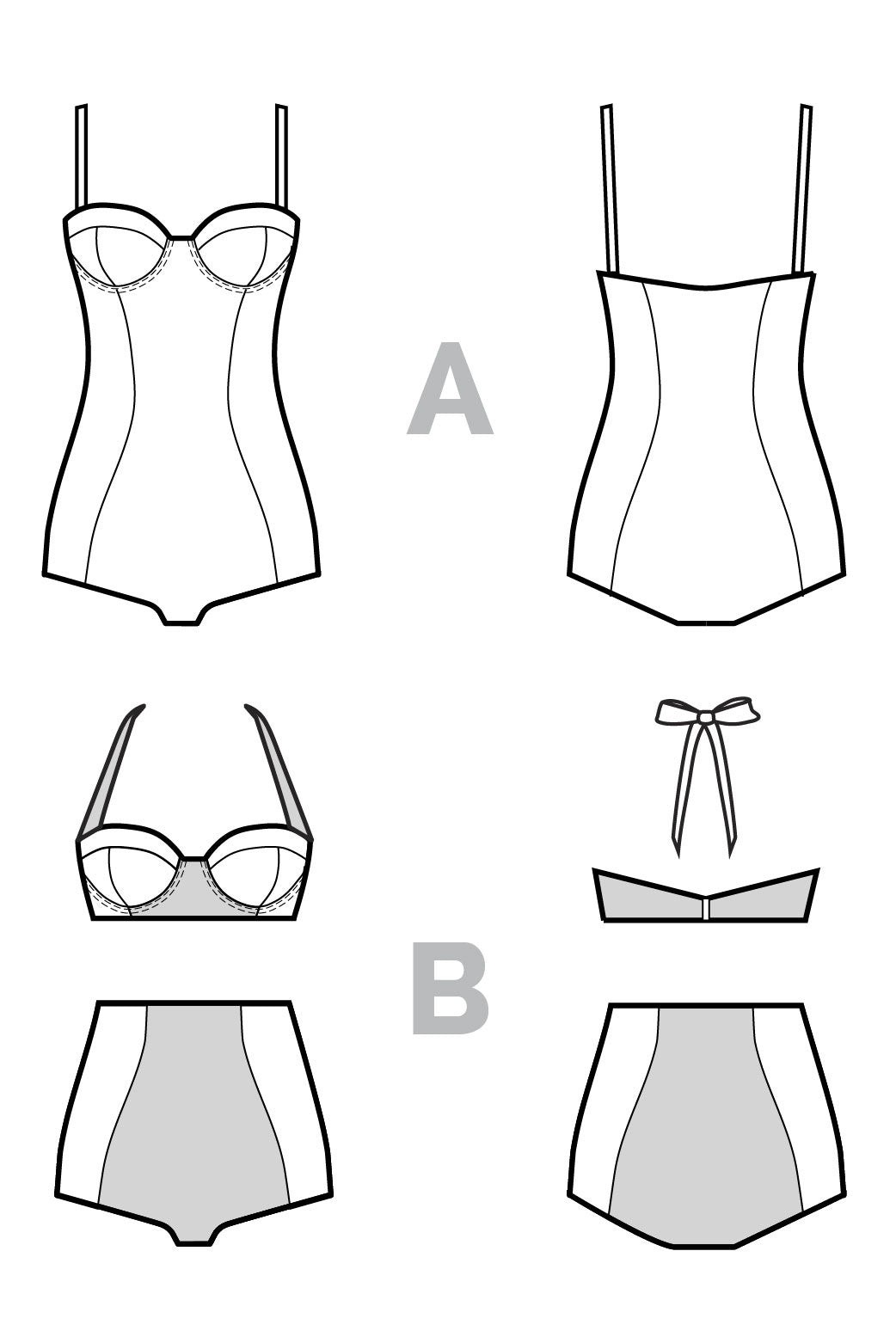 Details
Supplies
Sizing
Info+
With curvy seam lines and a 3-piece balconette cup, Sophie is a supportive, infinitely customizable swimsuit with tons of style.
View A is a classic one-piece with a curved shape and elastic straps. View B gives you the option of a bikini top with a halter neck and a high-waisted bikini bottom with full cheek coverage. Tap into your inner designer by playing with contrast fabric and colour blocking, and learn how to add optional underwires and foam cups to make the most supportive swimsuit ever!
Suggested Fabric
Body: Swimsuit lycra with 4-way stretch (at least 50% crosswise stretch)
Lining: Swim lining with 4-way stretch (100% nylon suggested)
Shop Perfect Match Fabrics
Yardage (sizes 0-20) - 58inch / 1.5 m wide
FABRIC ALL VIEWS ~ Sizes 0-20 = 1 yd (1 m)
LINING ALL VIEWS ~ Sizes 0-20 = 0.75 yd (0.7 m)
Additional Supplies
1/4yd (0.22m) bra cup foam for cups (suggested but optional)
Underwire (suggested but optional) 1yd (.9m) of underwire channelling (suggested but optional)
1/2 yd (.5m) clear elastic for cups sewn without foam
Stretch needles (important to avoid skipped stitches)
3/8" rubber or "swimwear" elastic (3.5 yds for swimsuit, 5 yds for bikini)
Polyester thread 1 x 1" S-hooks or 1" swim closure (bikini top only)
4 x 3/8" S-hooks for swim straps, View A
Small piece of bra lining for bridge stabilization
Power mesh for center front of View A (optional)
Measuring tape
Chalk pencil or other marking tool
View our size charts
When purchasing a PDF pattern, all size ranges available are included with your download.
PDF File Details
Sizes 0-20
Sizes 14-32
Letter / A4
12-15 pages
Copyshop / A0
1 page
Projector Files?
NO
Layered Files?
NO
FAQ
How do I print my PDF pattern?
All of our patterns come in a Letter/A4 format (for printing on a home printer) and 36"x48"/A0 format (for printing at a copyshop). Some patterns also come in a projector format. Please check the INFO+ tab under the description to see page counts and file formats available.
For more help printing and assembling our PDF patterns, please visit our PDF Printing Guide
How do I download my PDF Pattern?
First, we suggest creating an account in our shop so you can access all your files in one place at any time!
After you place an order, you will land on a page with a custom download link. You can download your pattern then, or use the link included in the order confirmation sent via email. If you don't receive a download link via email, please check your junk mail as it may have been rerouted (and add us to your safe senders list so it doesn't happen again!)
Am I charged for taxes?
All Canadians are charged GST and possibly PST depending on where they live in Canada. We do not charge taxes in the US.
Customers based in the EU and UK will also be charged VAT on all goods. Regulations have changed in recent years requiring VAT to be collected based on where the customer resides (and not where the company is located) so we are legally required to collect and remit VAT even though our company is based in Canada. You can read more about the VAT regulations here.
What currency will I be charged in?
Use the dropdown at the top of our menu to choose USD, CAD, AUD, GBP, or EUR dollars to view prices and checkout in the currency of your choice.
For AUD, GBP, and EUR currencies, the price you'll see is linked to the daily exchange rate between USD and your currency, which means prices may fluctuate. For our Canadian customers, we have established set prices that will not vary with exchange rates.
Shipping + Returns
Shipping
American customers: Packages in the US are shipped via USPS First Class and Priority Mail twice a week. Please allow 8 to 12 days for your parcel to arrive.
Canadian customers: Your orders are sent via Canada Post letter or parcel post. Please allow 8 to 12 days for your parcel to arrive, and wait up to 3 weeks before contacting us. 
International customers: Estimated delivery dates are listed below the shipping price when you checkout. We have two possible services. International First Class is for packages under 2 kilos and takes approx 10-40 days to arrive depending on your location. International Priority is a bit faster and should arrive at your destination in approx 8-20 days. Both services include tracking for *most* destinations.
Order tracking
Most shipping services we offer come with a tracking number. This will be sent to you via email you once the order has been processed in our warehouse.
Given the huge volume of mail and the challenges that the pandemic, holiday season, and environmental conditions impose on the performance of the mail service, we ask you to please be patient with the delivery of your packages, and get in touch after 3 weeks for Canadian and US shipments, and 6 weeks for international shipments.
If the above mentioned waiting times have elapsed, please message us about your delay. We'll be happy to work with you to figure out a solution.
Exchanges + Returns
For physical goods: We grant refunds for physical items like print patterns and kits if they are returned to us in sellable and unopened condition within 30 days of purchase. Please contact us prior to shipping back your order to make sure you are eligible for a refund. 
For digital goods: We cannot issue refunds on digital goods like PDF patterns and courses if they have been downloaded or watched. If you have not downloaded your file and would like a refund, please contact us.
From the Closet Core Community
Share on social with the hashtag #ClosetCoreSophie
I had to have this suit, but sadly not for me
The vintage look really appealed to me. I imagined myself looking quite glamorous in it.
I'm a quite heavily busted lady, so I had to do a couple of changes to make the suit appropriate to be seen wearing in public. To achieve the support I needed I modified and substituted a tried and true, already tested underwired cut & sew foam bra pattern for the pattern's top and attached that bra to the bottom portion of the one piece. I also made the color block bottoms separately to be worn with a different suit. I had zero difficulties with the directions or assembly of the suits. I wore both suits during a 10 day trip where I had on swimwear from about 10am until 6pm daily.
Why not for me? I found that the vintage styled square shaped leg opening made my legs look quite stout and even shorter than usual. A 10 day trial was sufficient time for them to "grow on me", but sadly they didn't look any more appealing after I was used to seeing myself in them. Both suits have gone in the trash now that I have re-claimed the parts of the suits I can re-use for other swim projects.
Large cups need not apply
I had been wanting to try this pattern and was so excited to sew it! I'm an expert level sewist, so the instructions are fairly straightforward but the sizing leaves much to be desired. I wish the sizing worked within a usual cup/band formula instead of trying to create a new system. I tried sister sizing and making adjustments within this sizing scheme and ended up with a big mess. The cups are enormous in circumference but very flat. Sewing the bikini top was such a disappointment that I haven't bothered finishing the bottom and am dismantling the top for parts. This pattern seems to work well for others, but definitely not for my small band/large cups body type.
There are a lot of steps but it is really worth it
I have made bras before, but was always nervous to incorporate underwires. No more! They are easier than expected and the instructions were thorough.
There are a lot of steps, but I found it to be really worth sewing and a super enjoyable process. I really liked how the steps didn't have to be done by a serger and I really like the cup shape. If I could go back I would make the straps a lil thicker to give it even more of a vintage feel. There are a lot of options for color blocking the pieces and I used an old leopard print bikini top to make the cups! I think I will make the one piece in the future because it reminds me of a swimsuit my mom's old barbie had :) I am a 42 C
Such a rewarding sewing
I've had my eyes on Sophie for 4 years but was too afraid or to late in my summer sewing list to attempt it.
This year it was my top priority and I've made two. The pattern is well fitted, explanations are so so clear. Next year's already planned and maybe the foam bra version too.
Manageable, even for a novice (but not great for large busts)
My sewing past mostly involved easy things (like curtains) and mending clothing, so this was far more challenging than I'm used to. I haven't yet finished the project, but I'm about 70% through and have been pleased with the pattern and the instructions and feel quite capable. My only complaint is that editing the pattern for a larger bust has been hard and discouraging. I increased the cups (somewhat) successfully only to later realize that the bands no longer matched up and will need to be redone. The pattern didn't promise to fit my size (F) so I won't hold that against it, however, the whole reason I'm willing to make my own bathing suit, which is an extremely time-consuming and rather expensive pursuit, is because I am not an average size. This is to say, if the pattern doesn't support people of unusual proportions, then who is this pattern for? If I was an average size, I would just buy a bathing suit pre-made. Overall, the pattern is great, just not made with me in mind.