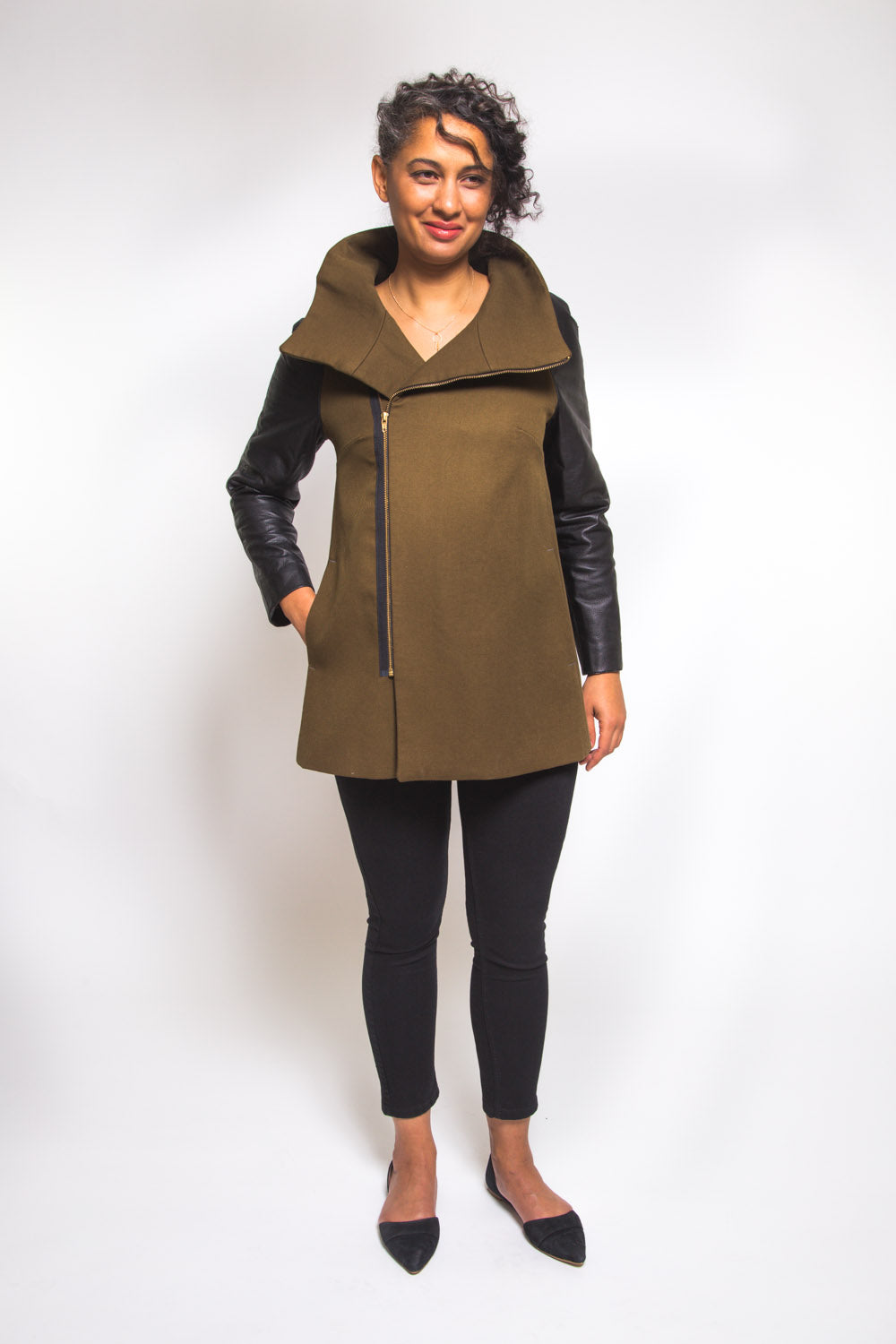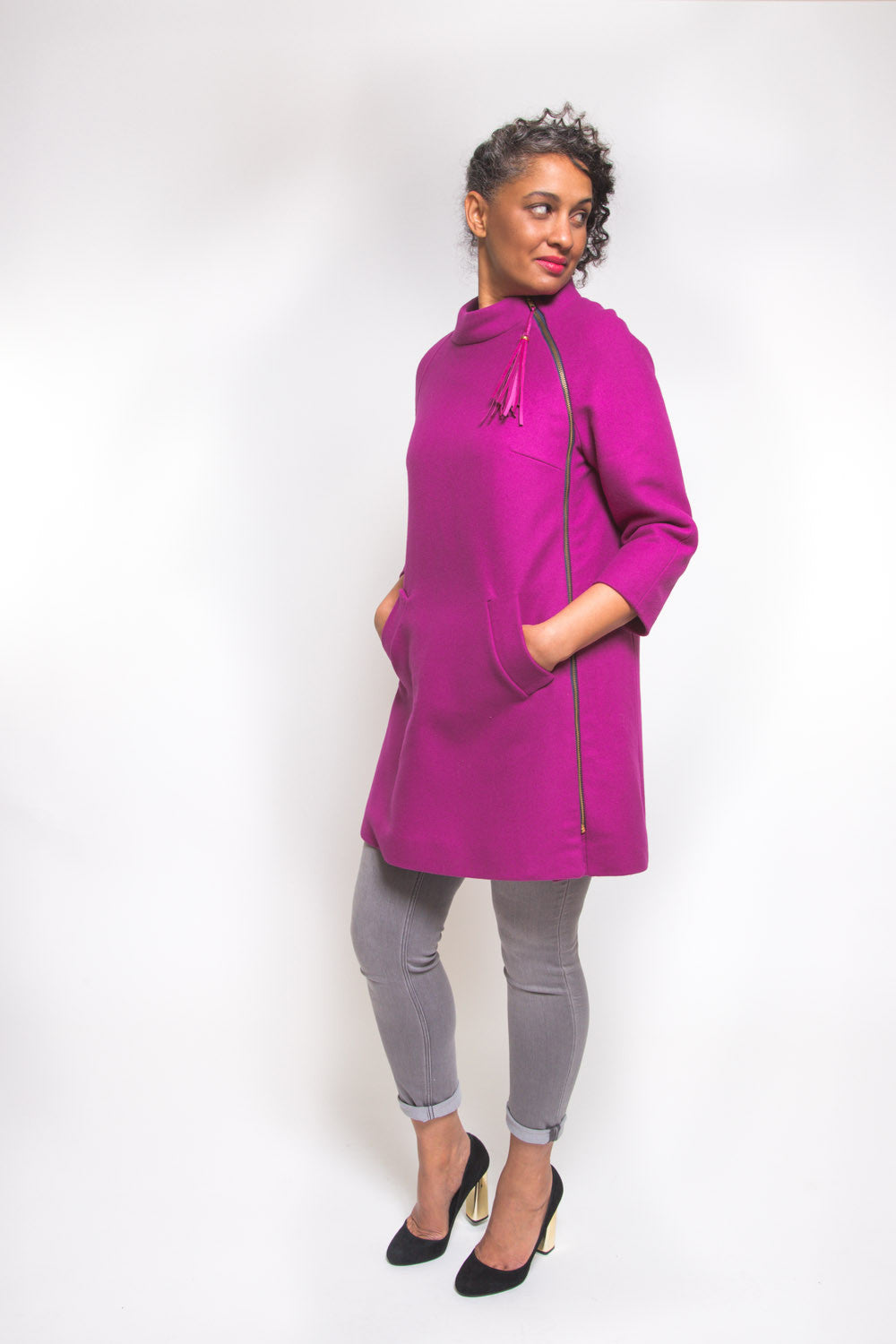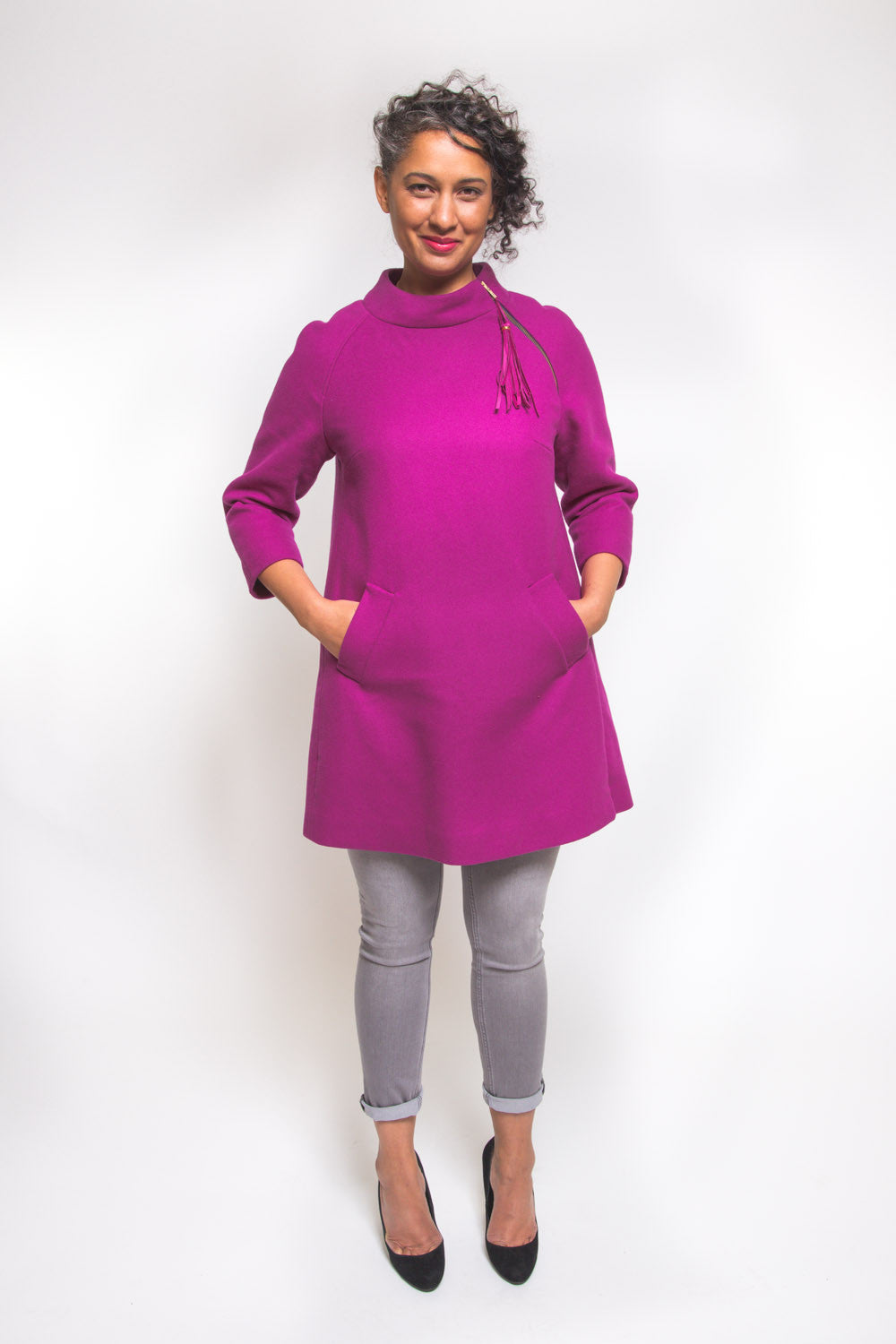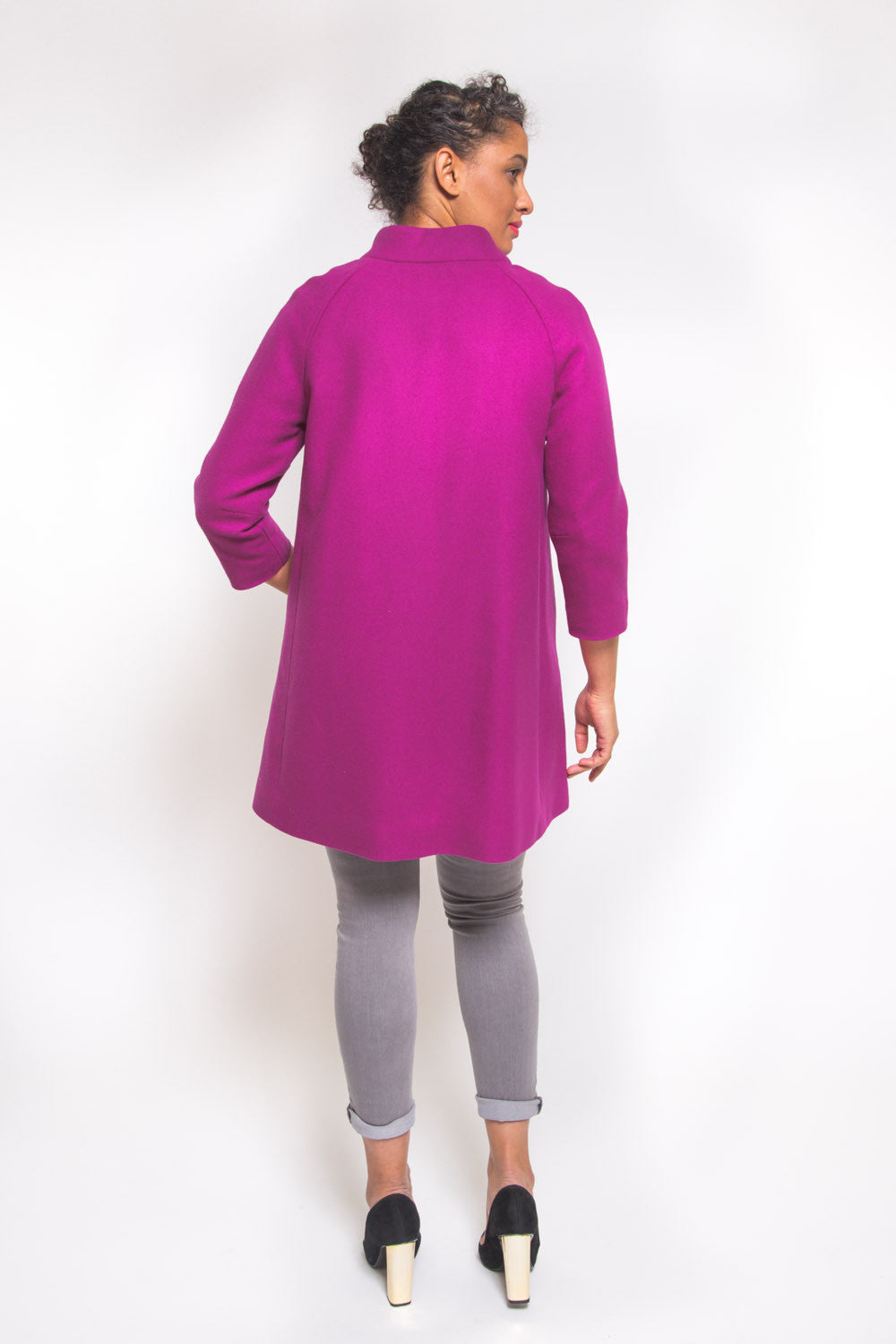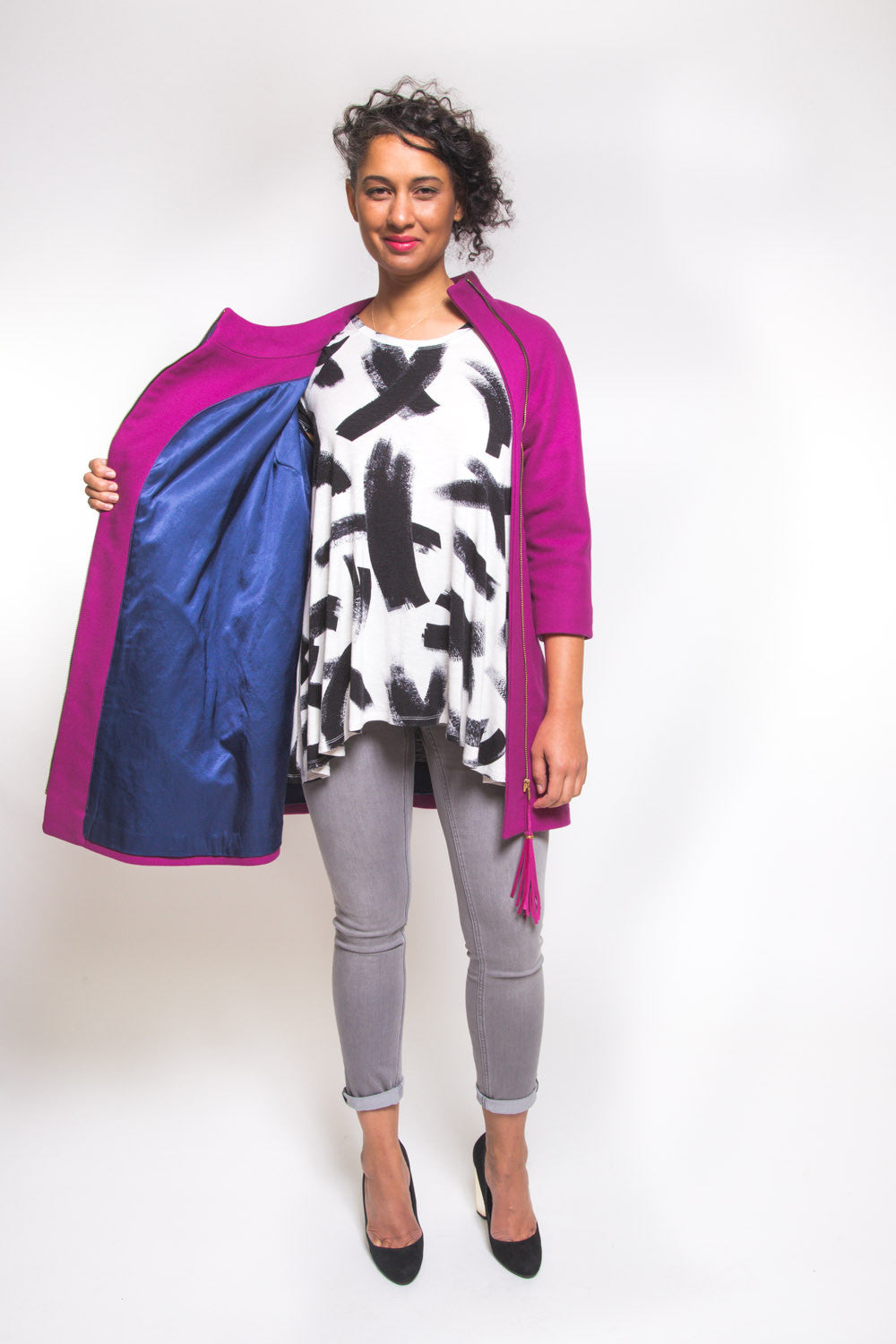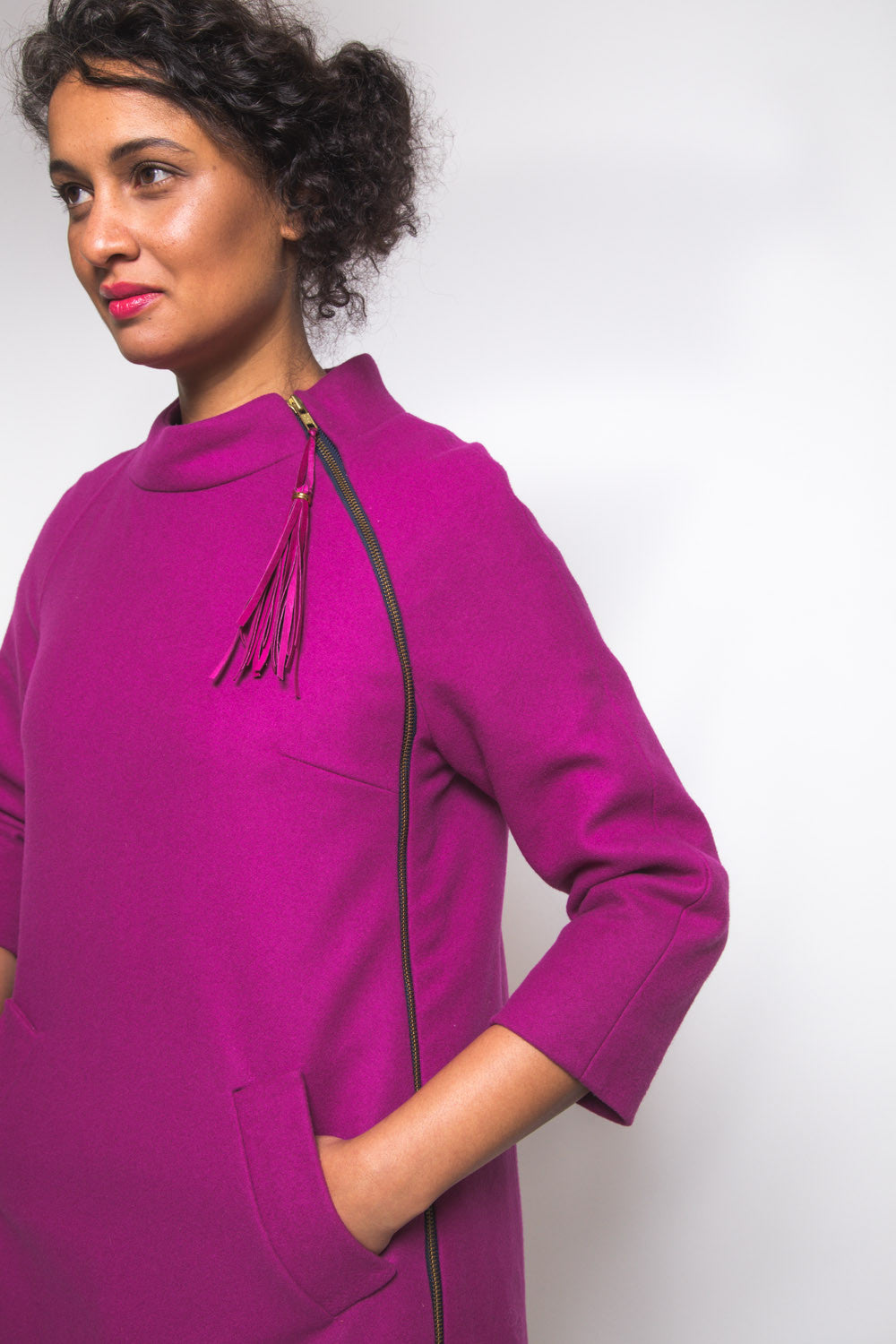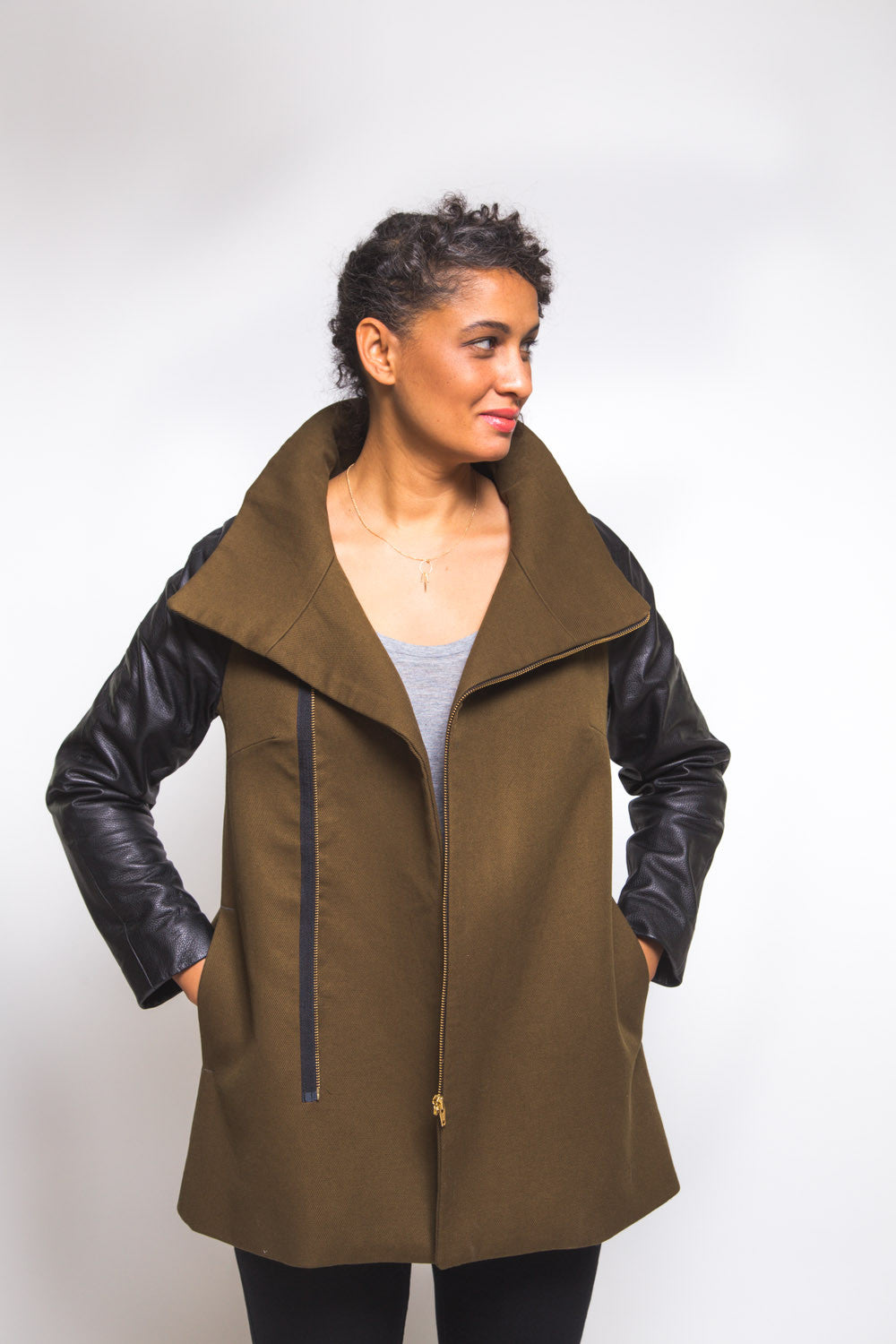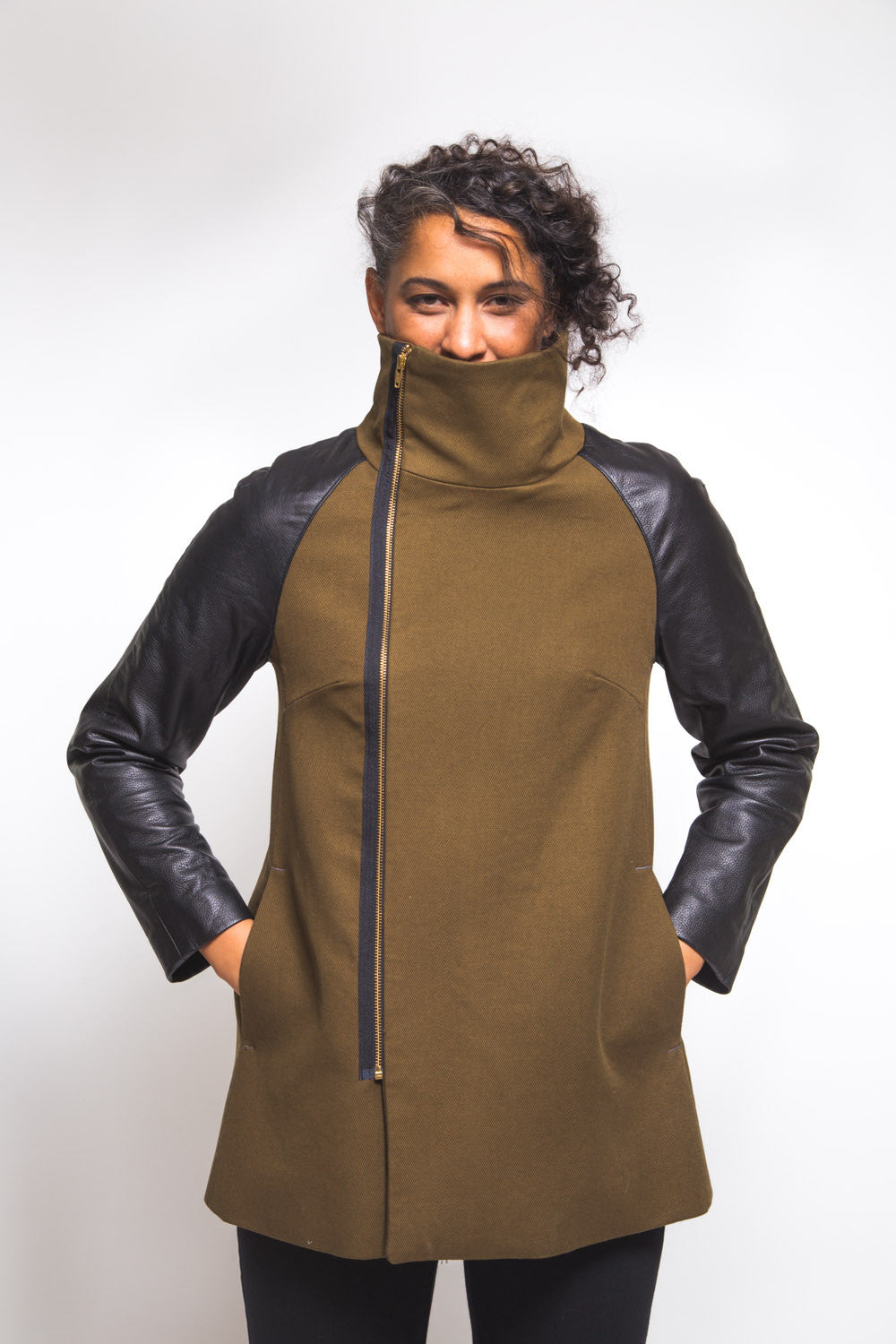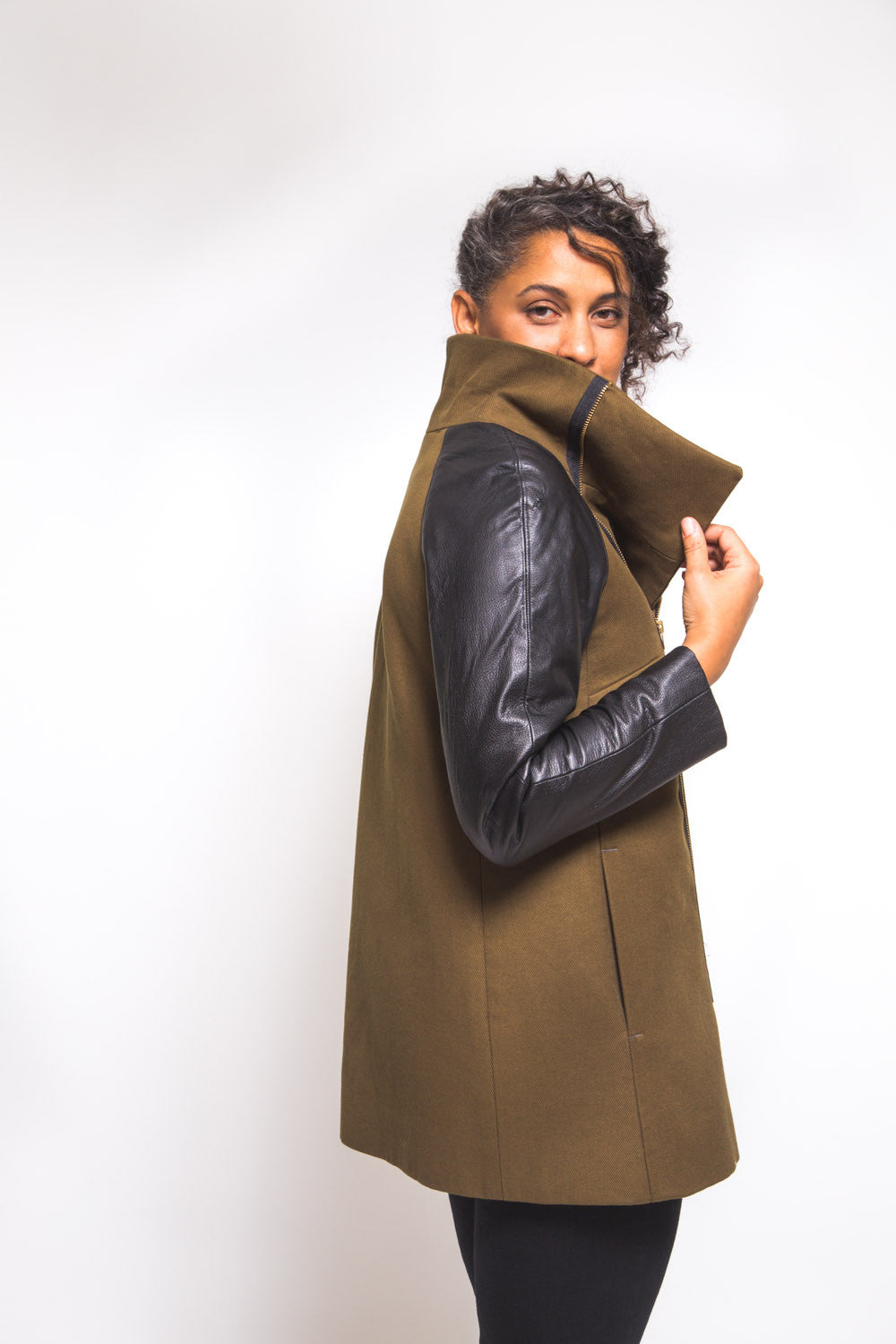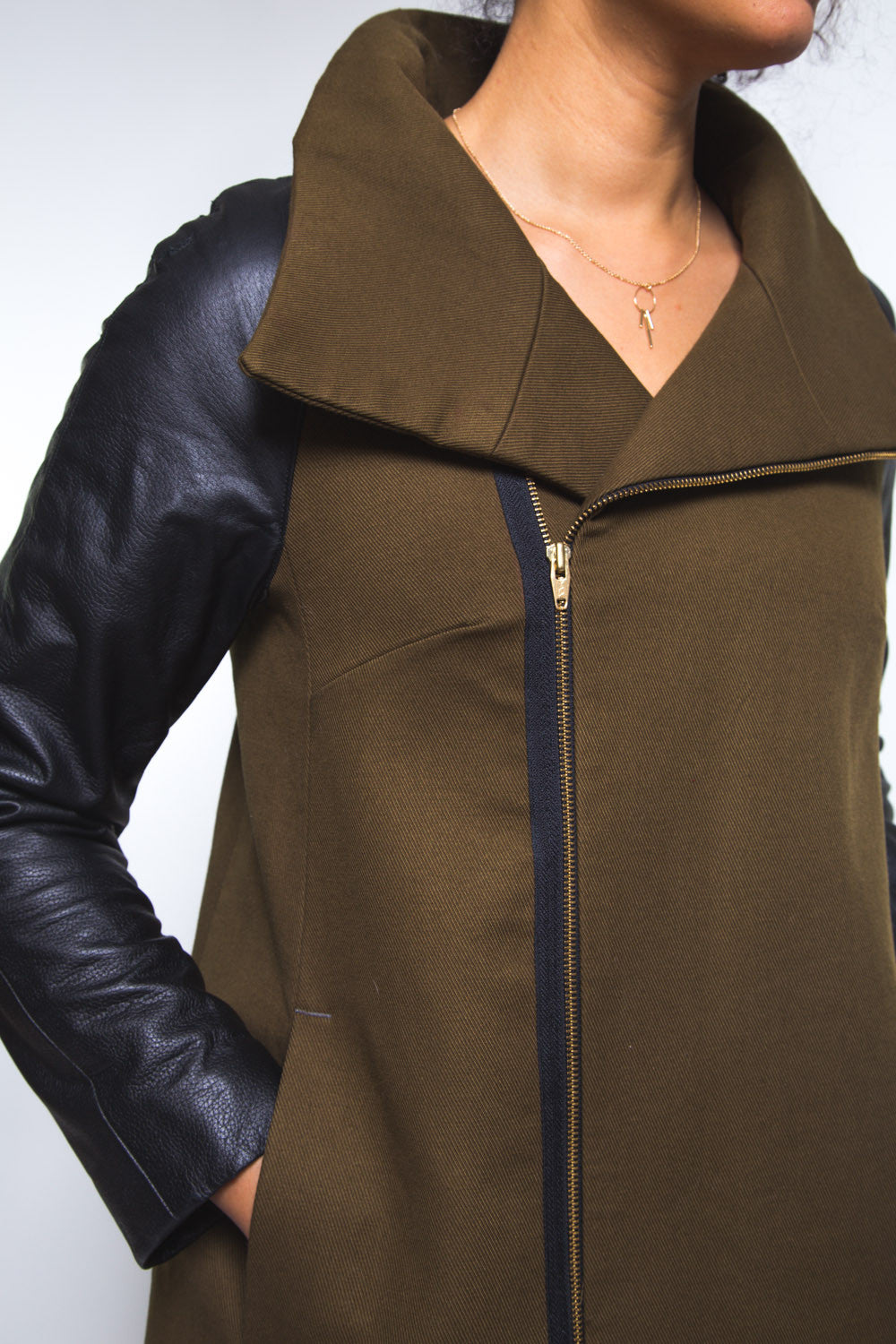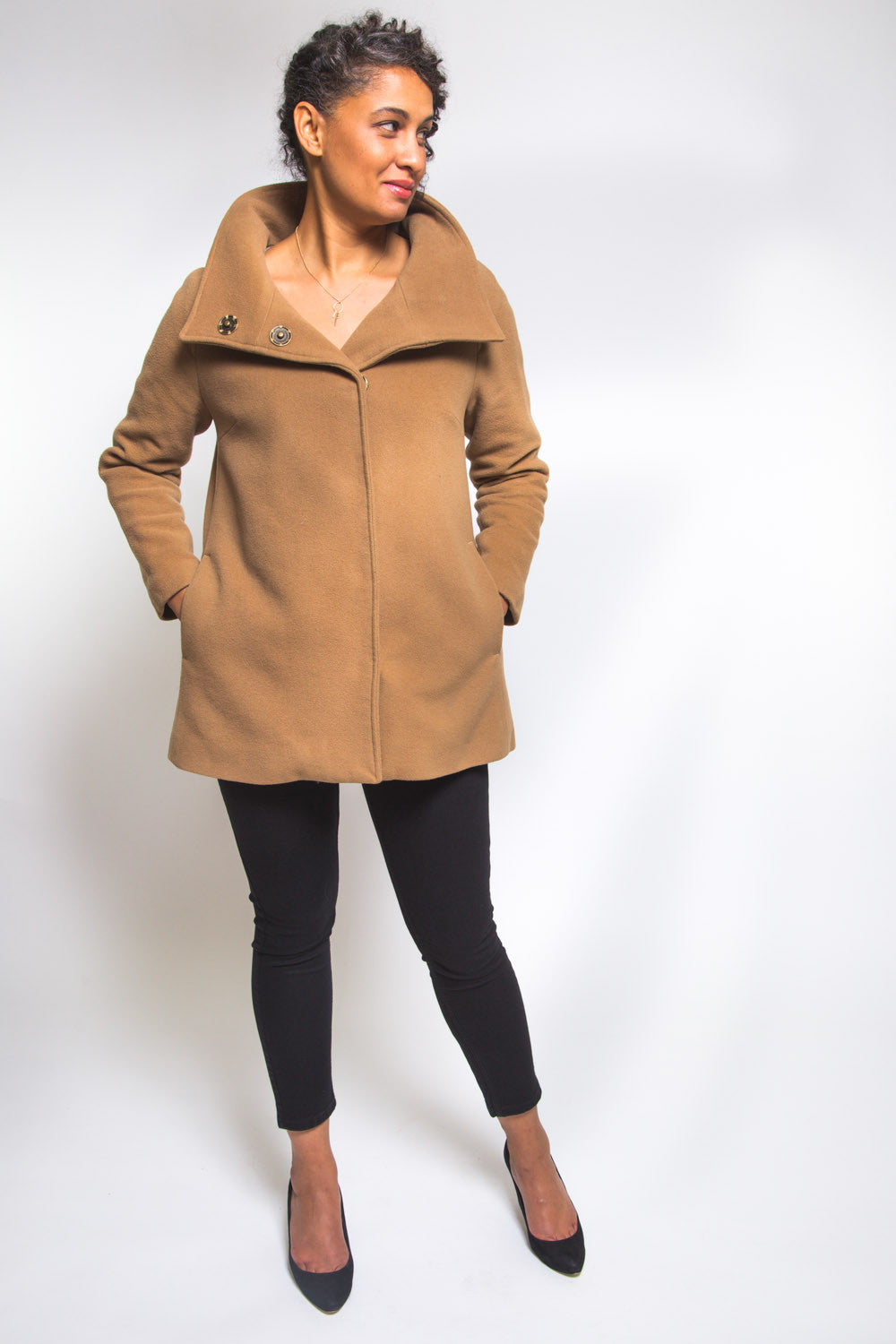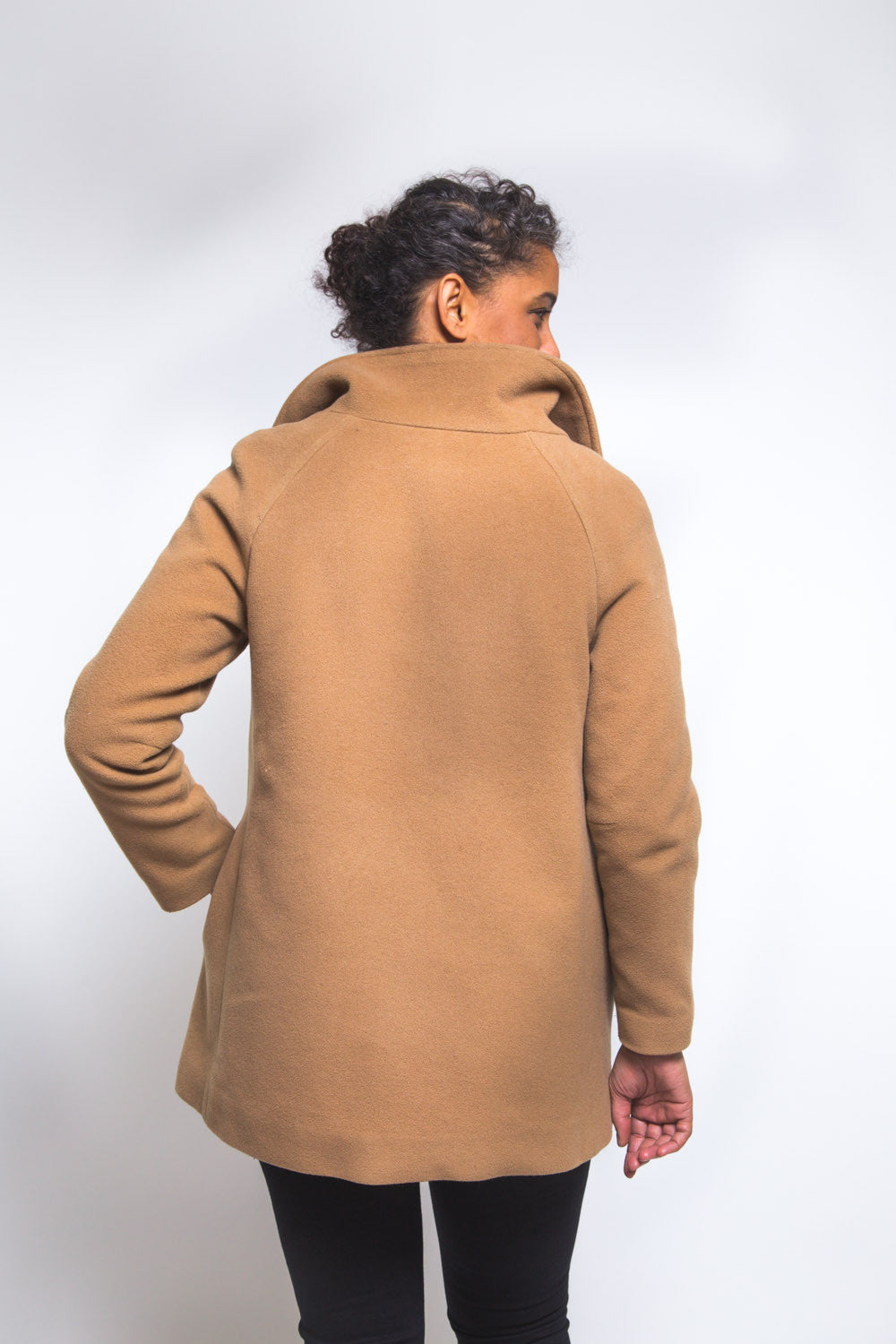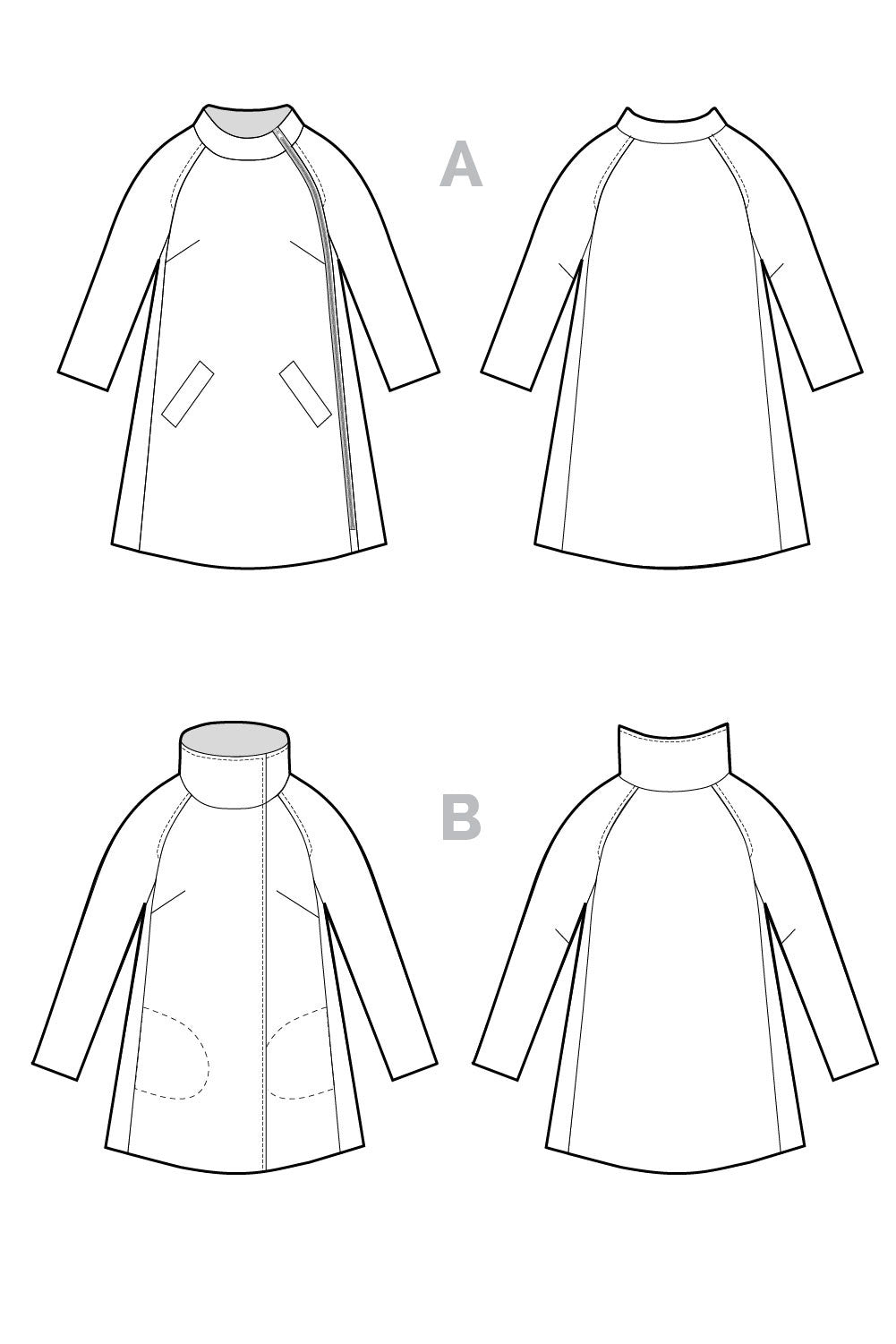 Details
Supplies
Sizing
Info+
The Clare Coat is a chic cool-weather staple. Featuring raglan sleeves and an unstructured A-line silhouette, Clare is a great introduction to the joys of coat making.
View A hits at mid-thigh, with a face-framing collar, princess seams, an exposed asymmetrical zipper and welt pockets. View B has a more minimalist vibe; a dramatic funnel collar, double-breasted, ends at the hip with inseam pockets and full-length sleeves.
Suggested Fabric
Body: Medium to heavyweight coating fabrics (ie: melton, felt, tweed and boiled wool). Bottomweight fabrics like denim, twill and canvas are also suitable for a lightweight spring or fall jacket.
Lining: Silk, rayon bemberg, flannel backed satin (aka kasha).
Interfacing: fusible weft interfacing. View A also requires 1/4yd (.25m) of horsehair canvas, sturdy muslin, or a heavier-weight interfacing to stabilize the collar.
Shop Perfect Match Fabrics
Yardage (sizes 0-20) - 45inch / 1.14 m wide
FABRIC ALL VIEWS ~ Sizes 0-8 = 3 yd (2.75 m), Sizes 10-14 = 3.75 yd (3.5 m), Sizes 16-20 = 4 yd (3.75 m)
LINING ALL VIEWS ~ Sizes 0-8 = 2.25 yd (2 m), Sizes 10-20 = 2.5 yd (2.25 m)
INTERFACING ALL VIEWS ~ Sizes 0-20 = 4.5 yd (4.1 m)
Yardage (sizes 0-20) - 58inch / 1.5 m wide
FABRIC ALL VIEWS ~ Sizes 0-8 = 2.25 yd (2 m), Sizes 10-14 = 2.75 yd (2.5 m), Sizes 16-20 = 3 yd (2.75 m)
LINING ALL VIEWS ~ Sizes 0-20 = 2 yd (1.85 m)
INTERFACING ALL VIEWS ~ Sizes 0-8 = 1.75 yd (1.6 m), Sizes 10-20 = 2 yd (1.85 m)
Additional Supplies
Tailor's ham for pressing
Press cloth
2.5 yards (2.25m) 1/4" (6mm) stay tape for stabilizing armholes and collar
Thread
Scissors
Marking tool
Separating coat zipper for View A (sizes 0-8 = 30" long
sizes 10-14 = 31" long
sizes 16-20 = 32" long) **You can also use a longer zipper and trim it down.
6 buttons or sew-in snap closures for View B
Tailor's clap (optional)
View our size charts
When purchasing a PDF pattern, all size ranges available are included with your download.
At this time, only sizes 0-20 are available in print format.
PDF File Details
Sizes 0-20
Sizes 14-32
Letter / A4
42 pages
Copyshop / A0
3 pages
Projector Files?
NO
Layered Files?
YES
FAQ
How do I print my PDF pattern?
All of our patterns come in a Letter/A4 format (for printing on a home printer) and 36"x48"/A0 format (for printing at a copyshop). Some patterns also come in a projector format. Please check the INFO+ tab under the description to see page counts and file formats available.
For more help printing and assembling our PDF patterns, please visit our PDF Printing Guide
How do I download my PDF Pattern?
First, we suggest creating an account in our shop so you can access all your files in one place at any time!
After you place an order, you will land on a page with a custom download link. You can download your pattern then, or use the link included in the order confirmation sent via email. If you don't receive a download link via email, please check your junk mail as it may have been rerouted (and add us to your safe senders list so it doesn't happen again!)
Am I charged for taxes?
All Canadians are charged GST and possibly PST depending on where they live in Canada. We do not charge taxes in the US.
Customers based in the EU and UK will also be charged VAT on all goods. Regulations have changed in recent years requiring VAT to be collected based on where the customer resides (and not where the company is located) so we are legally required to collect and remit VAT even though our company is based in Canada. You can read more about the VAT regulations here.
What currency will I be charged in?
Use the dropdown at the top of our menu to choose USD, CAD, AUD, GBP, or EUR dollars to view prices and checkout in the currency of your choice.
For AUD, GBP, and EUR currencies, the price you'll see is linked to the daily exchange rate between USD and your currency, which means prices may fluctuate. For our Canadian customers, we have established set prices that will not vary with exchange rates.
Shipping + Returns
Shipping
American customers: Packages in the US are shipped via USPS First Class and Priority Mail twice a week. Please allow 8 to 12 days for your parcel to arrive.
Canadian customers: Your orders are sent via Canada Post letter or parcel post. Please allow 8 to 12 days for your parcel to arrive, and wait up to 3 weeks before contacting us. 
International customers: Estimated delivery dates are listed below the shipping price when you checkout. We have two possible services. International First Class is for packages under 2 kilos and takes approx 10-40 days to arrive depending on your location. International Priority is a bit faster and should arrive at your destination in approx 8-20 days. Both services include tracking for *most* destinations.
Order tracking
Most shipping services we offer come with a tracking number. This will be sent to you via email you once the order has been processed in our warehouse.
Given the huge volume of mail and the challenges that the pandemic, holiday season, and environmental conditions impose on the performance of the mail service, we ask you to please be patient with the delivery of your packages, and get in touch after 3 weeks for Canadian and US shipments, and 6 weeks for international shipments.
If the above mentioned waiting times have elapsed, please message us about your delay. We'll be happy to work with you to figure out a solution.
Exchanges + Returns
For physical goods: We grant refunds for physical items like print patterns and kits if they are returned to us in sellable and unopened condition within 30 days of purchase. Please contact us prior to shipping back your order to make sure you are eligible for a refund. 
For digital goods: We cannot issue refunds on digital goods like PDF patterns and courses if they have been downloaded or watched. If you have not downloaded your file and would like a refund, please contact us.
From the Closet Core Community
Share on social with the hashtag #ClosetCoreClare
Clare coat
You must take the time to do all the interfacing well, thereafter that the coat goes together quickly. Two women in our class had to lengthen the sleeve so if you are Talleyrand/or longer limbs check sleeve length. I am short so not a problem for me. Love love this pattern and will make again. Highly recommended
Cute coat
I chose view B. I made mine from a bull denim, a needle punched cotton batting fusible and the lining is a smooth warm medium weight poly blend. This coat and the fabrics I chose have served me well. I omitted the collar button because I still trust my scarves more than any collar. It's been 30 degrees or lower here in NY and I don't feel any of it. The silhouette plays down well for denim although this pattern in not that level of casual. You get double sleeve pieces, cuff pieces etc that go with both views and I had to add 3/4 for my bicep which was easy because of the sleeve type. This coat came together easily and can be versatile depending on the fabric.
Easy, stylish, and simply amazing!
I've made jackets in the past and now I'm making my first winter coat - super exciting! I selected the Clare pattern for its stylish design and easy sewing construction. The pattern comes with clear instructions and detailed drawings. I'm adding Thinsulate to my coat to keep me warm during chilly Canadian winters. If you're looking for a beautiful coat design, choose the Clare coat pattern. Highly recommended!
Clare Coat
First time making a coat and I loved every minute of it! Very clear instructions and lots of options to personalise to suit your style. Comes together quite quickly although I wasn't rushing. I used a cashmere wool blend and a clapper to make crisp seams. Will probably make this pattern again and will do a broad back adjustment and possibly a bicep adjustment as the tops of my sleeves are a little tight. These are normal modifications for me. Was too lazy to toile but I got away with this time!
Highly recommend this pattern.
The perfect coat!
What a beautiful, beautiful pattern! It makes a gorgeous 60s-vibe coat that fits comfortably and flexibly, with a stylish silhouette and room to layer (or be pregnant) underneath. I have lost count of the compliments.
Boiled Wool Snuggly Coat
I used a PDF version of this pattern - 70 pages! - although the pattern actually came together very well and faster than I imagined. Following an Instagram trawl, I made my version 10cm longer in length to give more winter coverage, and I also made the pocket bags a bit deeper. As usual, the tutorials online were really helpful BUT I missed the instruction for the back pleat in the lining which meant I had a nightmare time trying to sew coat and lining together and it wasn't until I got to the 'centre hanging loop over back pleat' that I realised the error of my ways. The sleeve pleats were marked as 'pleat' on the pattern but the back pleat simply had notches - having 'pleat' on the pattern would have been helpful. I used magnetic bag fasteners as I had no press studs and the country was in full lockdown, but these work well and I like the uncluttered front finish. I would echo the comments below about checking sleeve length - mine are just long enough.
Loving my snuggly coat now it's finished!