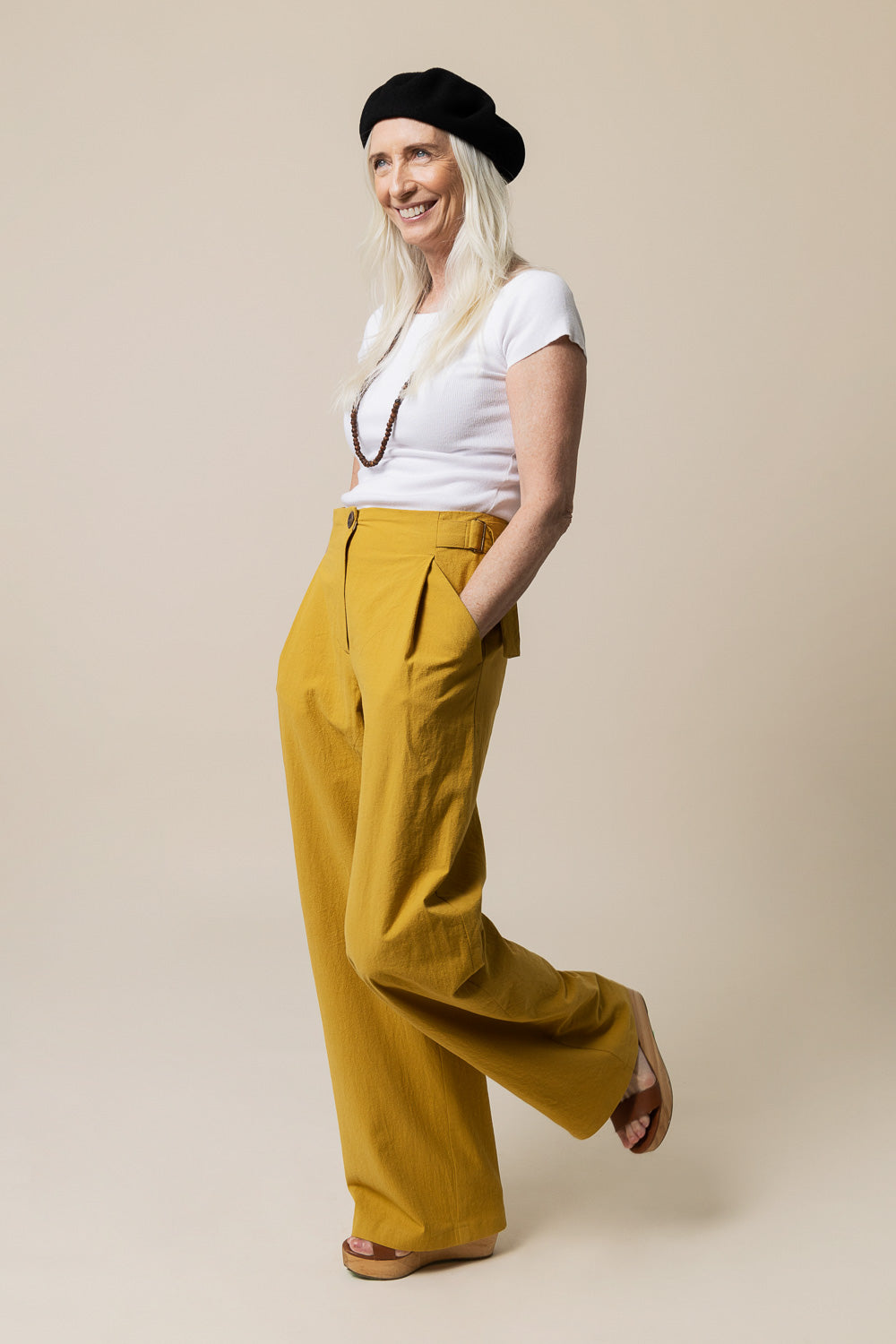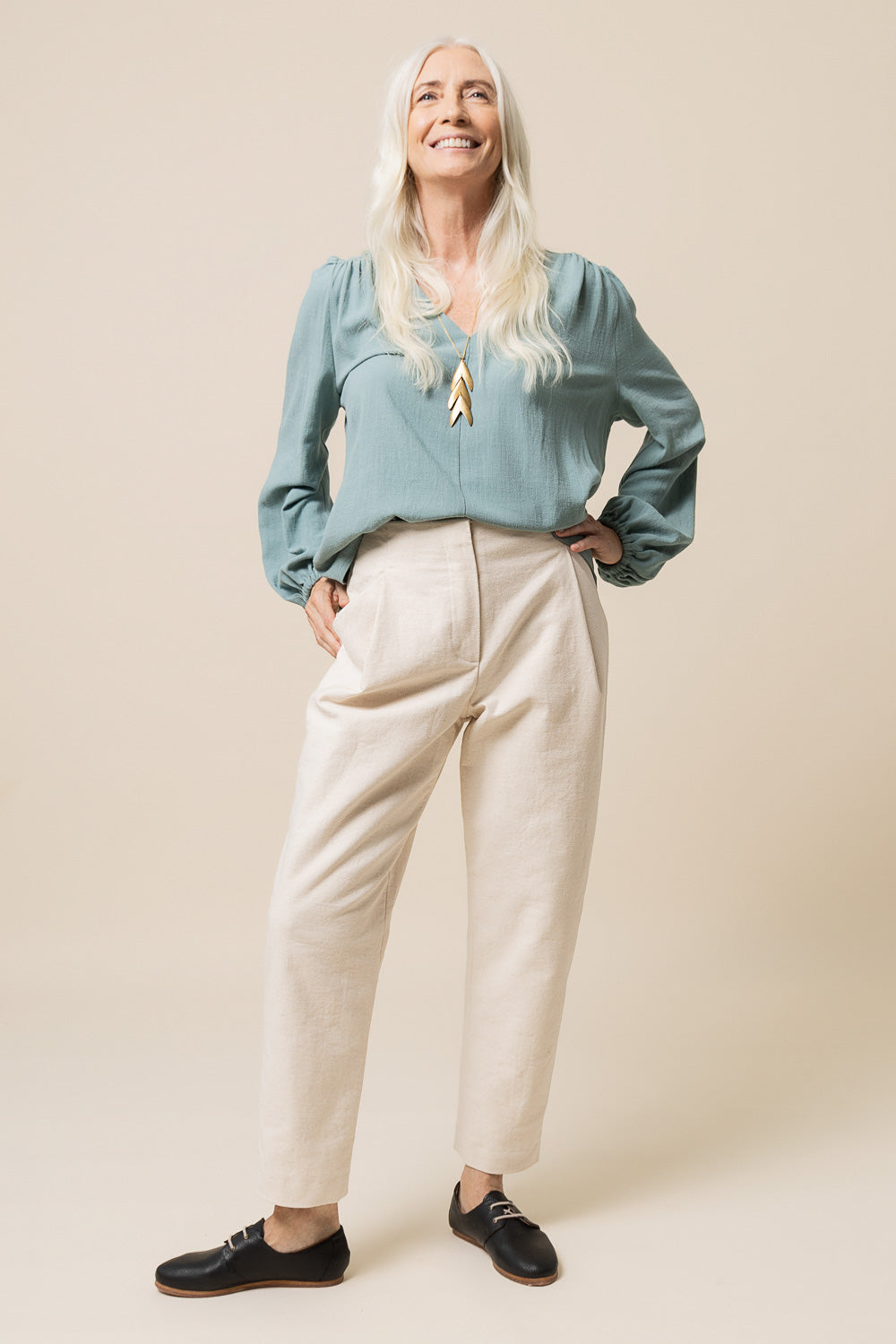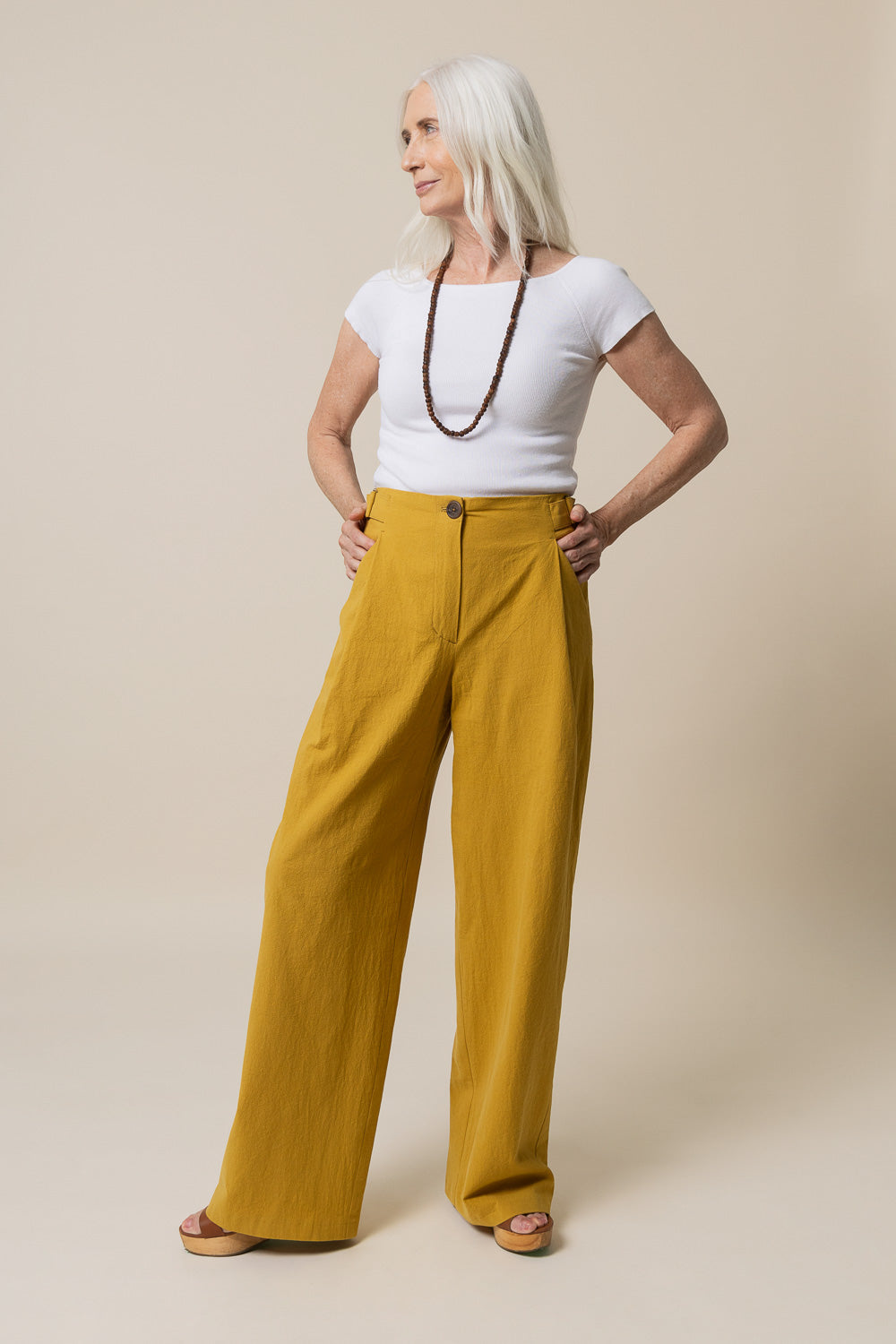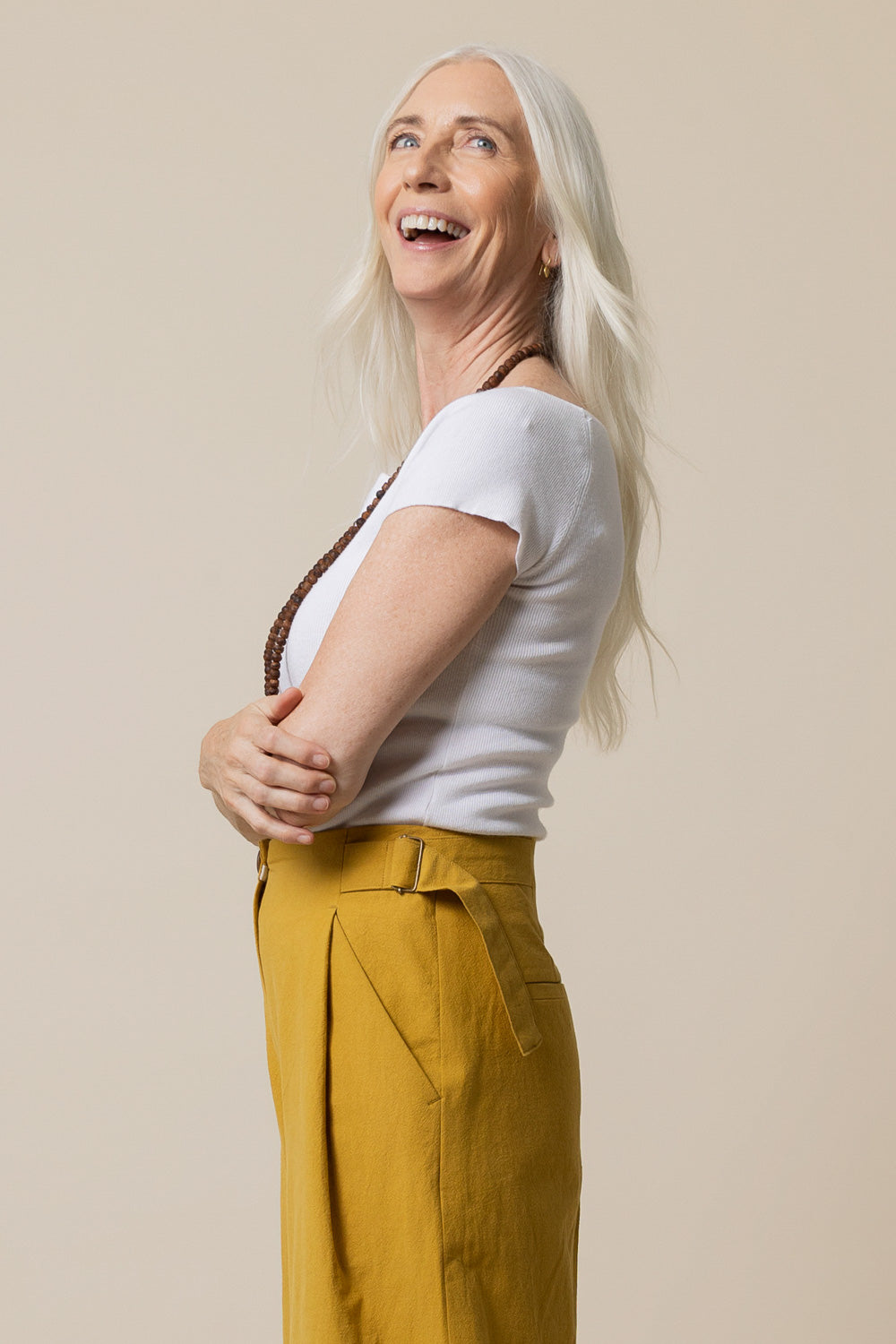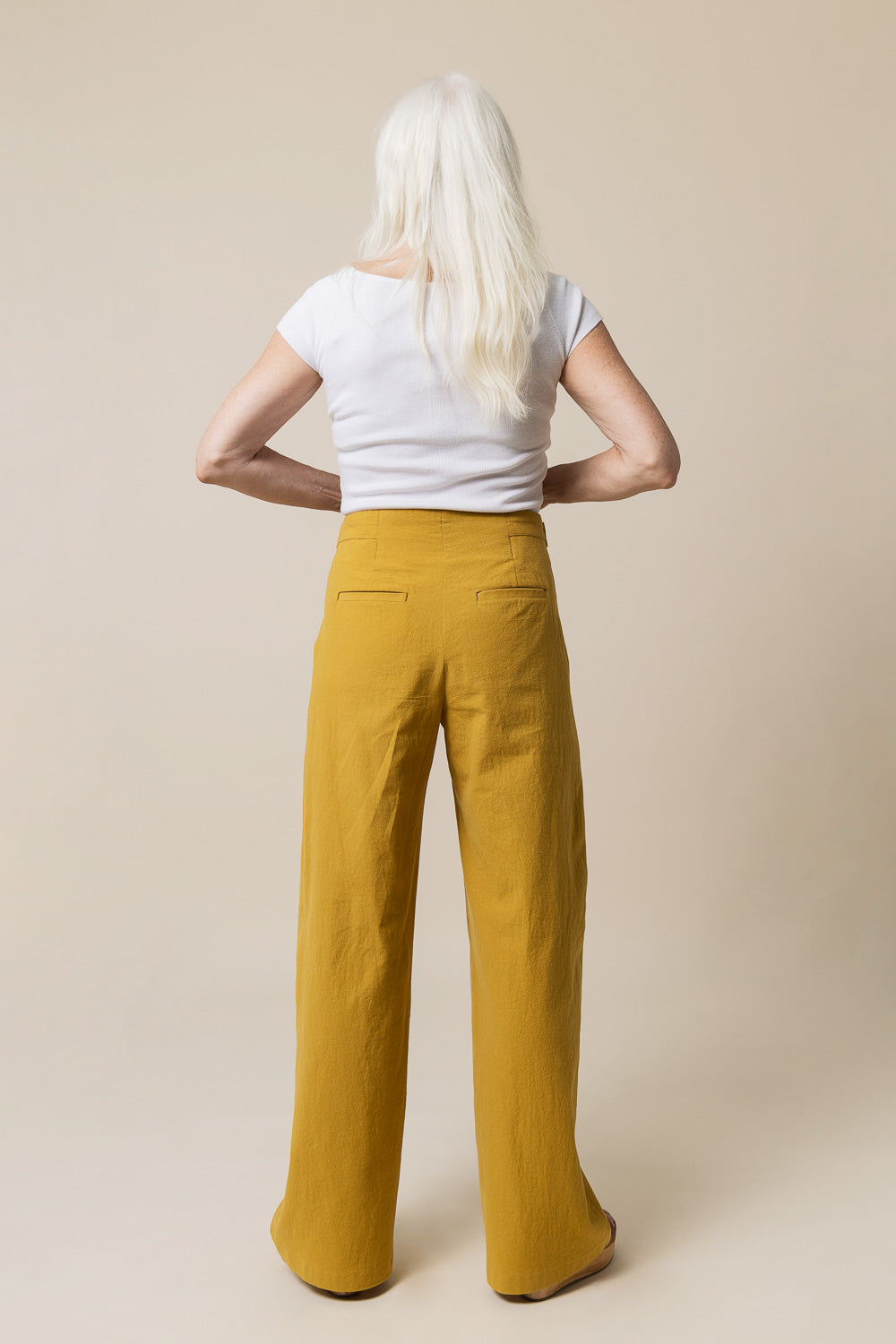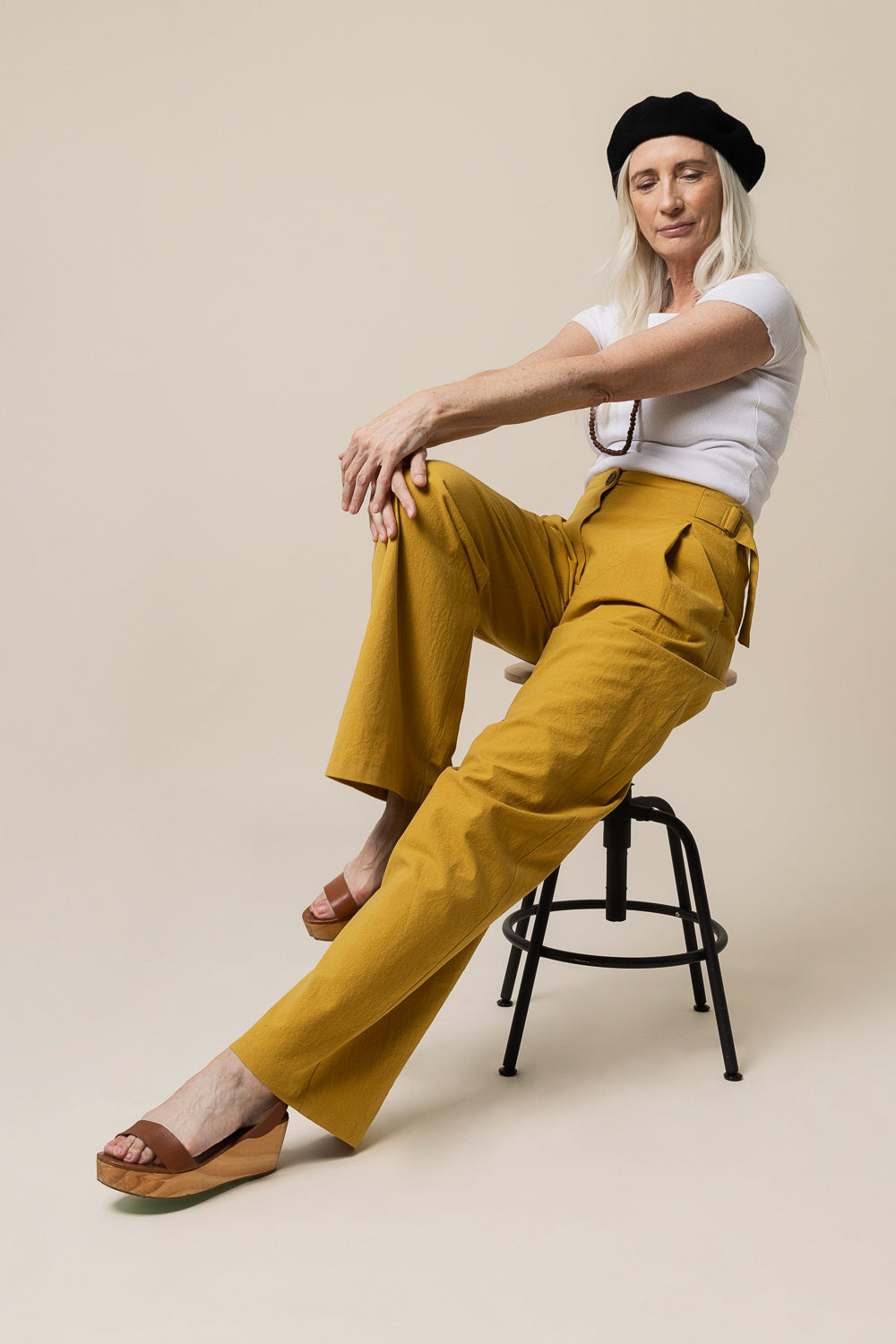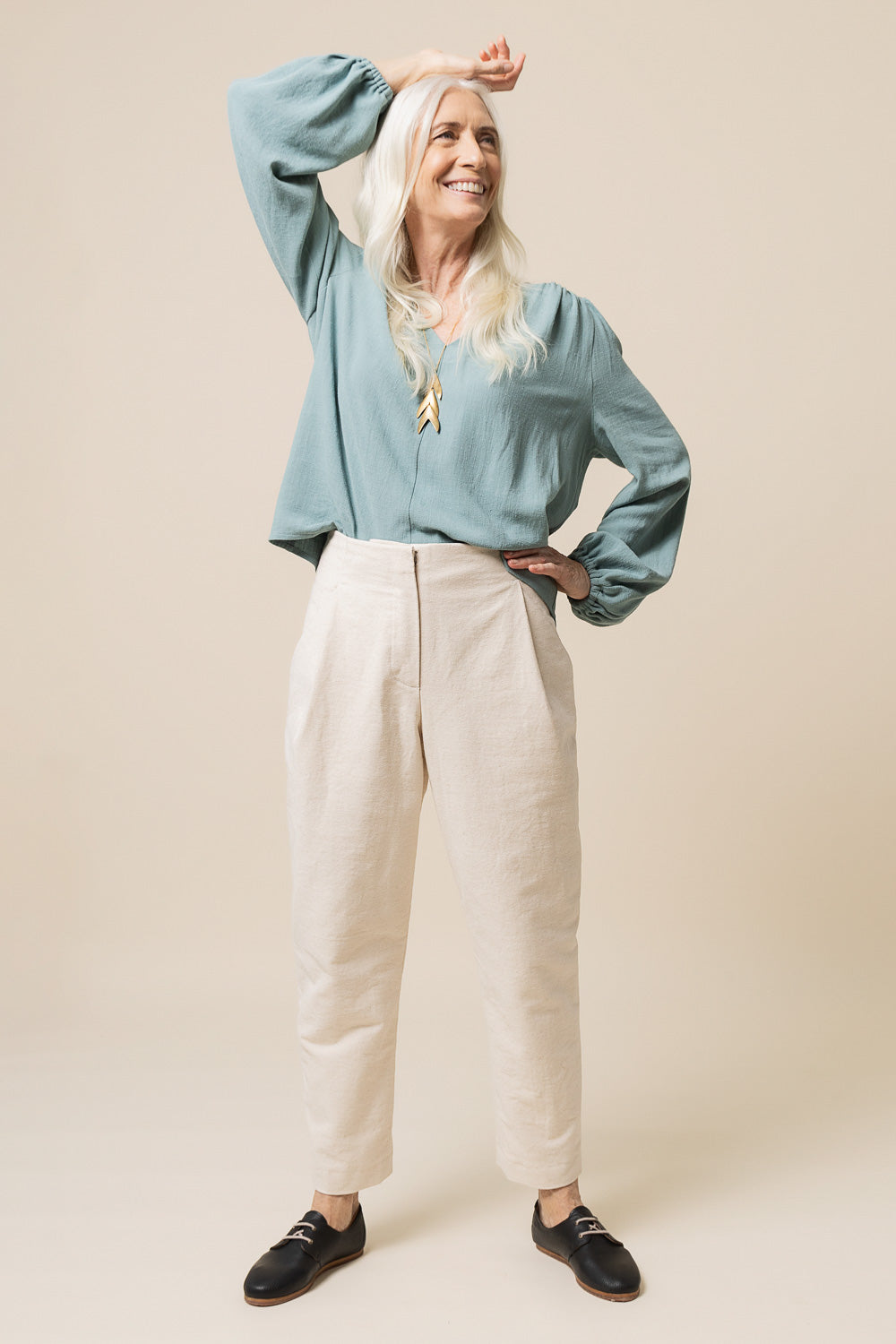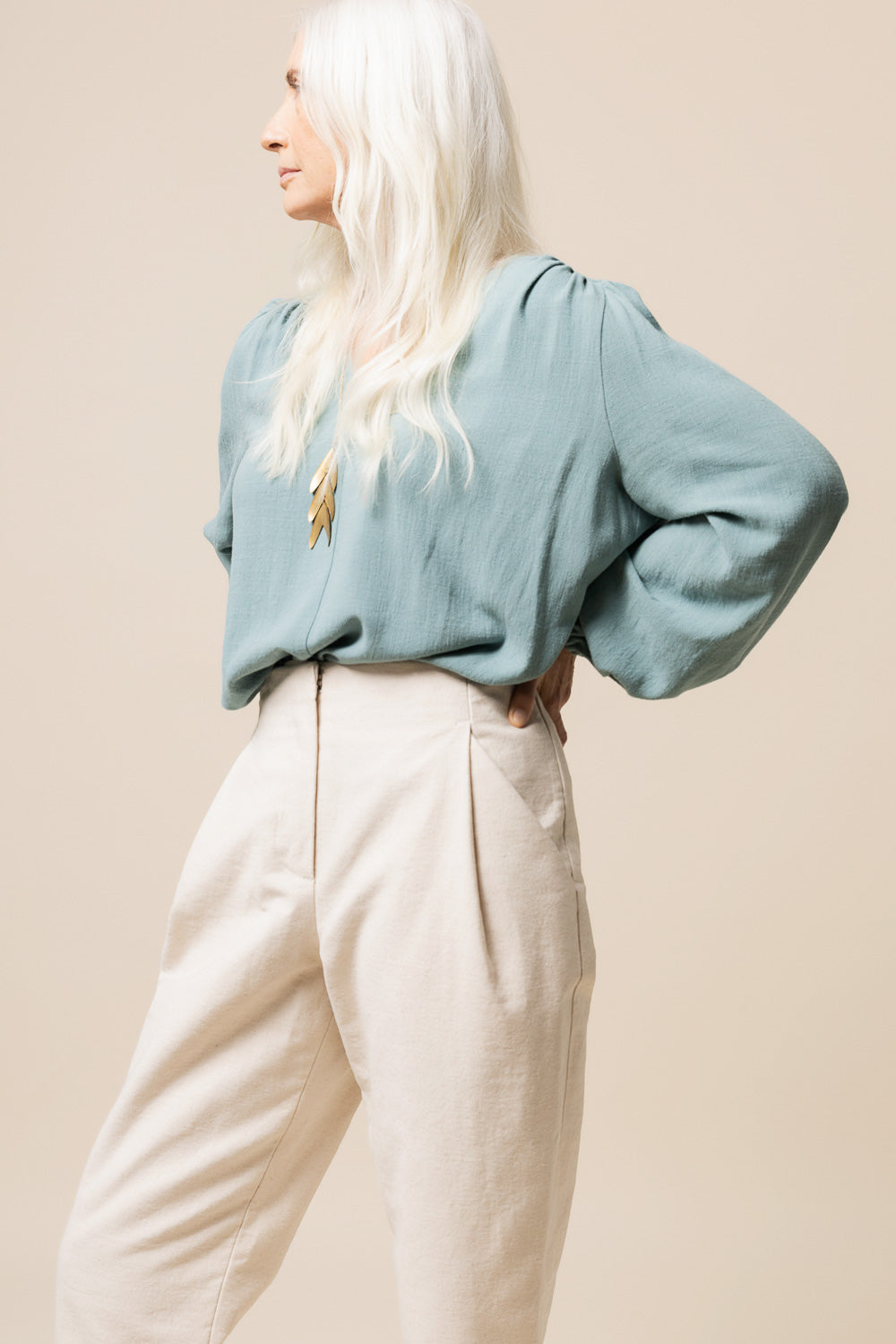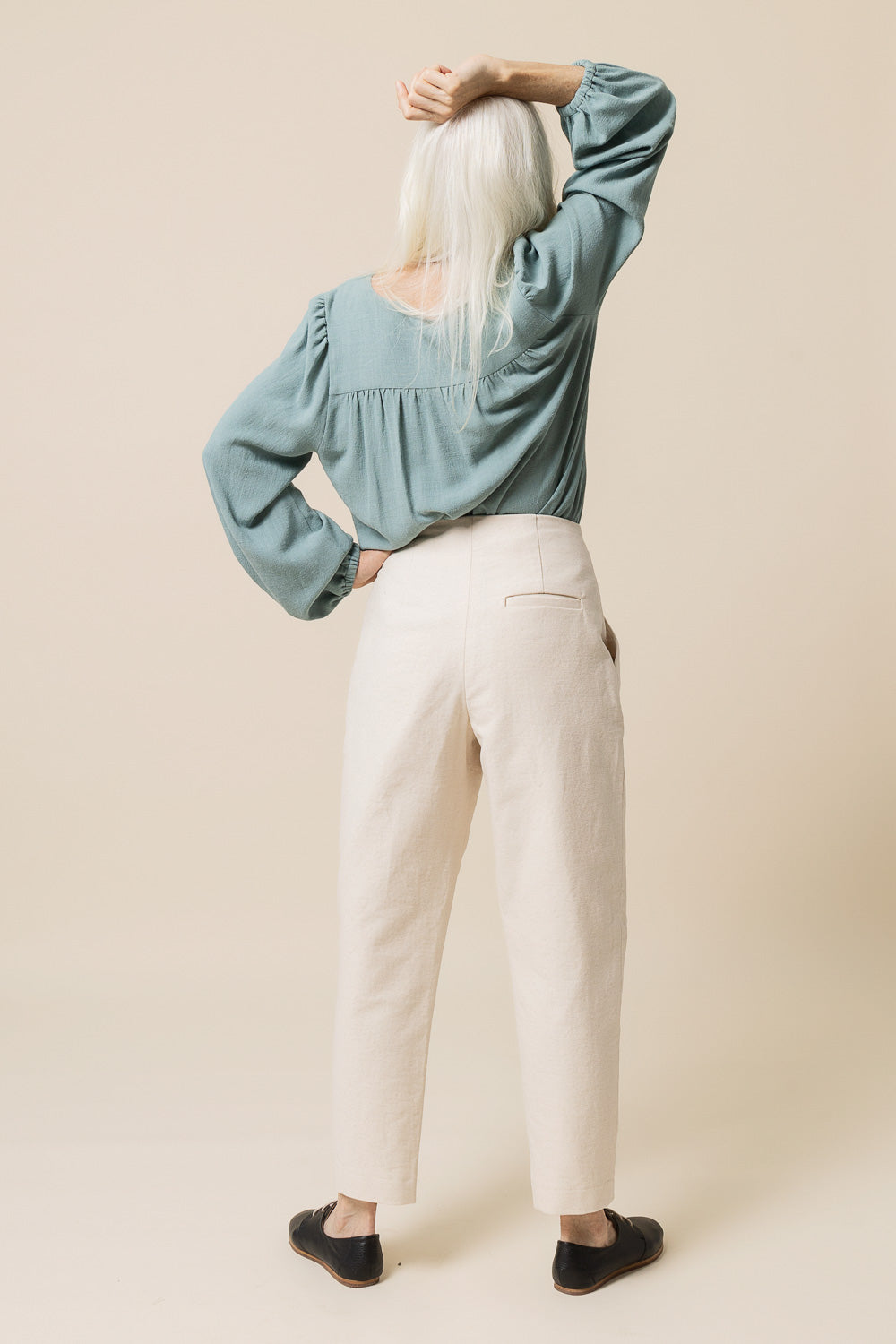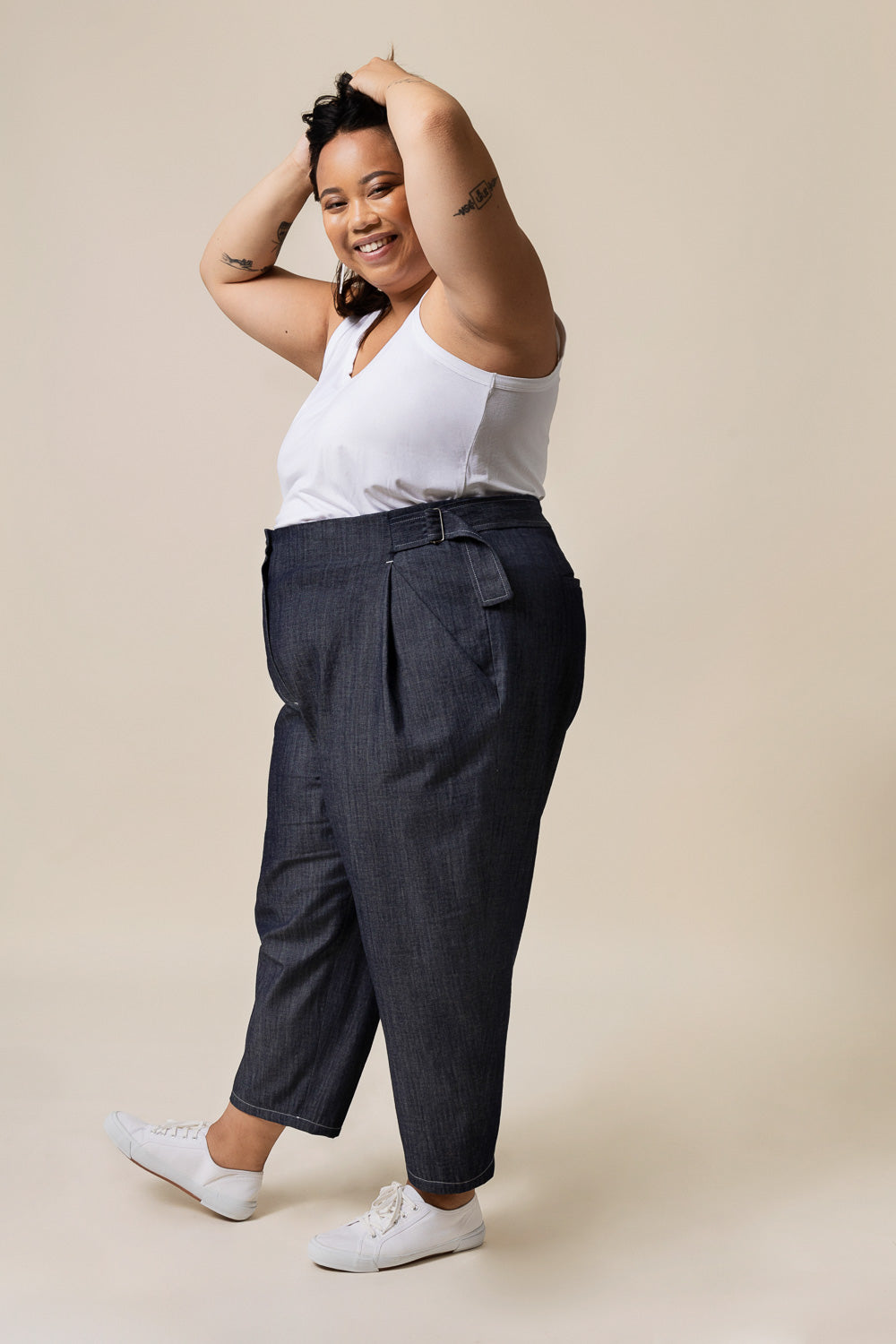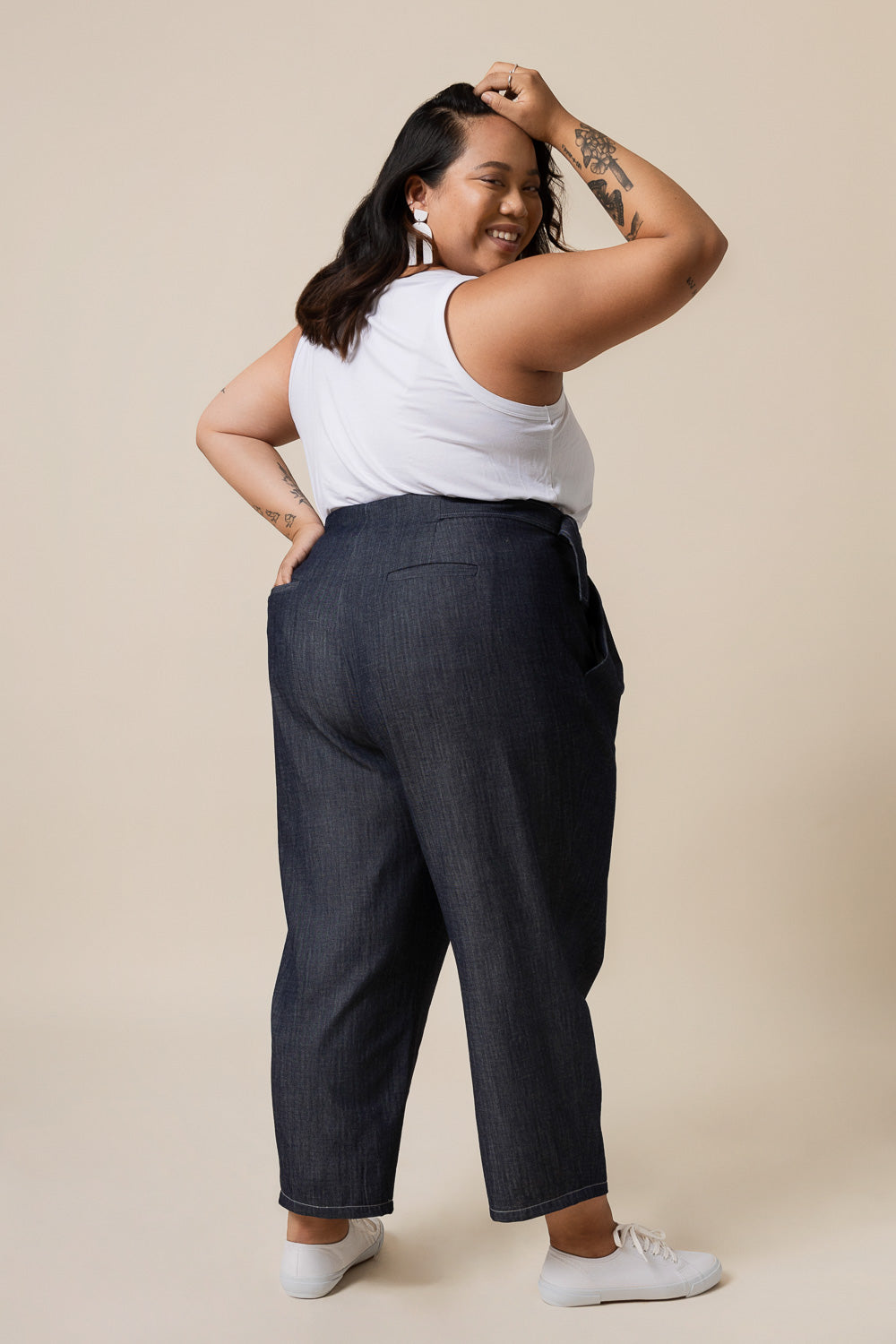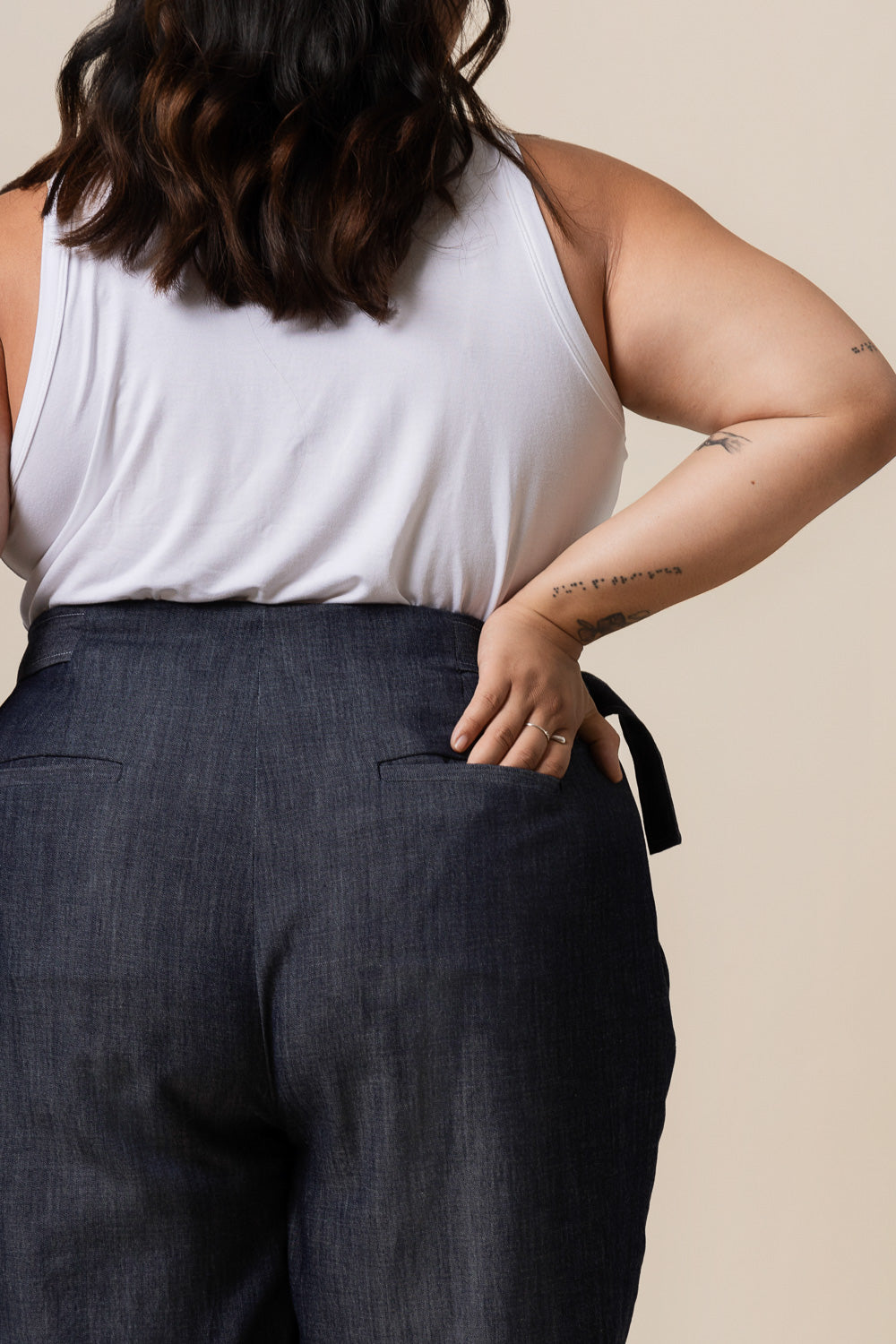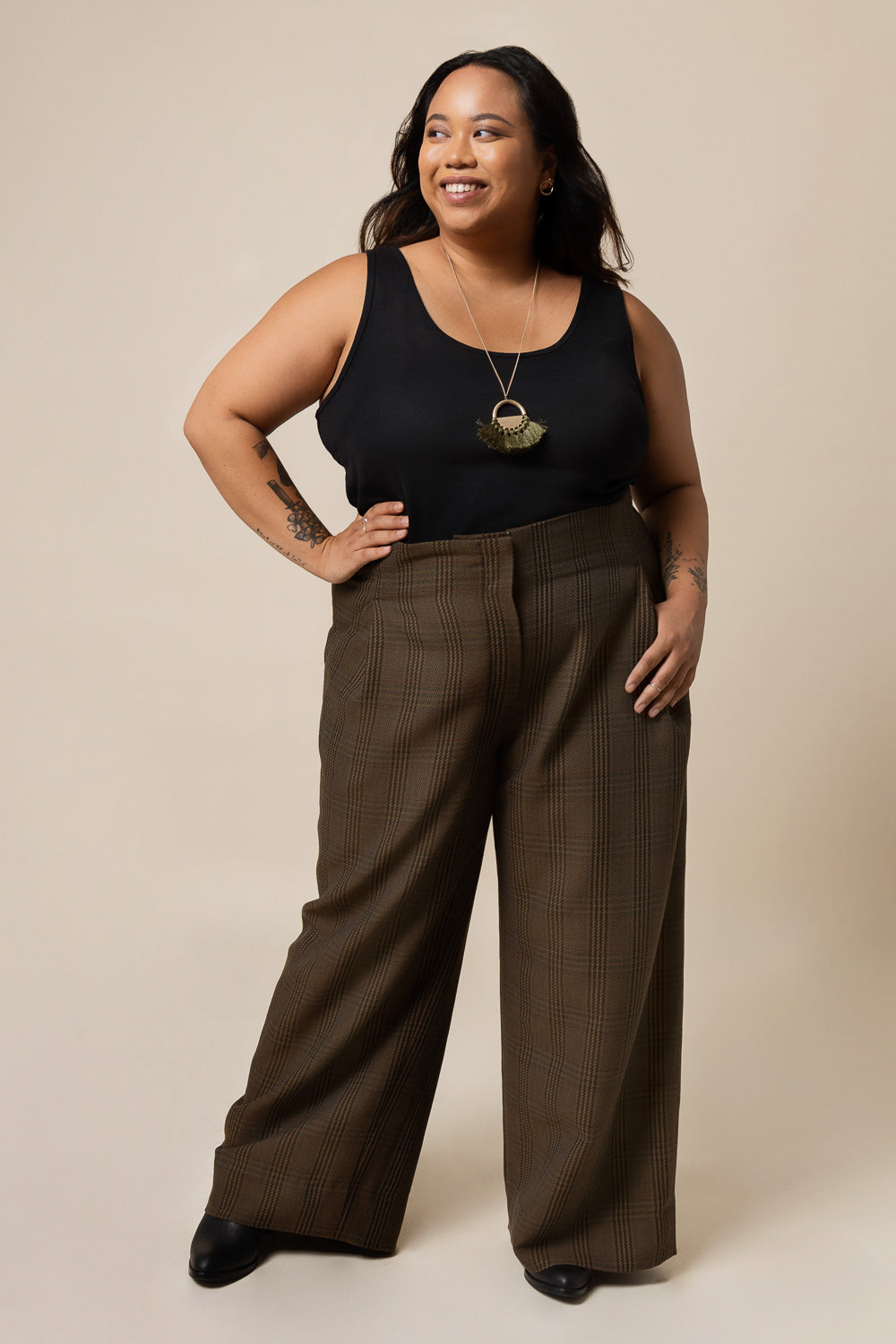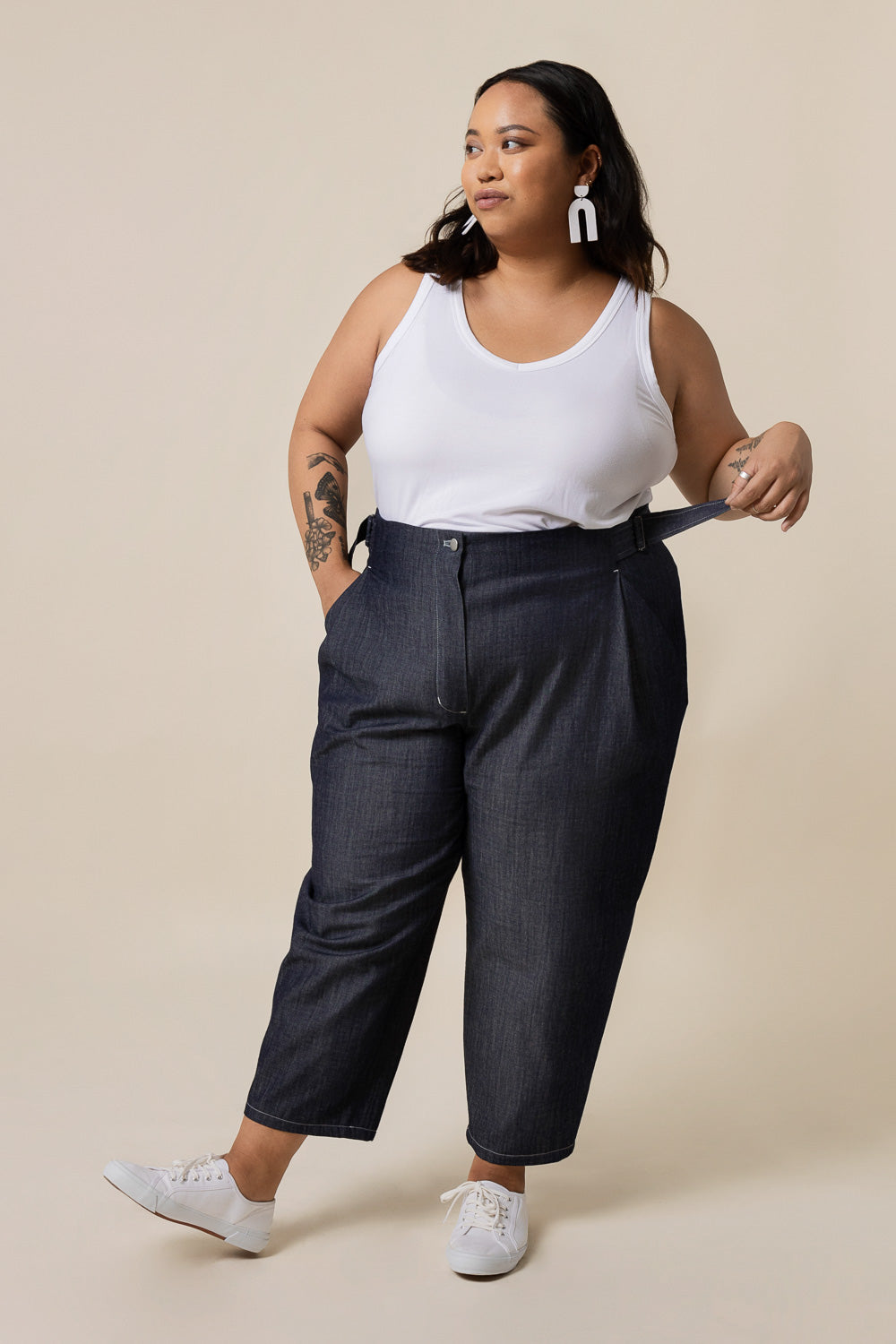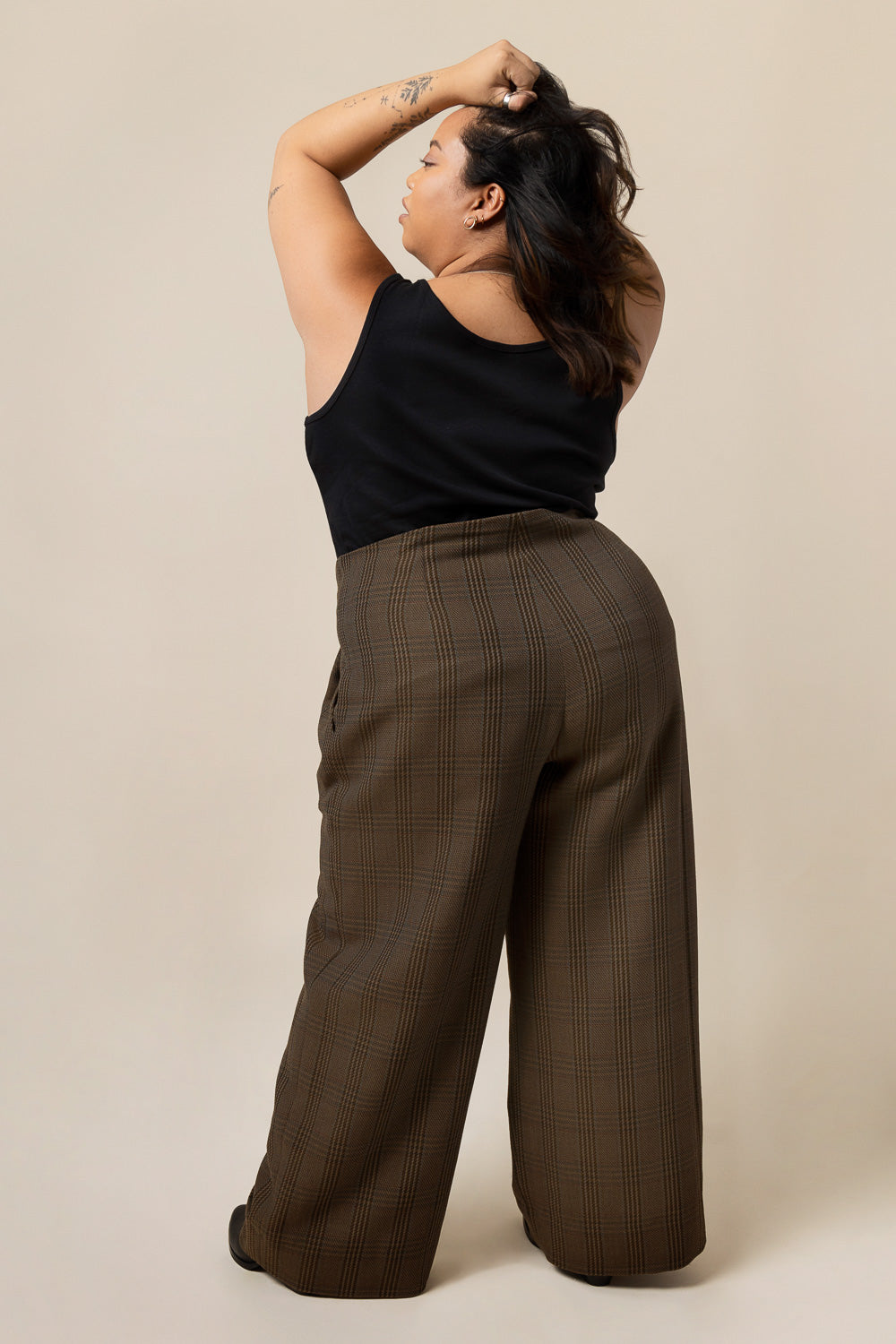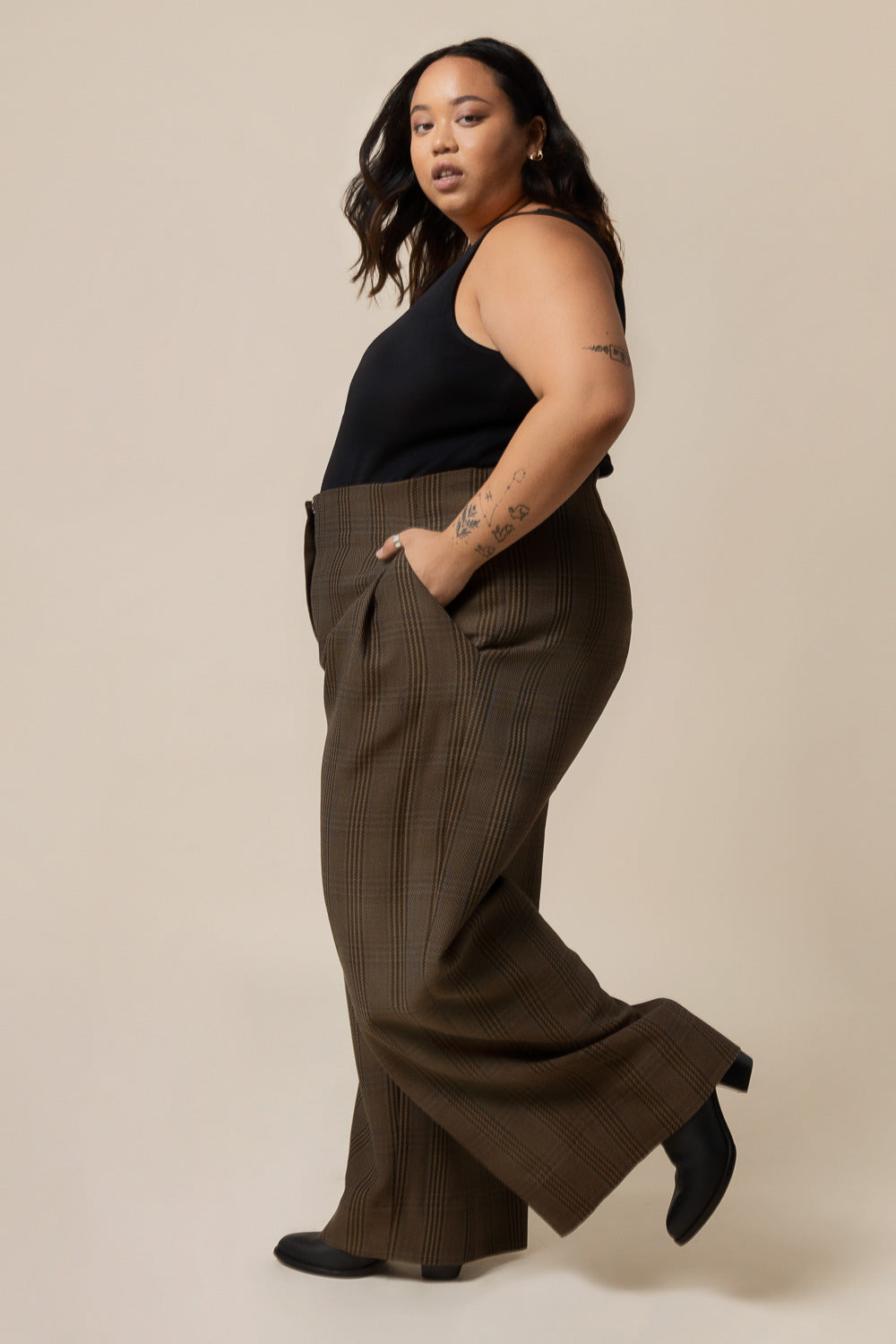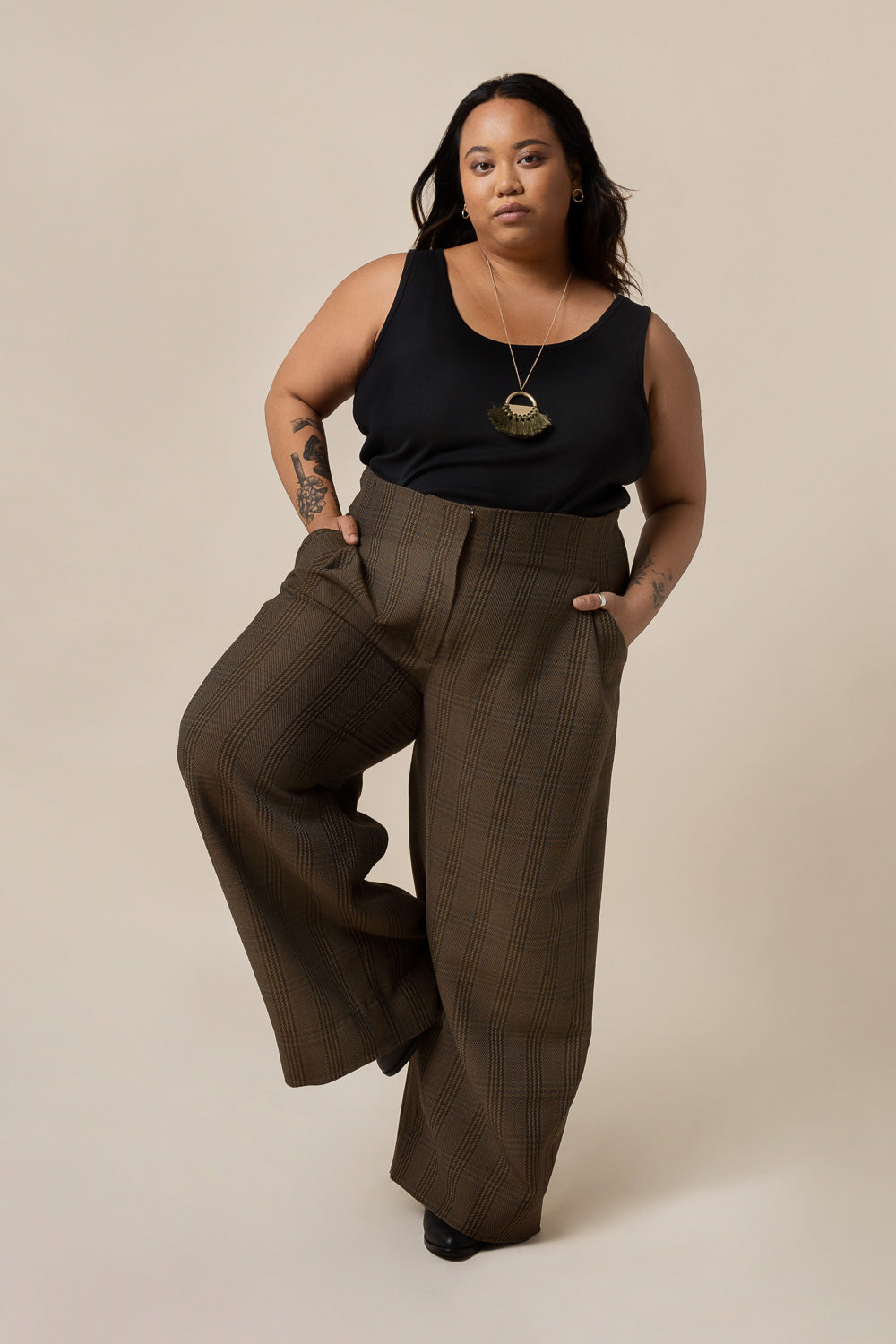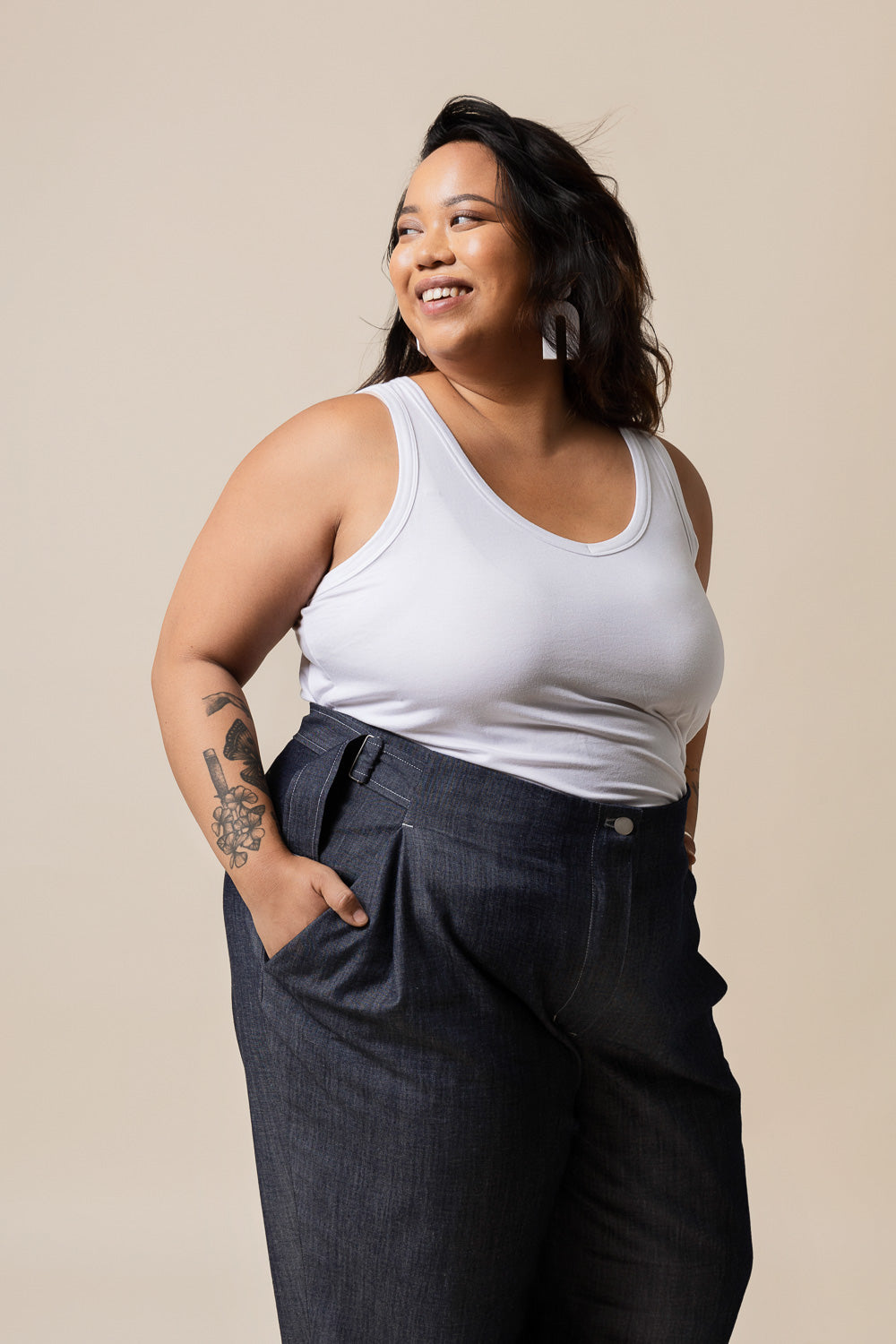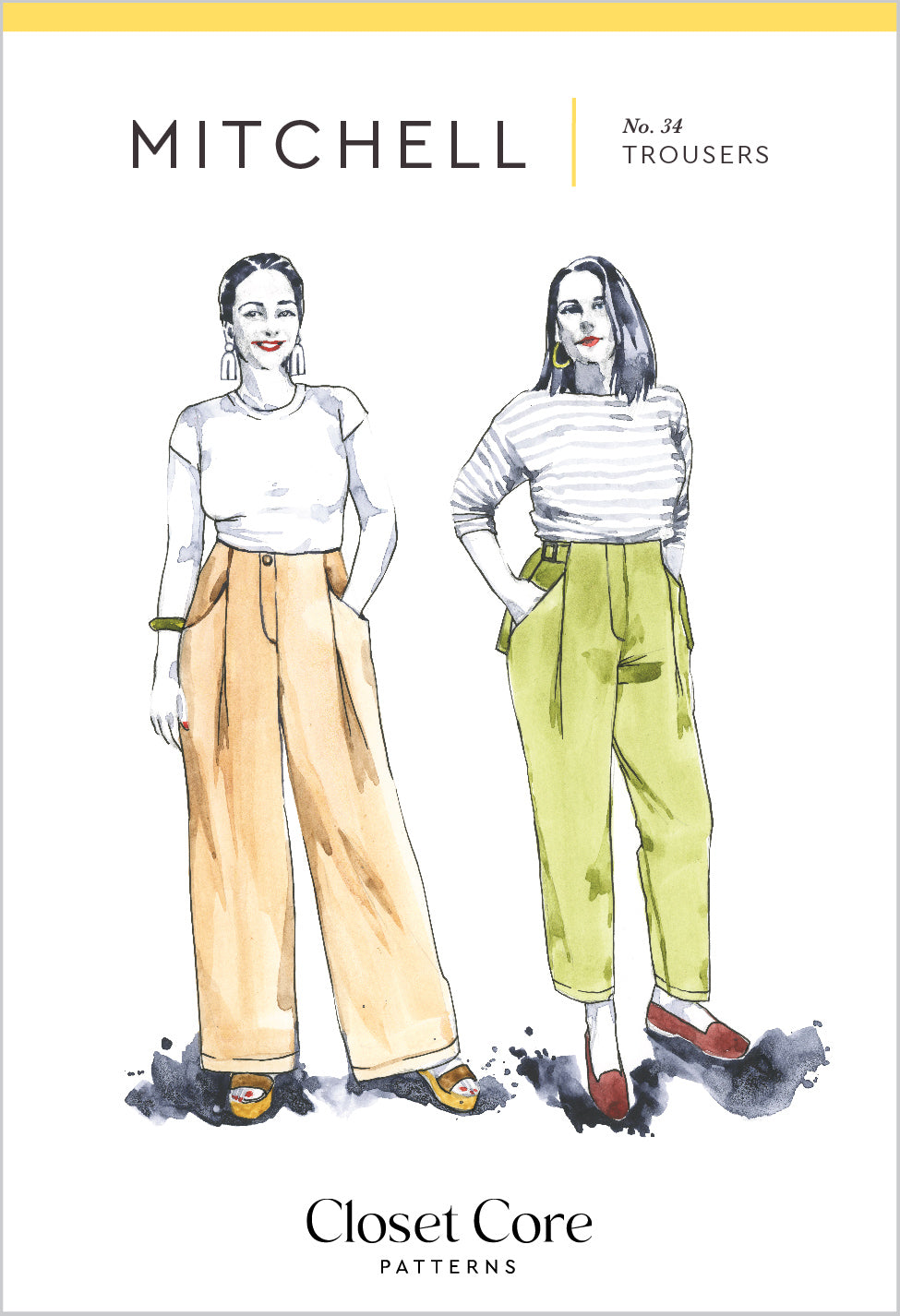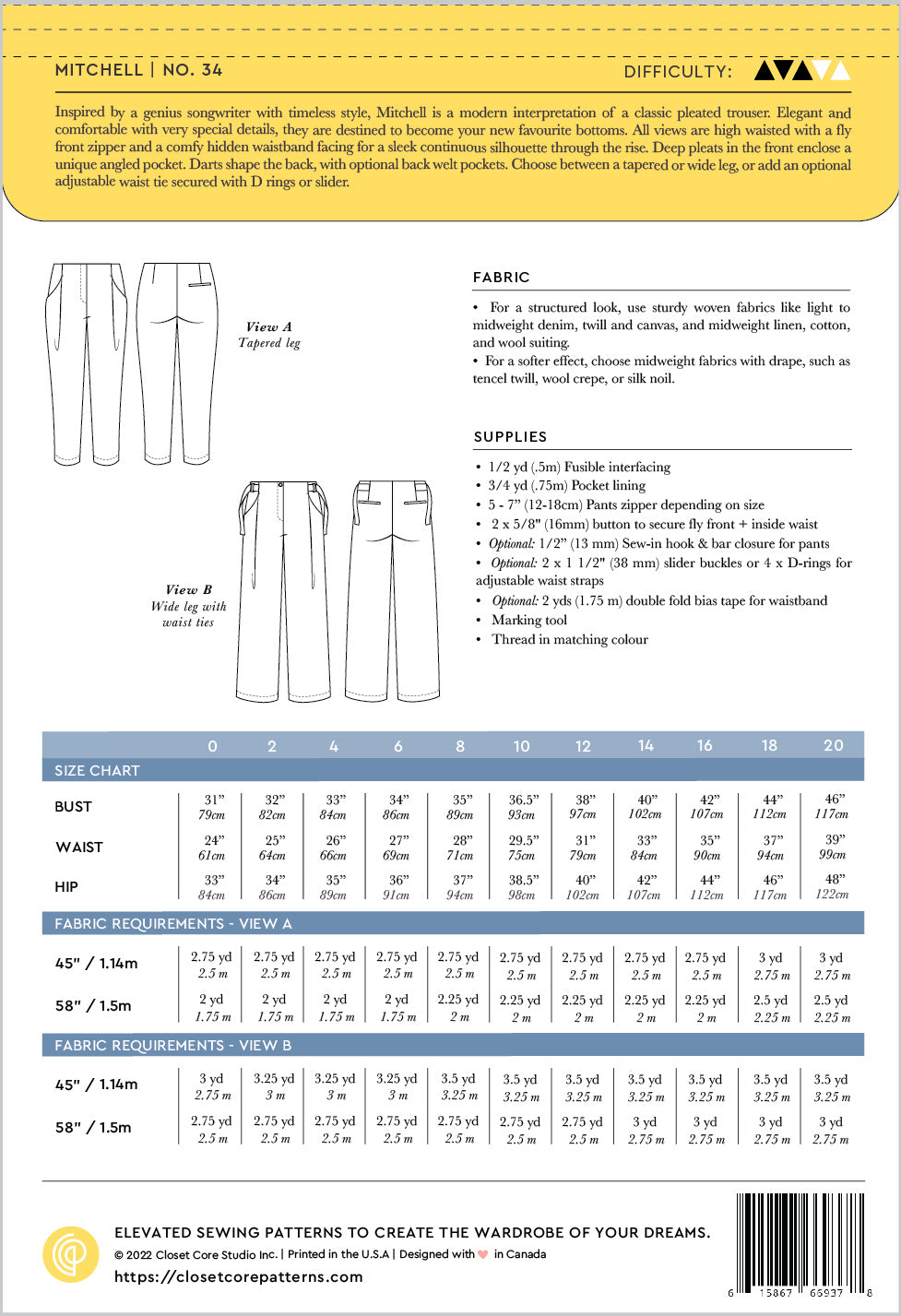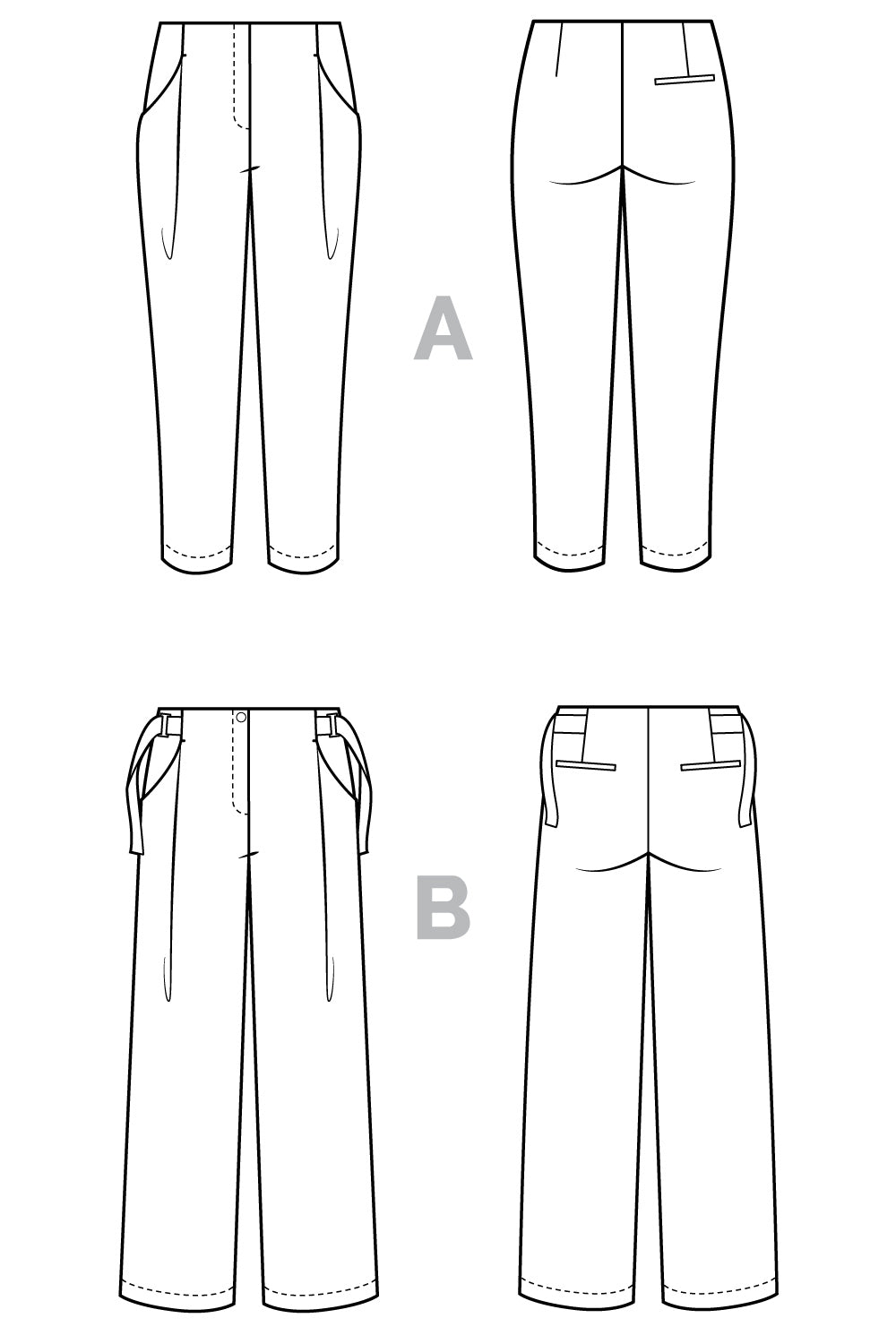 Mitchell Trousers Pattern
Details
Supplies
Sizing
Info+
Inspired by a genius songwriter with timeless style, Mitchell is a modern interpretation of a classic pleated trouser. Elegant and comfortable with very special details, they are destined to become your new favourite bottoms.
The Mitchell Trousers are high-waisted with a fly front zipper and a comfy hidden waistband facing for a sleek continuous silhouette through the rise–choose between a hidden pants hook and bar or classic button closure. Deep pleats in the front enclose a unique angled pocket. Darts shape the back, with optional back welt pockets. View A features a tapered leg ending at the ankle. View B features a full-length wide leg and adjustable waist straps secured with D-rings or sliders.
Suggested Fabric
For a structured look, use sturdy woven fabrics like light to midweight denim, twill and canvas, and midweight linen, cotton, and wool suiting.
For a softer effect, choose midweight fabrics with drape, such as tencel twill, wool crepe, or silk noil.
Shop Perfect Match Fabrics
Yardage (sizes 0-20) - 45inch / 1.14 m wide
VIEW A - TAPERED LEG ~Sizes 0-16 = 2.75 yd (2.5 m), Sizes 18-20 = 3 yd (2.75 m)
VIEW B - WIDE LEG ~Sizes 0-6 = 3.25 yd (3 m), Sizes 8-20 = 3.5 yd (3.25 m)
Yardage (sizes 0-20) - 58inch / 1.5 m wide
VIEW A - TAPERED LEG ~Sizes 0-6 = 2 yd (1.75 m), Sizes 8-16 = 2.25 yd (2 m), Sizes 18-20 = 2.5 yd (2.25 m)
VIEW B - WIDE LEG ~Sizes 0-12 = 2.75 yd (2.5 m), Sizes 14-20 = 3 yd (2.75 m)
Yardage (sizes 14-32) - 45inch / 1.14 m wide
VIEW A - TAPERED LEG ~Sizes 14-22 = 3.5 yd (3.25 m), Sizes 24-32 = 3.75 yd (3.5 m)
VIEW B - WIDE LEG ~Sizes 14-24 = 3.75 yd (3.5 m), Sizes 26-32 = 4 yd (3.75 m)
Yardage (sizes 14-32) - 58inch / 1.5 m wide
VIEW A - TAPERED LEG ~Sizes 14-20 = 2.75 yd (2.5 m), Sizes 22-28 = 3 yd (2.75 m), Sizes 30-32 = 3.25 yd (3 m)
VIEW B - WIDE LEG ~Sizes 14-24 = 3.25 yd (3 m), Sizes 24-32 = 3.5 yd (3.25 m)
Additional Supplies
Fusible interfacing
58" wide interfacing: 1/2 yd (0.45 m)
20" wide interfacing: 1 yd (0.9 m)
Pocket lining: 3/4 yd (0.7 m) for 45" or 58" wide fabric
Pants zipper
0-20 Size Range: sizes 0-6 = 5" long, sizes 8-16 = 6" long, sizes 18-20 = 7" long
14-32 Size Range: sizes 14-20 = 7" long, sizes 22-28 = 8" long, sizes 30-32 = 9" long
Sew-in hook & bar closure for pants: 1/2" (13mm)
Pants button to secure fly front: 5/8" (16 mm)
Button for inside waistband: 5/8" (16 mm)
Thread in matching colour
Optional: Slider buckles (one pair) or D-Rings (two pairs) for adjustable waist straps: 1 1/2" (38 mm) wide
Optional: Small buttons to secure back pocket welts: 3/8 - 1/2" (10-15 mm)
Optional: Twill tape to reinforce front pocket openings: 1/2 yd (0.5 m)
Optional: Double fold bias tape for finishing waistband (may be replaced with serged stitch): 2 yds (1.75 m)
View our size charts
When purchasing a PDF pattern, all size ranges available are included with your download.
At this time, only sizes 0-20 are available in print format.
PDF File Details
Sizes 0-20
Sizes 14-32
Letter / A4
36-41 depending on view
45-50 pages depending on view
Copyshop / A0
3 pages
3 pages
Projector Files?
YES
Layered Files?
YES
FAQ
How do I print my PDF pattern?
All of our patterns come in a Letter/A4 format (for printing on a home printer) and 36"x48"/A0 format (for printing at a copyshop). Some patterns also come in a projector format. Please check the INFO+ tab under the description to see page counts and file formats available.
For more help printing and assembling our PDF patterns, please visit our PDF Printing Guide
How do I download my PDF Pattern?
First, we suggest creating an account in our shop so you can access all your files in one place at any time!
After you place an order, you will land on a page with a custom download link. You can download your pattern then, or use the link included in the order confirmation sent via email. If you don't receive a download link via email, please check your junk mail as it may have been rerouted (and add us to your safe senders list so it doesn't happen again!)
Am I charged for taxes?
All Canadians are charged GST and possibly PST depending on where they live in Canada. We do not charge taxes in the US.
Customers based in the EU and UK will also be charged VAT on all goods. Regulations have changed in recent years requiring VAT to be collected based on where the customer resides (and not where the company is located) so we are legally required to collect and remit VAT even though our company is based in Canada. You can read more about the VAT regulations here.
What currency will I be charged in?
Use the dropdown at the top of our menu to choose USD, CAD, AUD, GBP, or EUR dollars to view prices and checkout in the currency of your choice.
For AUD, GBP, and EUR currencies, the price you'll see is linked to the daily exchange rate between USD and your currency, which means prices may fluctuate. For our Canadian customers, we have established set prices that will not vary with exchange rates.
Shipping + Returns
Shipping
American customers: Packages in the US are shipped via USPS First Class and Priority Mail twice a week. Please allow 8 to 12 days for your parcel to arrive.
Canadian customers: Your orders are sent via Canada Post letter or parcel post. Please allow 8 to 12 days for your parcel to arrive, and wait up to 3 weeks before contacting us. 
International customers: Estimated delivery dates are listed below the shipping price when you checkout. We have two possible services. International First Class is for packages under 2 kilos and takes approx 10-40 days to arrive depending on your location. International Priority is a bit faster and should arrive at your destination in approx 8-20 days. Both services include tracking for *most* destinations.
Order tracking
Most shipping services we offer come with a tracking number. This will be sent to you via email you once the order has been processed in our warehouse.
Given the huge volume of mail and the challenges that the pandemic, holiday season, and environmental conditions impose on the performance of the mail service, we ask you to please be patient with the delivery of your packages, and get in touch after 3 weeks for Canadian and US shipments, and 6 weeks for international shipments.
If the above mentioned waiting times have elapsed, please message us about your delay. We'll be happy to work with you to figure out a solution.
Exchanges + Returns
For physical goods: We grant refunds for physical items like print patterns and kits if they are returned to us in sellable and unopened condition within 30 days of purchase. Please contact us prior to shipping back your order to make sure you are eligible for a refund. 
For digital goods: We cannot issue refunds on digital goods like PDF patterns and courses if they have been downloaded or watched. If you have not downloaded your file and would like a refund, please contact us.
From the Closet Core Community
Share on social with the hashtag #ClosetCoreMitchell
These pants are a dream
The wide-legged pants I have been searching for. I have checked out many other patterns online, bought some, just to realize they didn't have the fit and style Mitchells do. I already have fabric to make two more pairs (summer and autumn/winter) and am actively scouting other fabrics. The fit on these is beautiful for me - the waistband hits at the right place and everything flows from there.
I made my first pair in cotton canvas, and they're great as a more casual look. Next up is linen, followed by brushed cotton.
Mitchell trousers: classy and comfortable
I really love how it all turned out. I made the tapered version of the Mitchell trousers in a medium-weight linen. The trousers look both classy and sporty. The fit is very comfortable because of the ease around the legs, whereas the tight fit in the waist prevents it from looking too baggy. I had to adjust the pattern because of my length (1.61 m) and graded between seize 6 (hips) to 2-4 (waist). The instructions were very elaborate and clear. I'm definitely going to sew these trousers again in an other kind of fabric, maybe with some pattern hacks. It was a real pleasure to sew, thank you!
Mitchell Trousers
Haven't made them yet, looking forward making them after looking at them online for a while.
Easy to follow; one error
This was my first CC pattern, and I enjoyed it enough to order a couple more things to make! The instructions were clear and easy to follow, and I appreciate having illustrations at every step.
I did find an error in the instructions while making my muslin: When sewing the front pockets, the 7th step -- Turn front leg face down, and it should be the WRONG sides together, align top and bottom pocket along the curved seam. The bottom pocket is underneath.
Made adjustable
I saw a photo ad for these and realised they may solve a friend's problem. She suffers from occasional stomach bloating due to crohn's disease, so hadn't been able to wear trousers due to her changing size. I tried out this pattern for myself, so I knew how they are made. Then I adjusted them for her. Instead of sewing the smaller waist strap though all layers I just attached it to the front. I also widened the front pocket pieces, and front waistband facings so the waist pleat could open out when needed. I then added 3 snap fastenings inside the pleat to hold the folds together. These can be unfastened one at a time to increase the waist size, while the bands and D rings do the fine tuning and keep everything in place. She is very pleased with them and says they are very comfortable, so may ask for some more in other fabrics. (I used denim for the first pair, but she thinks she'd like some summer weight ones too). I love my pair as well. I have plenty of dressmaking experience but had not managed to get a good fit in trousers before. This pattern, and the accompanying online advice, have made it so simple. Some quick photos and then a few suggested tweaks on the muslins and I now have patterns I can use again that fit us both well. Thank you.
Ordered this pattern because of the great design, looking forward to making it