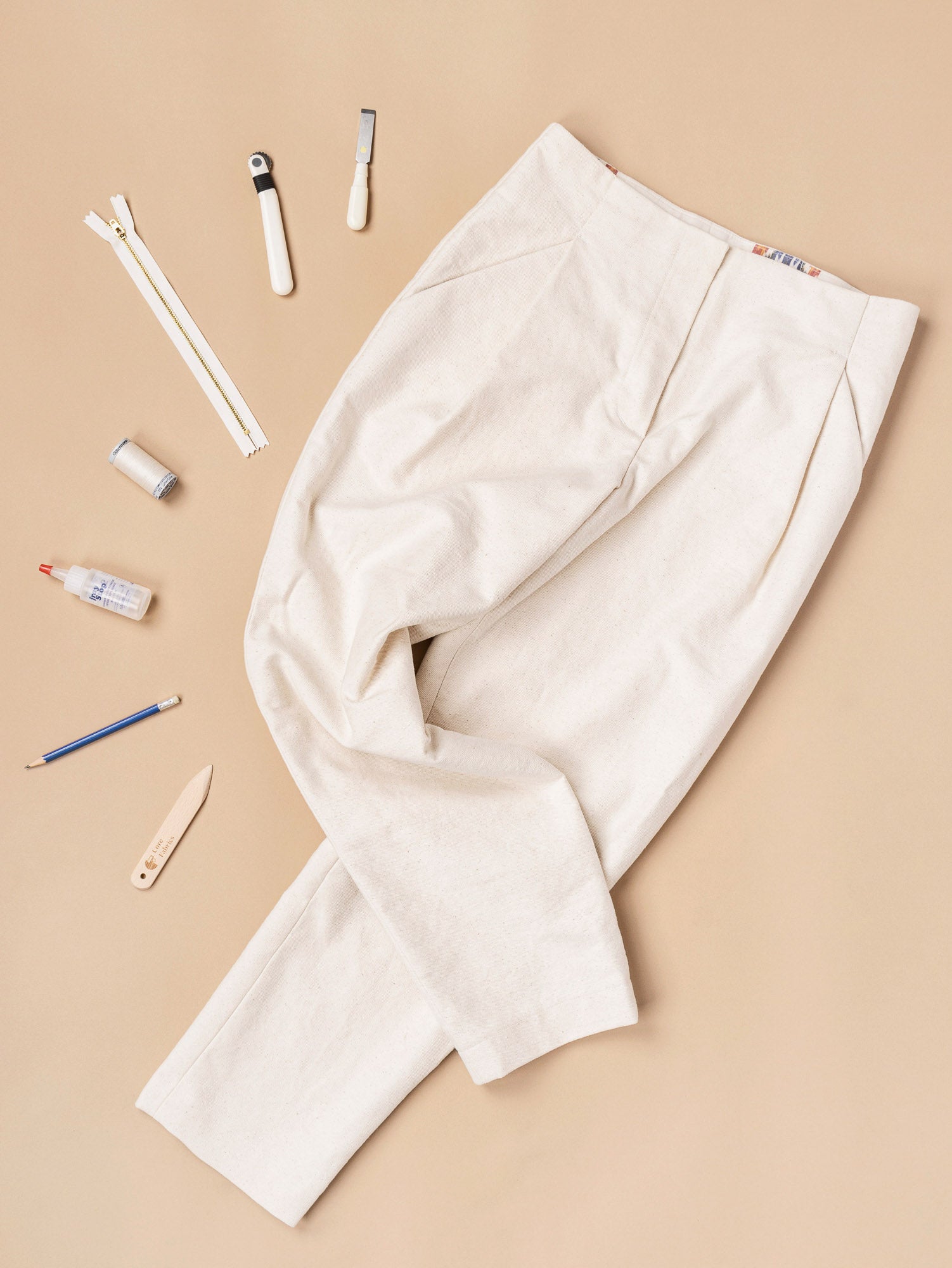 Create a wardrobe of beautiful tailored trousers!
Sewing Classes
Learn to Sew Pants + Trousers | Sewing Class
CHOOSE YOUR PATTERN:
Includes your choice of trouser patterns in PDF or print format:
Mitchell Trousers, Jenny Trousers, and/or Sasha Trousers.
Learn to Sew Pants + Trousers | Sewing Class
Are you excited to sew a wardrobe full of beautiful, custom-made trousers that perfectly reflect your style? Do you want to grow and expand your skillset and push your sewing practice to the next level?
If you love sewing your own clothes but are feeling a little intimidated when it comes to making your own trousers, this class is here to help! Following along with our step-by-step video lessons, you'll learn everything you need to know to construct a pair of tailored pants from start to finish, using professional techniques and all our favourite tips for trousers that look like they were produced by a high-end tailor.
Using your choice of three of our best-selling trouser patterns (with skills you can apply to any commercial pattern, regardless of gender), Heather Lou of Closet Core Patterns teaches each lesson in simple language everyone can understand, so both advanced and novice sewists alike will feel confident creating beautiful, custom-made trousers from the comfort of their own home.
Work at your own pace – anytime, anywhere, on any device – and learn how to sew trousers and pants on a standard sewing machine from a respected sewing industry expert. Custom made bottoms, coming right up!
You'll learn...
How to source the right fabrics, interfacings, notions + tools for sewing trousers
How to choose the right size for your body
How to make simple pattern changes and add outlets to allow you to easily take in and let out pants for future fitting adjustments
How to sew classic tailored pocket details including welt pockets, patch pockets, and gape-free slash pockets
Stress-free closure techniques, including our trademark fly front zipper method, and a unique lapped side zipper
Multiple methods for constructing a variety of waistbands
Tips for adding linings
Techniques to create long-wearing and high quality trousers that will stand the test of time
Included Patterns:
While you can use any trousers pattern while sewing along with this course (including men's trousers and patterns from other companies), we've included all of our best-selling trouser patterns with enrolment. Choose between:
Mitchell Trousers, a high waisted, pleated trouser with a fly front zipper and tapered and wide leg. Available in in PDF format (sizes 0-20 + 14-32) and Print format (sizes 0-20)
Jenny Trousers, a high waisted, flat front trouser with a side zipper and tapered and wide leg. Available in PDF format (sizes 0-20 + 14-32) and Print format (sizes 0-20). Please note you will get the complete Jenny pattern including the overalls and shorts variation, although we will not be covering overalls construction in this class.
Sasha Trousers, a mid-rise flat front trouser with fly front zipper designed for stretch wovens. Please note this pattern is only available in PDF format (sizes 0-20).
Print patterns will be shipped directly to you. For instant gratification, choose a PDF pattern; see our guide to printing and assembling PDF patterns here.
Mitchell Trousers (sizes 0-32)
Mitchell Trousers (Sizes 0-32)
Jenny Trousers (sizes 0-32)
Sasha Trousers (sizes 0-20)
Also Included:

Access to our private students-only forum where you can ask for help, share your progress and meet new sewing friends
Comprehensive sourcing guide for all your trouser-making needs
Downloadable pants fitting guide to help you diagnose common fitting issues
Watch anywhere video lessons with closed captioning.
Class Benefits:
Meet Your Instructor
Heather Lou is the force behind Closet Core Patterns and Core Fabrics. As a pattern designer and sewing educator, she has been writing and teaching about sewing for over a decade, and has taught thousands of people to sew, both online and in sold-out sewing workshops across North America & Europe. Her work has been featured in Threads, Sew News, Seamwork, Love Sewing and Sewing World magazine.

With her contagiously positive attitude, Heather's teaching style is fun, approachable, and filled with helpful tips and techniques to help you transform the outfits in your imagination into a self-made wardrobe you love — not one you're limited to buying off the rack.
Frequently Asked Questions
I'm psyched about making my own trousers! How do I get started?
To get sewing, choose your pattern and pattern format at the top of this page to add the class to your cart. Once you check out, you'll be automatically enrolled in your class on our class platform called Mighty Networks. The link to login to the class will be sent to you via email. Please check your spam folder if you don't receive it after finalizing your purchase.
When does this class start and finish?
The beauty of Closet Core Patterns' online classes is that you call the shots on when they begin and end. Learn to Sew Trousers is a completely self-paced online class, which means you get to decide when you start, when you finish, and how many times you replay it.
What will I need to get started?
In the class we'll share a complete supply list, along with information about where and how to source everything on said list. At the very least, you'll need a sewing machine (serger optional), iron, fabric, lining for your pockets, pants zipper, thread, button, and interfacing.
How long does the class take to complete?
It's up to you! To give you an idea of how long the class is start to finish, the video runs just over 6 hours long and comprises 8 lessons total. Since we cover the construction of multiple patterns, you'll be able to skip around to relevant sections for you. Binge watch them in a weekend, or do a little at a time. You can return to the class as many times as you'd like, and there's no time limit for you to complete in.
How do I get my patterns?
You can choose your pattern in either a PDF format (which you can print at home or at a copy shop) or print patterns we'll ship directly to you. If you select the PDF format, you'll be able to download your patterns immediately after checkout, or by using the download link sent to you via email. Print patterns will be shipped in 5-10 days.
Can I use any trousers pattern for this class?
This class focuses on construction and technique, and while we use Closet Core patterns to demonstrate on camera, you can follow along using absolutely any trousers pattern you prefer, including a mens pattern.
How long can I access the class?
All day, 'erryday. But for real, this class includes lifetime access. After you enroll, the class is yours, which means you've got unlimited access for as long as you like, across all devices for all of eternity.
No more products available for purchase