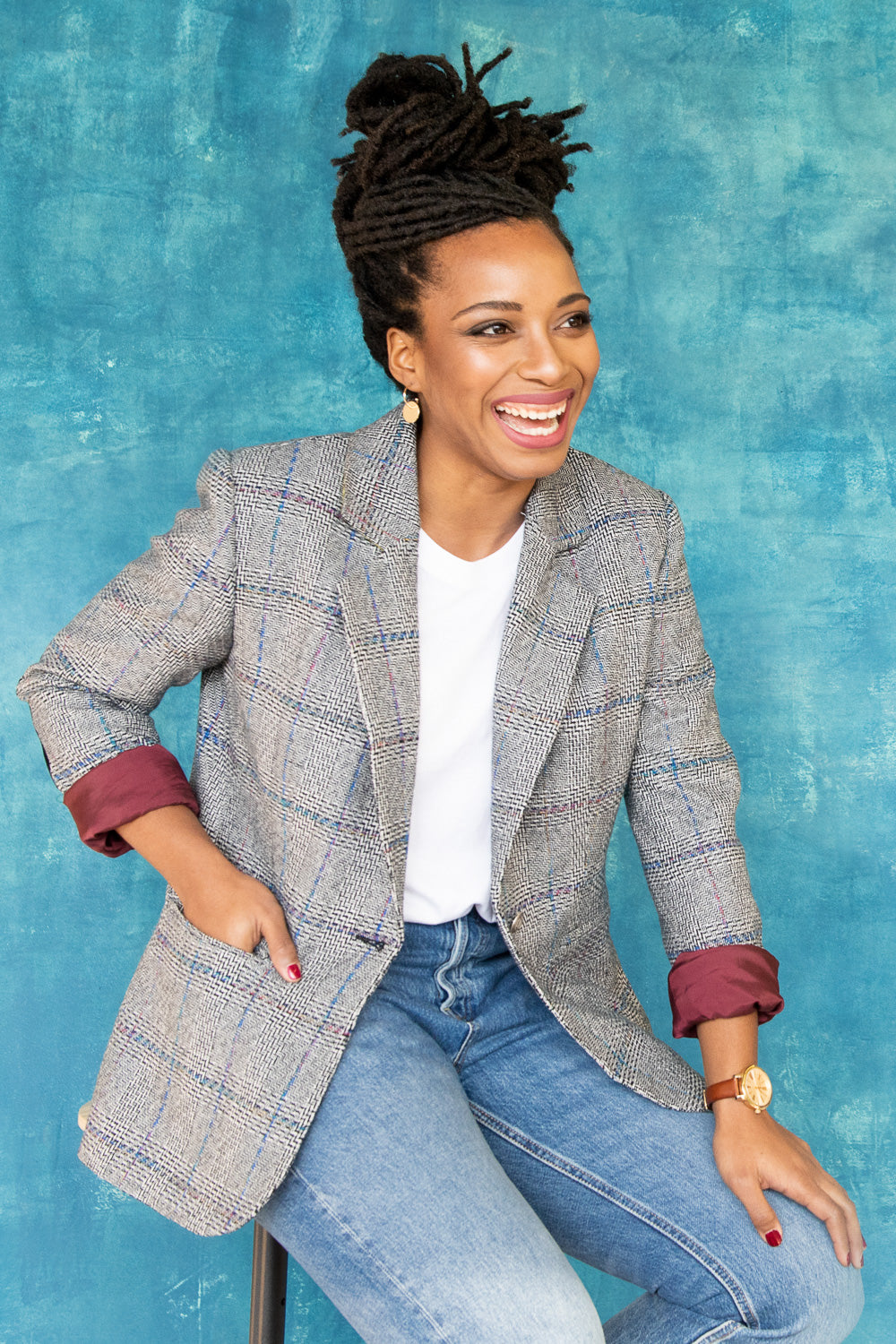 Master modern speed tailoring!
Sewing Classes
Learn to Sew a Classic Blazer | Sewing Class
CHOOSE YOUR PATTERN:
Includes the Jasika Blazer in PDF or print format.
Learn to Sew a Classic Blazer | Sewing Class
Are you curious about tailoring but don't know where to begin? Do you want to grow and expand your skillset and push your sewing practice to the next level? Want to learn how to make a gorgeous blazer that fits you like a dream?
Welcome to the class designed to demystify the fine art of speed tailoring! Spoiler alert: it's not as hard as you think, and the skills and techniques you'll learn will truly level up your entire sewing practice. That high-end blazer you've always wanted is just a few hours away, only this time it's constructed and fit for your exact body, using professional, industry-level techniques and secrets. 
Learn to Sew a Classic Blazer is a comprehensive online class that guides you through the process of sourcing, stitching and finishing your own custom made blazer using modern speed tailoring techniques. No need for pad stitching or fiddly sew-in interfacings - you'll learn how to use fusible interfacings to quickly add structure and shape to a blazer that will fit like it was made for you (because it was!) 
By following along using the included Jasika Blazer pattern (although the skills and techniques can be applied to any blazer pattern), Heather Lou of Closet Core Patterns teaches each lesson in simple language everyone can understand, so both advanced and novice sewists alike will feel confident creating beautiful, custom-made blazers from the comfort of their own home.
Work at your own pace – anytime, anywhere, on any device – and learn the ins and outs of creating structure with readily available and easy to apply fusible interfacings, along with industry level speed tailoring techniques & skills you'll use forever.
You'll learn...
How to find the perfect size for your body, grade in-between sizes, and make a test muslin
Basic jacket fitting, with an in-depth downloadable ebook to help you identify and solve any potential fit issues
Best methods for prepping, marking, and cutting fabric and interfacings
How to create structure and dimension in a tailored jacket using fusible interfacings you can apply at home with a regular iron
Two different styles of welt pockets
How to confidently sew a gorgeous notched collar that rolls beautifully at the lapel
Classic hand-stitching techniques for a truly flawless finish
How to sew and set-in a beautifully fitting two-piece sleeve
How to insert sleeveheads and shoulder pads for professional-looking results (including free patterns for both!)
Tips for adding painless and professional-looking details like buttonholes, buttons, and topstitching
Industry techniques like how to quickly bag a coat lining with a minimum of handstitching
Included Patterns:
While you can use any pattern to follow along (including patterns for men, since the skills are the same), we've included our bestselling Jasika Blazer with your enrollment. Featuring all the landmark details of a classic blazer, it has a timeless, semi-fitted silhouette with lots of opportunity for customization, and can easily go from casual to formal depending on fabric choice. 
Please choose the format of your pattern when you enroll; print patterns will be shipped directly to you, while an instant gratification PDF can be printed at home or at a local copy shop. See our guide to printing and assembling PDF patterns here.
Also Included:

A comprehensive Blazer Fitting Ebook to help you diagnose dozens of common fitting issues, along with instructions on how to assess fit, how to make a muslin, and a Blazer Fitting Checklist to print and use while fitting your jacket
Printable cutting list to help you keep track of pattern pieces
Detailed supply guide to help you source fabric and supplies
Free patterns for sleeveheads and shoulder pads
Watch anywhere video lessons with closed captioning
Class Benefits:
Meet Your Instructor
Heather Lou is the force behind Closet Core Patterns and Core Fabrics. As a pattern designer and sewing educator, she has been writing and teaching about sewing for over a decade, and has taught thousands of people to sew, both online and in sold-out sewing workshops across North America & Europe. Her work has been featured in Threads, Sew News, Seamwork, Love Sewing and Sewing World magazine.

With her contagiously positive attitude, Heather's teaching style is fun, approachable, and filled with helpful tips and techniques to help you transform the outfits in your imagination into a self-made wardrobe you love — not one you're limited to buying off the rack.
Frequently Asked Questions
I'm excited about making my own blazer! How do I sign up to get started?
Welcome to the class that changes everything about how you make a classic blazer! To get sewing, click on the button at the top or bottom of this page, choose your pattern format, and you'll be automatically enrolled in yourclass after checkout. The link to login to the class will be sent to you via email. Please check your spam folder if you don't receive it after finalizing your purchase.
When does the class start and end?
The beauty of Closet Core Patterns' online classes is that you call the shots on when they begin and end. Learn to Sew a Classic Blazer is a completely self-paced, online class, which means you get to decide when you start, when you finish, and how many times you replay it.
What will I need to get started?
Before you get started, we'll share a complete supply list, along with information about where and how to source everything on said list. At the very least, you'll need a sewing machine, iron, tailor's ham, tailor's clapper or point presser, pinking shears and regular shears, marking tool, tailoring fabric, and interfacing.
How long does the class take to complete?
It's up to you! To give you an idea of how long the class is start to finish, the videos run around 5.75 hours total and comprise of 13 lessons. Binge watch them in a weekend, or do a little at a time. You can return to the class as many times as you'd like, and there's no time limit for you to complete in.
How do I get my pattern?
Please choose between a PDF pattern you can print at home, or a print pattern we'll ship directly to you. If you select the PDF format, you'll be able to download your patterns immediately after checkout, or by using the download link sent to you via email. Print patterns will be shipped in 5-10 days.
Can I use any pattern when following along with class?
This class focuses on construction and technique, and while we use the Jasika Blazer to demonstrate on camera, you can follow along using absolutely any blazer pattern you prefer, including a men's pattern.
How long can I access the class?
All day, 'erryday. But for real, this class includes lifetime access. After you enroll, the class is yours, which means you've got unlimited access for as long as you like, across all devices for all of eternity.
Learn to Sew a Classic Blazer | Sewing Class
I am not a beginner
The included alteration instructions are very unclear about how and where to make a petite adjustment. Finished garment measurements would also be helpful. I
Incredibly enjoyable and empowering!
I had been eyeing off the Jasika Blazer many years before I jumped in and signed up for the online class!! My only regret is waiting so long! Heather explains the steps in a clear and easy to understand manner - while remaining highly encouraging and enthusiastic the whole way! The pattern is drafted beautifully - and the online course is clear and well filmed which makes the entire process so rewarding! I know I will be making another beautiful blazer - after such a successful first toile and then blazer.
Blazer course
This course was brilliant, I'm a fairly novice sewer and felt that every point in the pattern was covered in the lessons so I never felt panicked at any stage.
It's a very complicated pattern but as it's broken down into detail I felt confident and I'm very proud of my end result . Going to make one for my daughter now and then do the jeans course !
great benefits of the video class
The class is great. It really helps and I see that you really answer questions. I already asked about the backwaist length....why don't you include it on the pattern?
I ordered the paper pattern and regret it. I can't determine the size of the front neck dart from the big blob of lines....also the paper is too thin. The first thing I had to do was to fuse interfacing to it. I have made traditional jackets before, so this one is introduces new techniques to me. THANKS AND KEEP UP THE GOOD WORK. WHAT IS NEXT?
Brilliant!
Superb course. Fully explained and demonstrated. I will feel confident to try my first jacket. Being able to get the relevant notions as well, will make this so much easier. Very happy with this.
No more products available for purchase