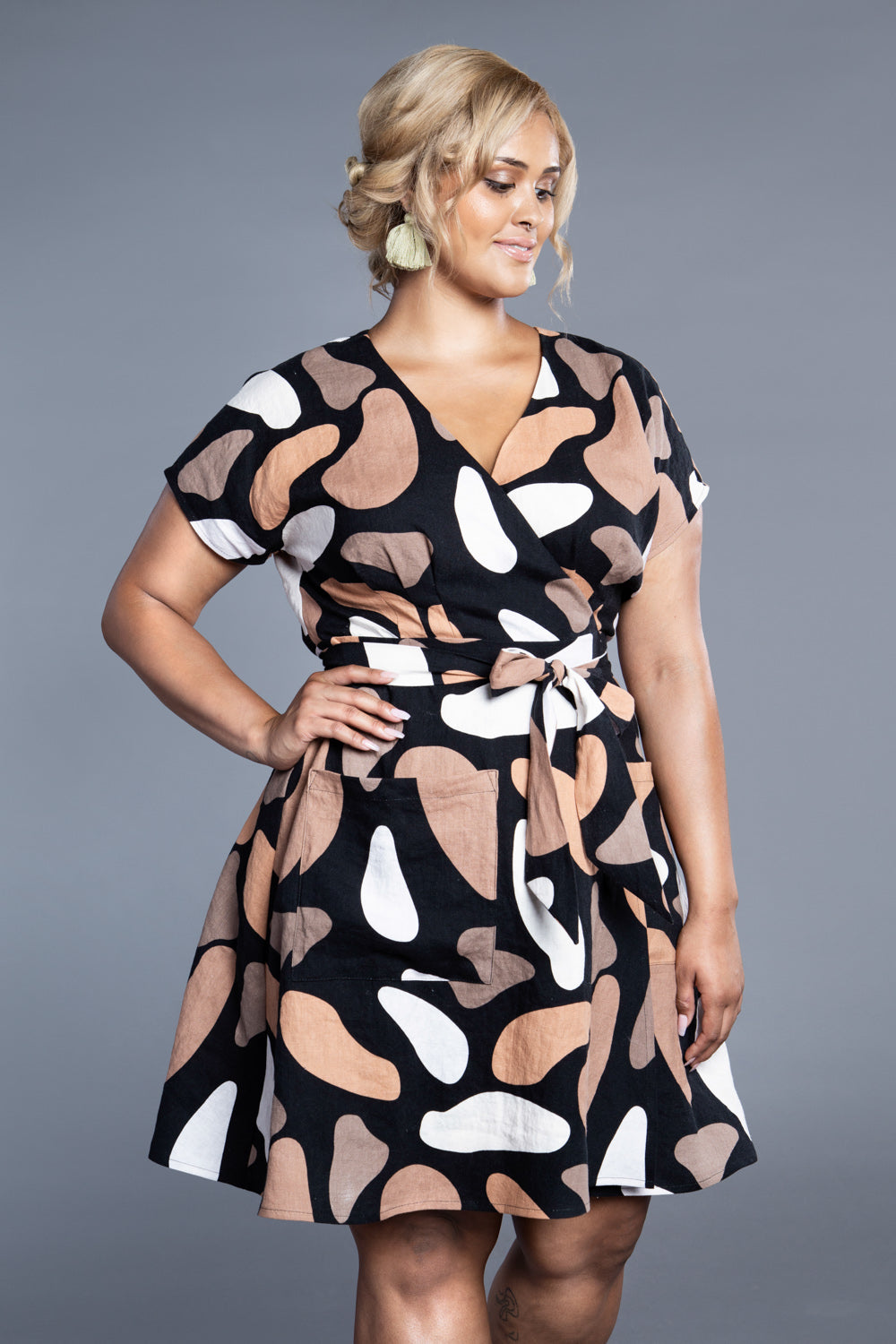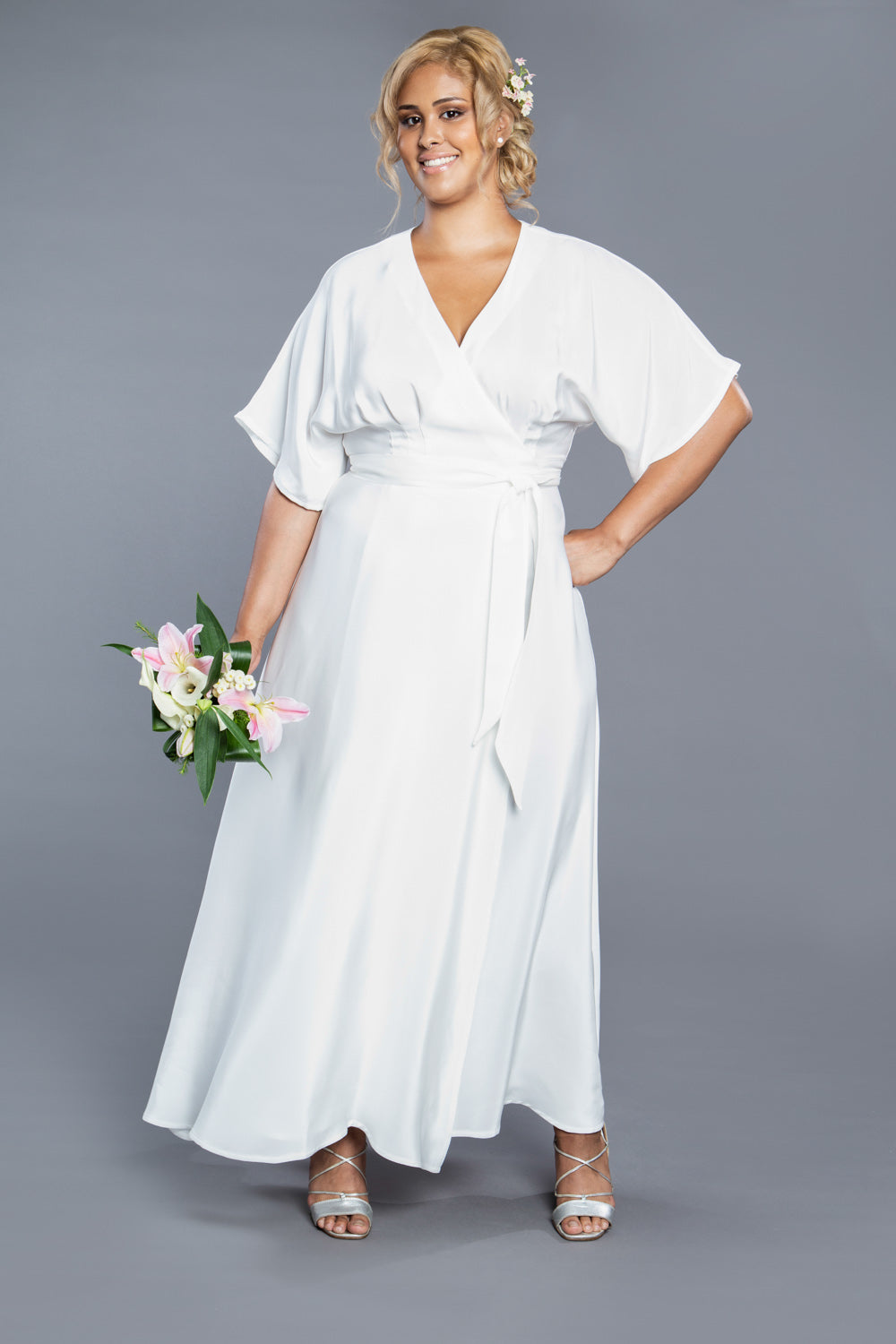 Elodie Wrap Dress Pattern
Details
Supplies
Sizing
Info+
View our size charts
When purchasing a PDF pattern, all size ranges available are included with your download.
At this time, only sizes 0-20 are available in print format.
PDF File Details
Sizes 0-20
Sizes 14-32
Letter / A4
Copyshop / A0
Projector Files?
Layered Files?
FAQ
How do I print my PDF pattern?
All of our patterns come in a Letter/A4 format (for printing on a home printer) and 36"x48"/A0 format (for printing at a copyshop). Some patterns also come in a projector format. Please check the INFO+ tab under the description to see page counts and file formats available.
For more help printing and assembling our PDF patterns, please visit our PDF Printing Guide
How do I download my PDF Pattern?
First, we suggest creating an account in our shop so you can access all your files in one place at any time!
After you place an order, you will land on a page with a custom download link. You can download your pattern then, or use the link included in the order confirmation sent via email. If you don't receive a download link via email, please check your junk mail as it may have been rerouted (and add us to your safe senders list so it doesn't happen again!)
Am I charged for taxes?
All Canadians are charged GST and possibly PST depending on where they live in Canada. We do not charge taxes in the US.
Customers based in the EU and UK will also be charged VAT on all goods. Regulations have changed in recent years requiring VAT to be collected based on where the customer resides (and not where the company is located) so we are legally required to collect and remit VAT even though our company is based in Canada. You can read more about the VAT regulations here.
What currency will I be charged in?
Use the dropdown at the top of our menu to choose USD, CAD, AUD, GBP, or EUR dollars to view prices and checkout in the currency of your choice.
For AUD, GBP, and EUR currencies, the price you'll see is linked to the daily exchange rate between USD and your currency, which means prices may fluctuate. For our Canadian customers, we have established set prices that will not vary with exchange rates.
Shipping + Returns
Shipping
American customers: Packages in the US are shipped via USPS First Class and Priority Mail twice a week. Please allow 8 to 12 days for your parcel to arrive.
Canadian customers: Your orders are sent via Canada Post letter or parcel post. Please allow 8 to 12 days for your parcel to arrive, and wait up to 3 weeks before contacting us. 
International customers: Estimated delivery dates are listed below the shipping price when you checkout. We have two possible services. International First Class is for packages under 2 kilos and takes approx 10-40 days to arrive depending on your location. International Priority is a bit faster and should arrive at your destination in approx 8-20 days. Both services include tracking for *most* destinations.
Order tracking
Most shipping services we offer come with a tracking number. This will be sent to you via email you once the order has been processed in our warehouse.
Given the huge volume of mail and the challenges that the pandemic, holiday season, and environmental conditions impose on the performance of the mail service, we ask you to please be patient with the delivery of your packages, and get in touch after 3 weeks for Canadian and US shipments, and 6 weeks for international shipments.
If the above mentioned waiting times have elapsed, please message us about your delay. We'll be happy to work with you to figure out a solution.
Exchanges + Returns
For physical goods: We grant refunds for physical items like print patterns and kits if they are returned to us in sellable and unopened condition within 30 days of purchase. Please contact us prior to shipping back your order to make sure you are eligible for a refund. 
For digital goods: We cannot issue refunds on digital goods like PDF patterns and courses if they have been downloaded or watched. If you have not downloaded your file and would like a refund, please contact us.
Beautiful and Well-Drafted Pattern
I've only ever sewn a couple of items for myself, and never had much luck getting the clothes to fit. However, this pattern is amazing! I made a size 22 graded to 26 at the waist. Everything came together perfectly. All the notches matched, the pattern pieces fit together perfectly, and sewing it up was a dream. It took about a week to make (I'm still a beginner sewist, so I had to watch a lot of videos to learn how to do things). I did the French seams and the handsewing for the waistband at the end. I've struggled with other plus-size patterns because I'm not curvy at the sides (I carry my weight in my tummy and bum), and I'm not huge on top. So I was happy that I didn't need to make any adjustments to this pattern (other than grading out) to get a perfect fit. The dress looks beautiful on and I can't wait to wear it out! The coverage on the wrap skirt is great too. The bottom layer covers almost the entire front of my body, so a little wind is nothing to fear.
I had purchased the Learn How to Sew Clothing course and referenced it often for this project. I never actually made anything though. After seeing how well the Elodie was drafted, I can't wait to make all their plus-size patterns! Making this dress was such a pleasure. I can't believe how enjoyable sewing can be, after all the struggles I've had with other projects.
I made the dress out of rayon challis, long sleeves, midi-length. I plan on making another more casual version with short sleeves and pockets, knee-length, probably out of cotton or linen.
Elodie Wrap Dress
I have made 2 Elodie Wrap Dresses and both were successes. The first was made out of a floral outdoor fabric that had been washed in hot water to remove stiffening. This dress was a beautiful dress for an outdoor luncheon and even better when I stood next to one of the hostesses pillows and matched. The second was made in denim for a late fall birthday gathering for my Grandmother's 90th celebration. I was able to set up, dance and celebrate all while being comfortable and covered. I have another cut out in tencel for a floaty feel and some organza waiting to possible make for Easter over a slip dress. I recommend the Elodie to any of my sewing friends looking for a good wrap dress.
Elodie Wrap Dress Pattern
great pattern
I purchased this pattern to make my dress for one of my daughter's weddings. I make the long version with the longer sleeves using 100% linen fabric. The dress turned out beautiful and fit great. I had many complements. I plan to make the shorter version with short sleeves also.
I printed the pattern at work on our large printer, which was great, so I didn't have as many pieces to tape together. It took me a bit to figure out how I needed to print it, but once I did it was good.
I had to read through the instructions several times because it was different from any pattern I have used before. The instructions were good. The dress sewed up very quickly. I used all French seams because I love a clean seam line and did not want to have to worry about the fabric raveling. I guess if I had an issue or complaint, (and it is really not big) it would be the way the pattern says to cut out the fabric. It shows to cut on a single layer. I had to figure out how to best use my fabric so I could cut each piece in a double layer. I feel like the pieces are more accurate and definitely the same size if they are cut out together. I would very much recommend this pattern and plan to use it more in the future. I had several people ask if I would make them a dress just like it.
In love with the pattern...
I am truly in love with this pattern! Ok i know i say that every time a pattern is a match made in heaven but i can't help it when everything is how i visualized it. The instructions are easy to follow and i did not had to make an fba with the extended sizes. A bit of hassle with the belt as It was not possible to cut it in one piece. The midi skirt is almost maxi for me (5'2) but it is fine. I am about to finished my 3rd version just 2 weeks after the 1st one. This tell you how much i like it and i am thinking sewing 4th one for new mom as a gift. It would be easy to breasfeed and easy to fit the waist area. See a great versatile pattern!!!