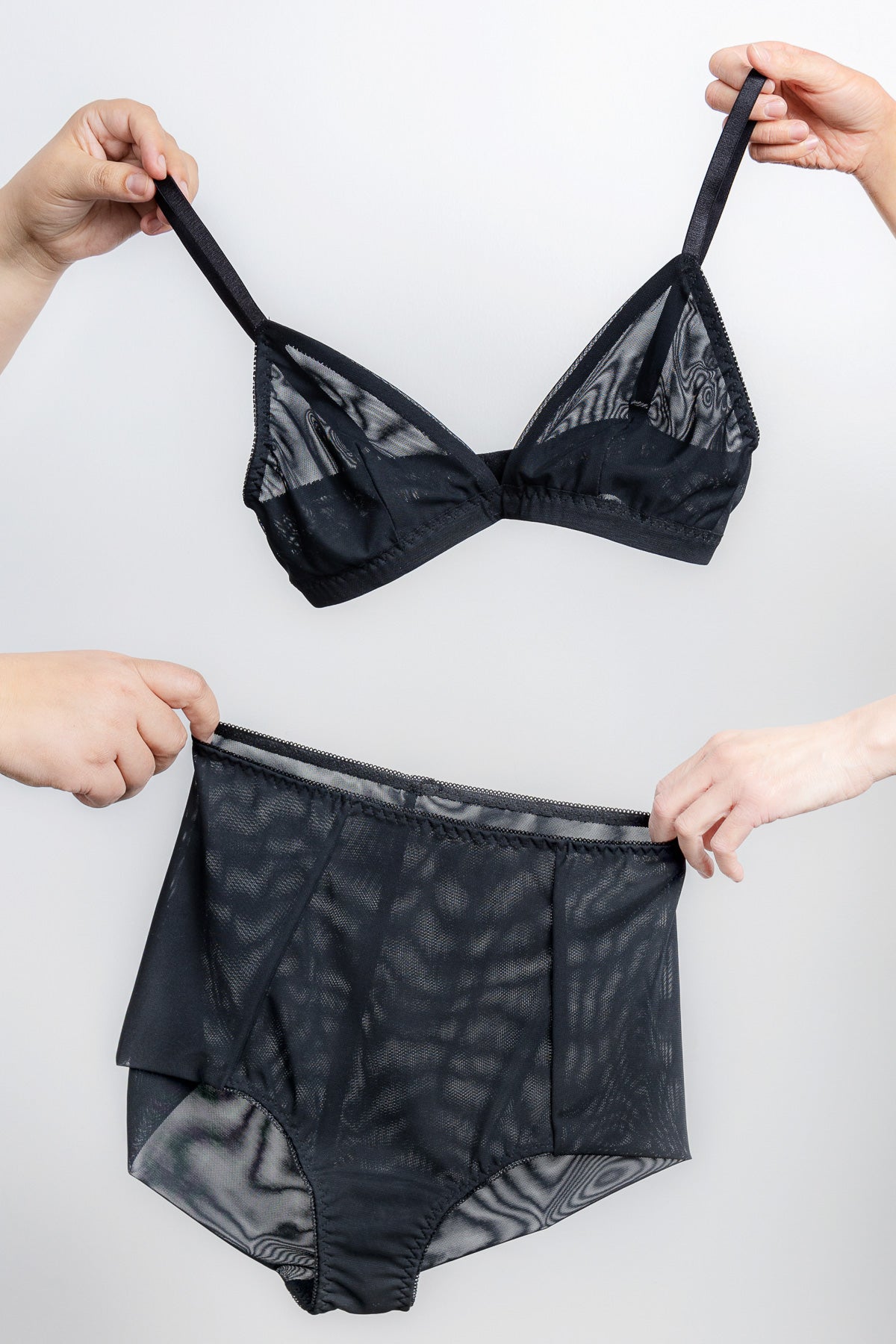 Create gorgeous bralettes and undies in our intro to lingerie making!
Sewing Classes
Learn to Sew Lingerie | Sewing Class
CHOOSE YOUR PATTERN:
Includes the Celine Bralette and Anais Undies in PDF format.
Learn to Sew Lingerie | Sewing Class
Do you love beautiful lingerie and dream of creating custom-made bras and undies? Want to level up your sewing skills and learn to become your very own lingerie designer?
Welcome to the class designed to teach you everything you need to know to start sewing your own bras and underwear! Learn to Sew Lingerie is a comprehensive guide to creating gorgeous, custom-made lingerie sets from the comfort of your own home, available anytime, anywhere. Using our Céline Bralette and Anaïs Undies patterns, we'll walk you through every step of the lingerie-making process, from fitting and alterations, choosing fabrics and elastics, to constructing each garment from start to finish using a regular sewing machine. Heather Lou, founder of Closet Core Patterns, teaches each lesson in simple language everyone can understand, so you'll develop the sewing skills and confidence to become your very own lingerie designer!
Work at your own pace – anytime, anywhere, on any device – and learn everything you need to know to sew your own custom made bralettes and undies!
You'll learn...
How to choose resilient fabrics for a supportive bralette and comfortable undies, and how to combine different fabrics for both design and function
How to choose a size, adjust the fit, grade between sizes, and make pattern adjustments
How to sew with a variety of lingerie elastics and findings
The best tools and techniques to get professional-looking results on a regular sewing machine using standard zig zag stitches
How to troubleshoot and solve common problems
How to sew two styles of undies from start to finish, including a paneled brief and a seamless style, using both fold-over and plush back elastic
How to sew two styles of bralettes from start to finish, using fold-over and plush back elastic
How to hack and customize the included patterns in a variety of unique ways
How to care for your handmade lingerie
Included Patterns:
Part of our "Chez Moi" lingerie collection, the Celine Bralette and Anaïs Undies in sizes 0-32 are a beautiful addition to wardrobe. Loaded with variations and options, you can create an endless variety of matching sets or individual pieces depending on the features and fabrics you select.
The Celine Bralette is a comfortable and elegant soft cup bralette with light support and a bust dart for shaping. Choose between two distinct styles: View A features a mesh or lace insert bust insert and a foldover elastic finish. View B is a more minimalist style with a clean finish neckline and fabric-wrapped underbust elastic. In the 0-20 size range, choose between A/B and C/D cup sizes. For the 14-32 size range, choose between C/D and E/F cup sizes.
The Anaïs Undies merge style and comfort in a versatile pattern you'll be delighted to wear all day long. Choose between a classic panelled brief in a high or low bikini rise, or a unique seamless style created from a doubled layer of mesh, in a high or mid-rise. Both views can be made with fold-over or plush-back elastic.
Please note both patterns are in a downloadable PDF format only.
Also Included:

The Celine Bralette and Anais Undies in PDF format 
A downloadable Fit Guide that outlines common fit issues and how to fix them 
A helpful stitch chart and guide to dyeing lingerie notions
A detailed supply guide to help you source fabric and supplies
Watch anywhere video lessons with optional Closed Captioning
Class Benefits:
Meet Your Instructor
Heather Lou is the force behind Closet Core Patterns and Core Fabrics. As a pattern designer and sewing educator, she has been writing and teaching about sewing for over a decade, and has taught thousands of people to sew, both online and in sold-out sewing workshops across North America & Europe. Her work has been featured in Threads, Sew News, Seamwork, Love Sewing and Sewing World magazine.

With her contagiously positive attitude, Heather's teaching style is fun, approachable, and filled with helpful tips and techniques to help you transform the outfits in your imagination into a self-made wardrobe you love — not one you're limited to buying off the rack.
Frequently Asked Questions
I'm pscyhed about making my own lingerie! What do I need to get started?
Welcome to the class that will easily teach you to make your own lingerie! To get sewing, click on the button at the top or bottom of this page and you'll be automatically enrolled in your course after checkout. The link to login to the course will be sent to you via email. Please check your spam folder if you don't receive it after finalizing your purchase.
When does the class start and finish?
The beauty of Closet Core Patterns' online classes is that you call the shots on when they begin and end. Learn to Sew Lingerie is a completely self-paced, online course, which means you get to decide when you start, when you finish, and how many times you replay it. 
What will I need to get started?
Before you get started, we'll share a complete supply list, along with information about where and how to source everything on said list.
How long does the class take to complete?
It's up to you! To give you an idea of how long the entire class is start to finish, the first section of "beginner basics" runs just over 2 hours long and comprises 4 lessons total. The second section, which includes a lesson for each view of each pattern, has a runtime of 3.5 hours for 5 lessons total. Binge watch them in a weekend, or do a little at a time. You can return to theclass as many times as you'd like, and there's no time limit for you to complete in.
How do I get my patterns?
We offer both patterns included in this class in PDF format only. You'll be able to download your patterns immediately after checkout, or by using the download link sent to you via email.
Can I use any pattern when following along with class?
This class covers the basics of sewing bralettes and undies, so you can definitely apply what you'll learn to future projects. That said, in the second section we focus on sewing the included patterns from start to finish but these tutorials can be applied to other patterns as well.
How long can I access the class?
All day, 'erryday. But for real, this class includes lifetime access. After you enroll, the class is yours, which means you've got unlimited access for as long as you like, across all devices for all of eternity.
Lingerie Class
Hello! I recently purchased the lingerie class and I was so impressed with the instructions. I'm not new to making lingerie but this was the first time I had success from start to finish. I so appreciated the details of letting me know what stitch length is needed…this makes such a difference in the finish product. I also loved Heather the instructor. It was like taking a class from a friend. I haven't made the bralette yet but I'm so delighted with the undies. I've made both versions and the fit is incredible. I'm looking forward to making the bralette over the holidays. Can not recommend this class enough especially if you are new to sewing lingerie, it's the best instruction I have seen thus far. Well Done!
No more products available for purchase