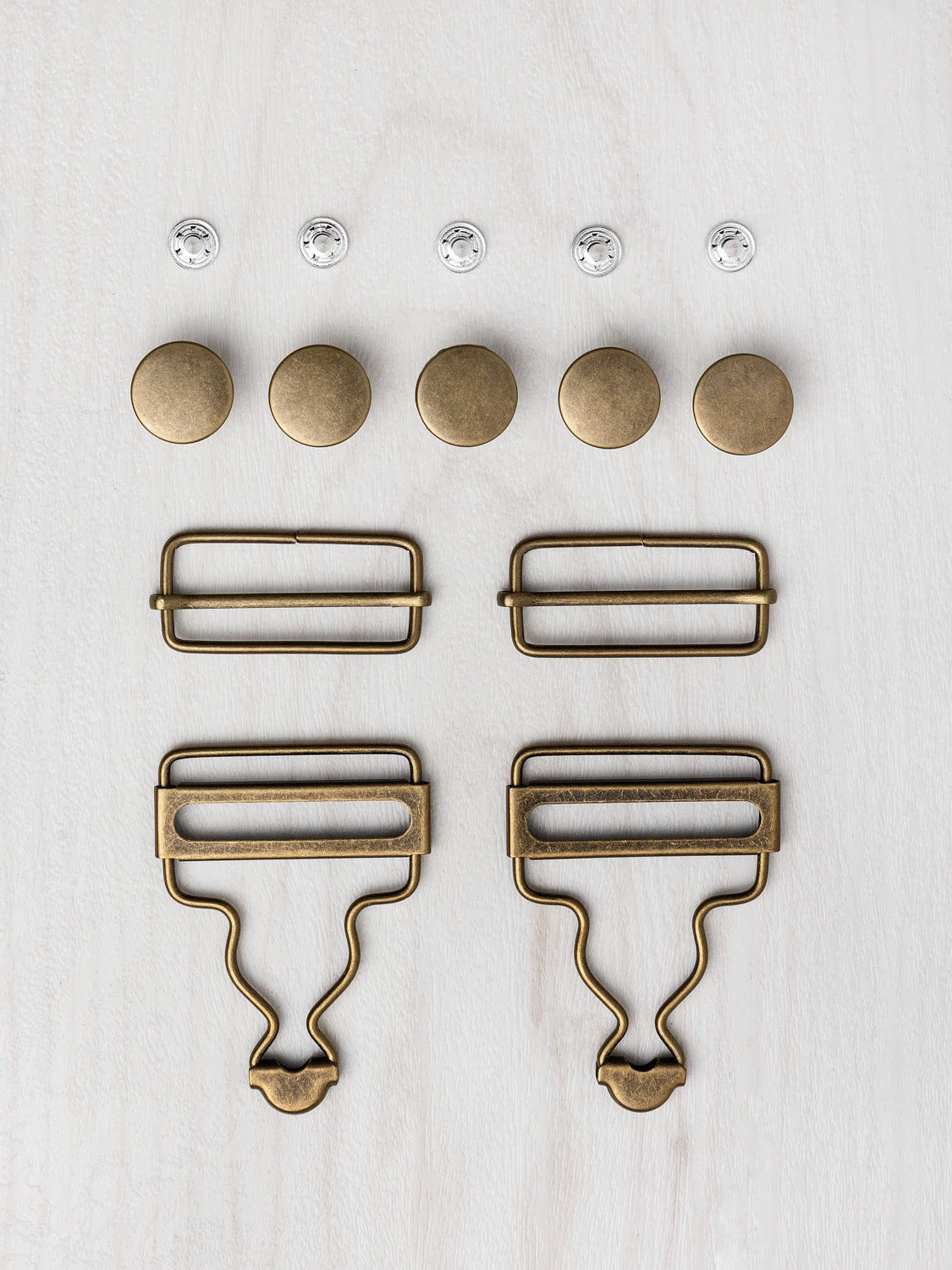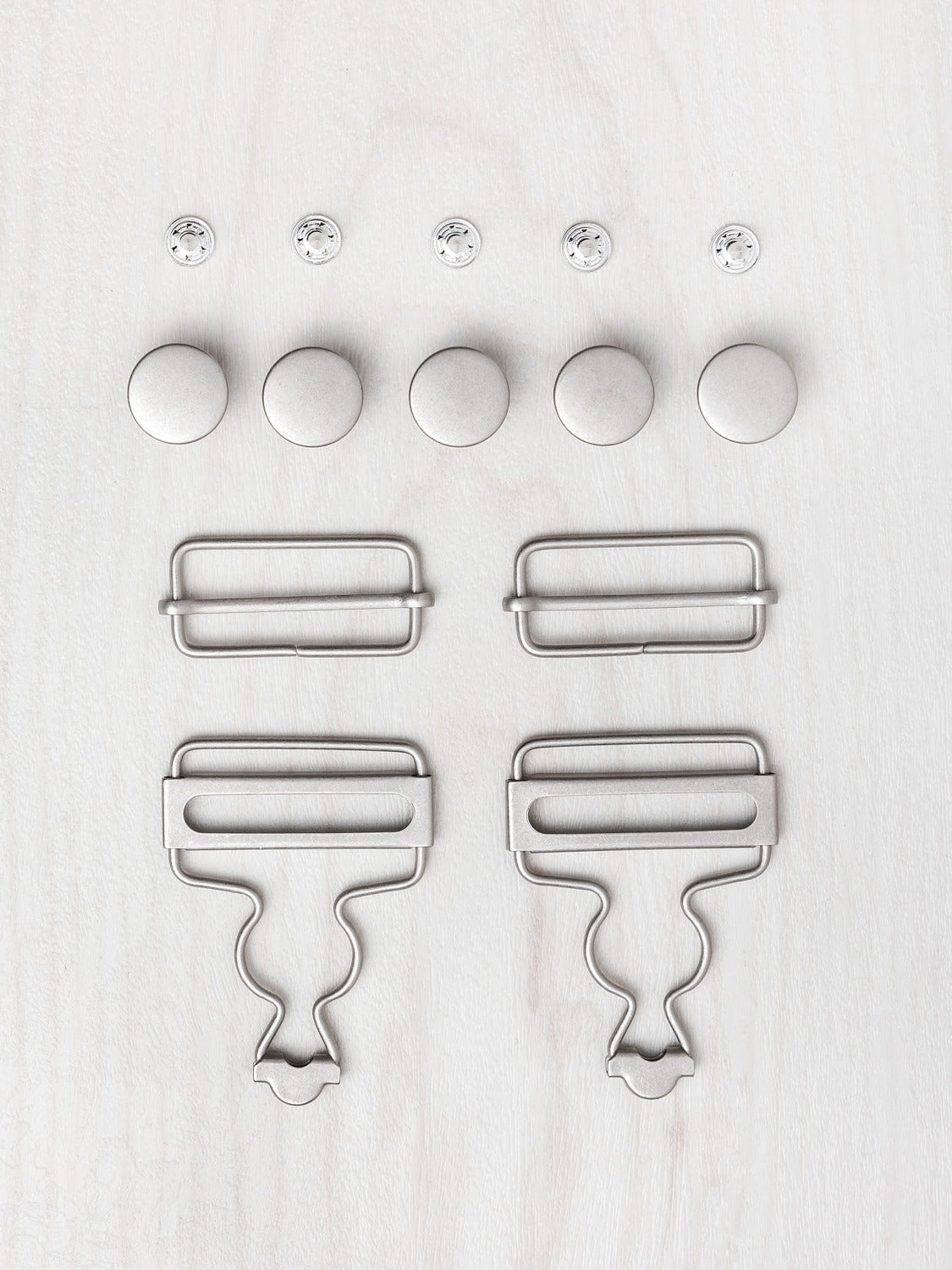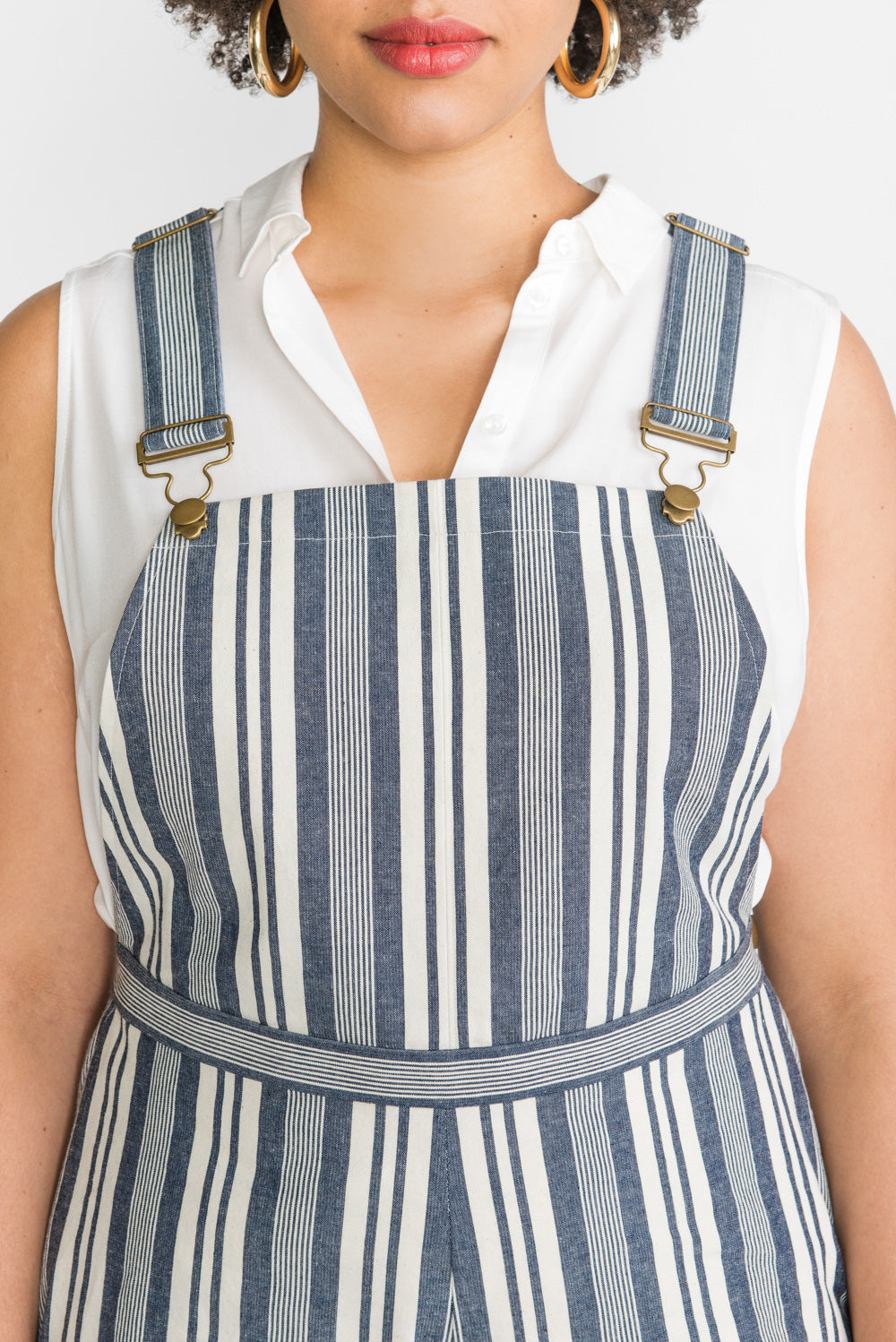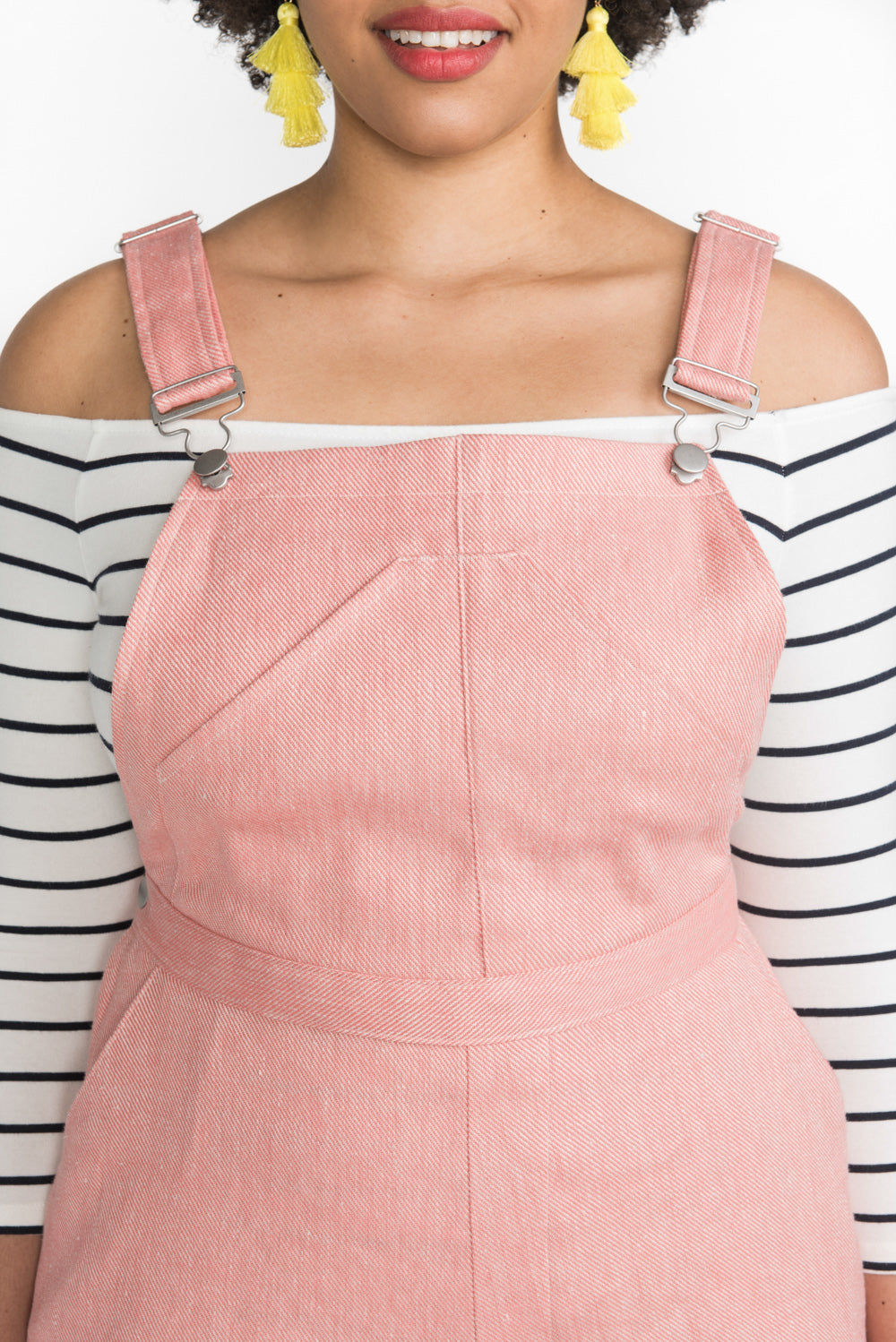 Jenny Overalls Hardware Kit
Details
Supplies
Sizing
Info+
Put the finishing touch on your Jenny Overalls with our beautiful, custom-made hardware kit. Available in an antique brass or nickel finish, our high-quality buckles and buttons will lend a professional look to your dungarees. Be sure to add an extra set of buttons if you'd like to replace the hip zipper with buttons.

Each kit includes:
Two x overall buckles in antique brass or nickel
Two x strap sliders in antique brass or nickel
Five x 17mm jeans buttons with sturdy, solid cap (includes enough buttons for the buckles, one at each hip on the waistband, plus one extra for practice)
Optional: add 5 additional buttons to replace lapped zipper with button closure at each hip
View our size charts
When purchasing a PDF pattern, all size ranges available are included with your download.
At this time, only sizes 0-20 are available in print format.
PDF File Details
Sizes 0-20
Sizes 14-32
Letter / A4
Copyshop / A0
Projector Files?
Layered Files?
FAQ
How do I print my PDF pattern?
All of our patterns come in a Letter/A4 format (for printing on a home printer) and 36"x48"/A0 format (for printing at a copyshop). Some patterns also come in a projector format. Please check the INFO+ tab under the description to see page counts and file formats available.
For more help printing and assembling our PDF patterns, please visit our PDF Printing Guide
How do I download my PDF Pattern?
First, we suggest creating an account in our shop so you can access all your files in one place at any time!
After you place an order, you will land on a page with a custom download link. You can download your pattern then, or use the link included in the order confirmation sent via email. If you don't receive a download link via email, please check your junk mail as it may have been rerouted (and add us to your safe senders list so it doesn't happen again!)
Am I charged for taxes?
All Canadians are charged GST and possibly PST depending on where they live in Canada. We do not charge taxes in the US.
Customers based in the EU and UK will also be charged VAT on all goods. Regulations have changed in recent years requiring VAT to be collected based on where the customer resides (and not where the company is located) so we are legally required to collect and remit VAT even though our company is based in Canada. You can read more about the VAT regulations here.
What currency will I be charged in?
Use the dropdown at the top of our menu to choose USD, CAD, AUD, GBP, or EUR dollars to view prices and checkout in the currency of your choice.
For AUD, GBP, and EUR currencies, the price you'll see is linked to the daily exchange rate between USD and your currency, which means prices may fluctuate. For our Canadian customers, we have established set prices that will not vary with exchange rates.
Shipping + Returns
Shipping
American customers: Packages in the US are shipped via USPS First Class and Priority Mail twice a week. Please allow 8 to 12 days for your parcel to arrive.
Canadian customers: Your orders are sent via Canada Post letter or parcel post. Please allow 8 to 12 days for your parcel to arrive, and wait up to 3 weeks before contacting us. 
International customers: Estimated delivery dates are listed below the shipping price when you checkout. We have two possible services. International First Class is for packages under 2 kilos and takes approx 10-40 days to arrive depending on your location. International Priority is a bit faster and should arrive at your destination in approx 8-20 days. Both services include tracking for *most* destinations.
Order tracking
Most shipping services we offer come with a tracking number. This will be sent to you via email you once the order has been processed in our warehouse.
Given the huge volume of mail and the challenges that the pandemic, holiday season, and environmental conditions impose on the performance of the mail service, we ask you to please be patient with the delivery of your packages, and get in touch after 3 weeks for Canadian and US shipments, and 6 weeks for international shipments.
If the above mentioned waiting times have elapsed, please message us about your delay. We'll be happy to work with you to figure out a solution.
Exchanges + Returns
For physical goods: We grant refunds for physical items like print patterns and kits if they are returned to us in sellable and unopened condition within 30 days of purchase. Please contact us prior to shipping back your order to make sure you are eligible for a refund. 
For digital goods: We cannot issue refunds on digital goods like PDF patterns and courses if they have been downloaded or watched. If you have not downloaded your file and would like a refund, please contact us.
Not very sturdy - would not recommend!
I had a hard time with these! The buttons themselves were much harder to get in than other ones I've used - after bending two (being as careful as I possibly could) and not getting a single one to go in I ended up using other ones I owned, which is a bummer. I hate to throw things away but they aren't usable. The overall snap end keeps falling off, too. It came off while I was out and I spent the day walking around with one strap overalls like an elementary school kid. I wanted to like them, they are pretty!
Jenny Overalls hardware
I got these to use in the Jenny Overalls, and found them easy to install. One of the posts bent a little, so I'll have to keep an eye on it, but otherwise, they worked well.
Bad Batch?
I've made many pairs of Jenny's and several pairs of Persephone pants using the hardware from these kits. Until recently, the hardware was easy to install and stayed securely in place (although I've learned from experience not to run these through the dryer.)
I purchased a kit recently, and had so much difficulty installing. The shanks on the majority bent with one tap of the hammer; some managed to engage with the button, but are largely misaligned and wonky. Many didn't engage at all, but simply bent, rendering them useless.
Although the product was disappointing, customer service has been exemplary throughout this ordeal. I've exchanged photos and details over email and the support team at Closet Core sent me a new kit and are continuing to evaluate their product. 1 star for the kit; 5 for the staff.
Great hardware
The antique brass hardware from Core Fabrics is classic and beautiful. I made a pair of gold denim overalls with white topstitching and the brass color was a perfect complement . I had no trouble with buttons but used a press to install them. The kit is very reasonably priced and includes extra buttons .
Troublesome buttons
The hardware is beautiful and sturdy, except the buttons, which didn't fit well onto the posts. Every one of my buttons (8!) is misaligned, with the button shank bent out of line. It seemed like the posts were just a little too big for the button shank. I tested with another brand I had on hand and it worked fine, and I've set jeans buttons plenty of times in the past without this much trouble. And, yes, I watched the video on Closet Core's blog after I struggled with the first. Now I'm just waiting for my poorly set buttons to pop off with wear and then I'll replace them with what I had on hand. I also had to use pliers on the buckle to squeeze the narrow part in a bit more so it would actually snap when buckling to the bib button. That was easy compared to the button setting fiasco. It just seemed like the set pieces didn't really fit together.
Hi Rachel, We're so sorry to hear about the buttons. Thank you for letting us know about this issue though. We'll forward your feedback to our customer service and they'll be in touch shortly. Best regards
Hardware pack
The buckles worked out great for my Jenny overalls. The buttons proved to be a bit fiddly, I am glad there was an extra in the pack.