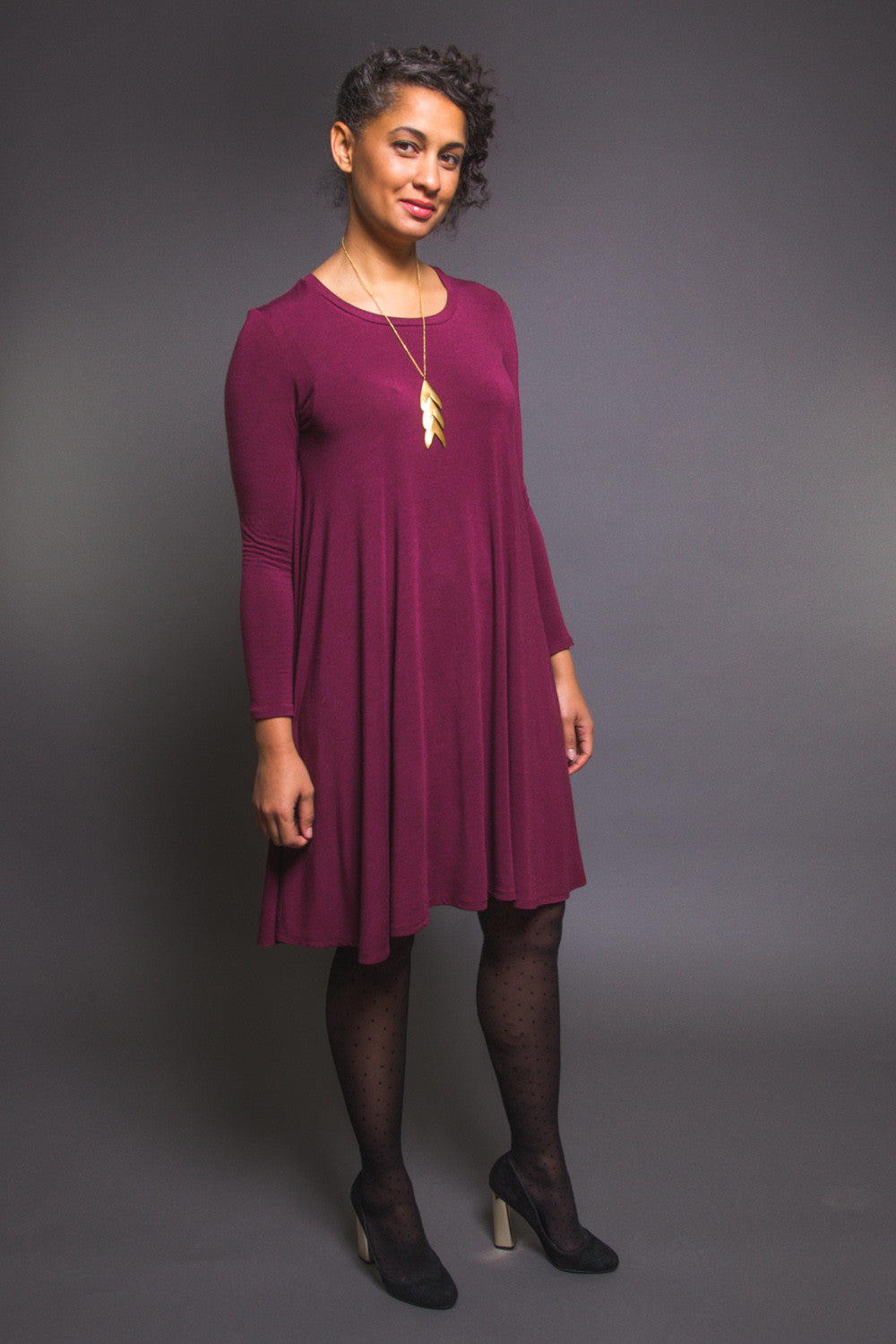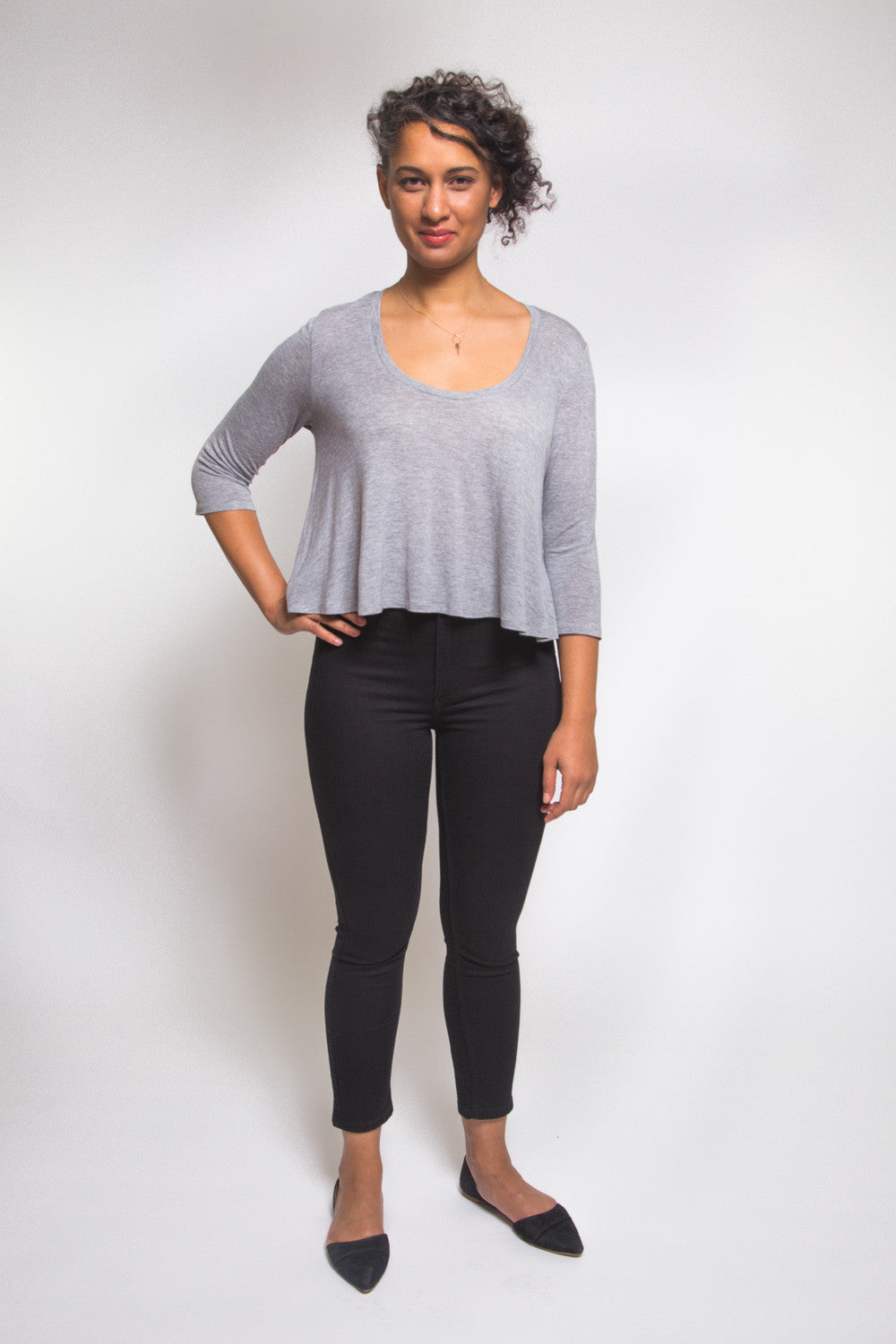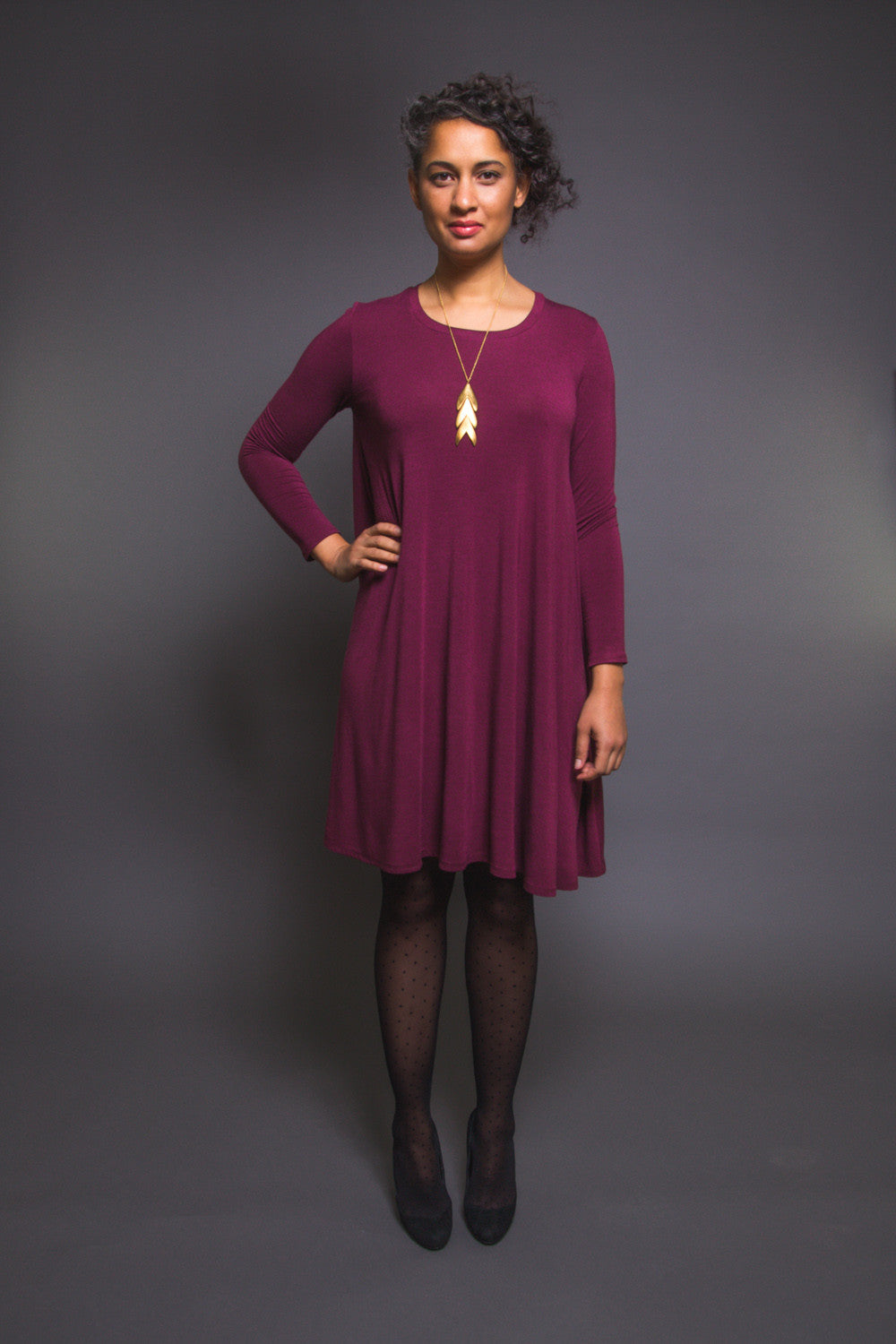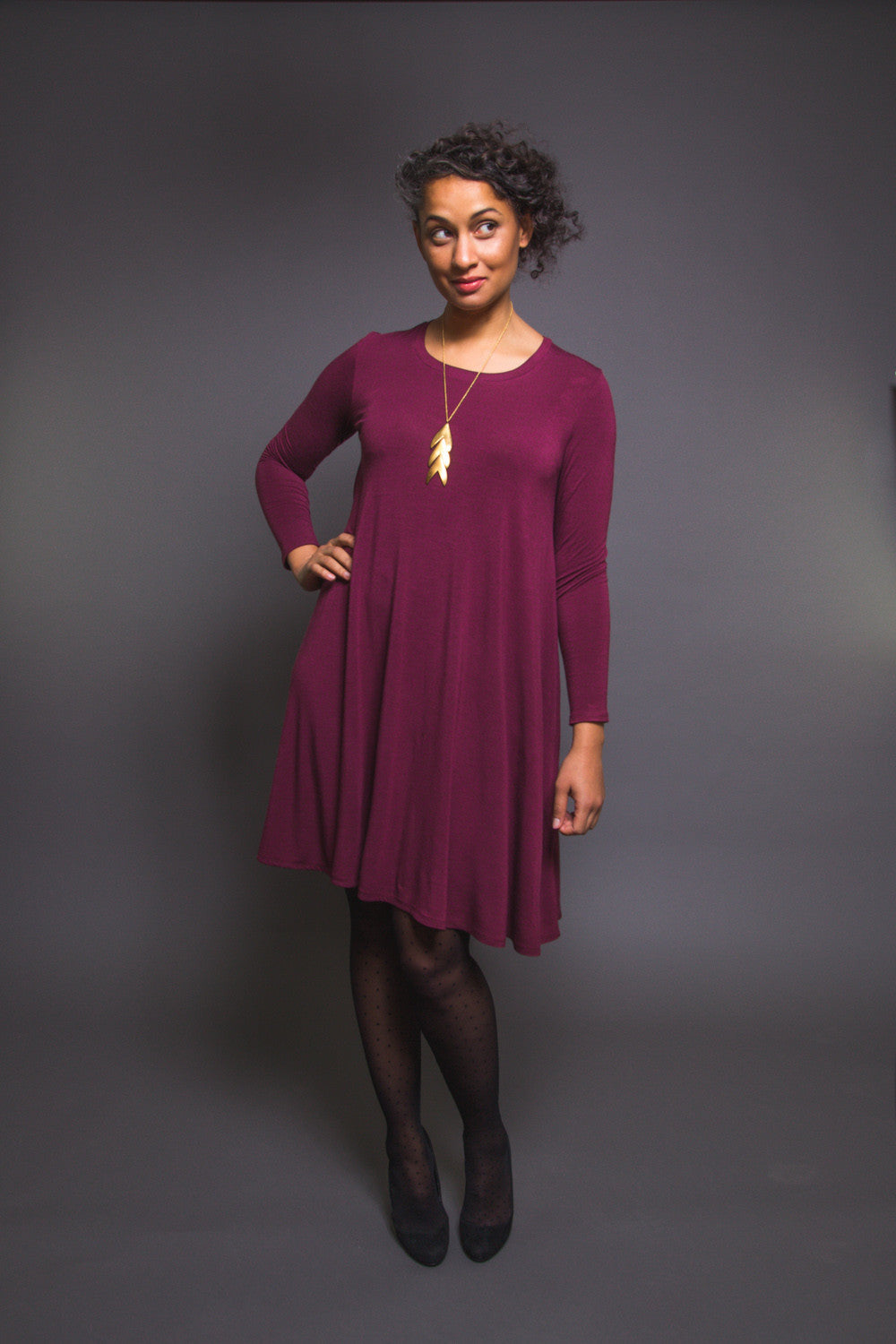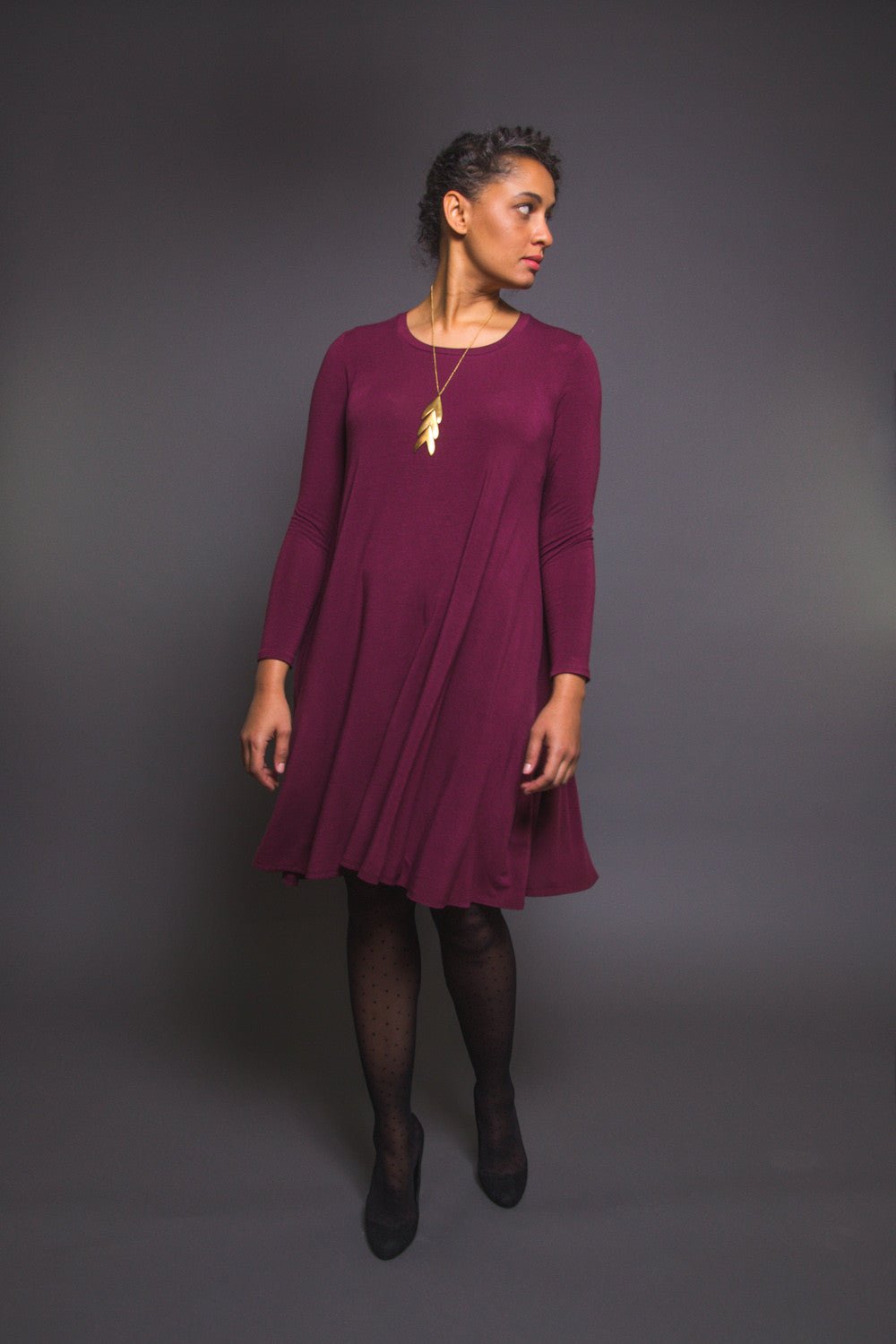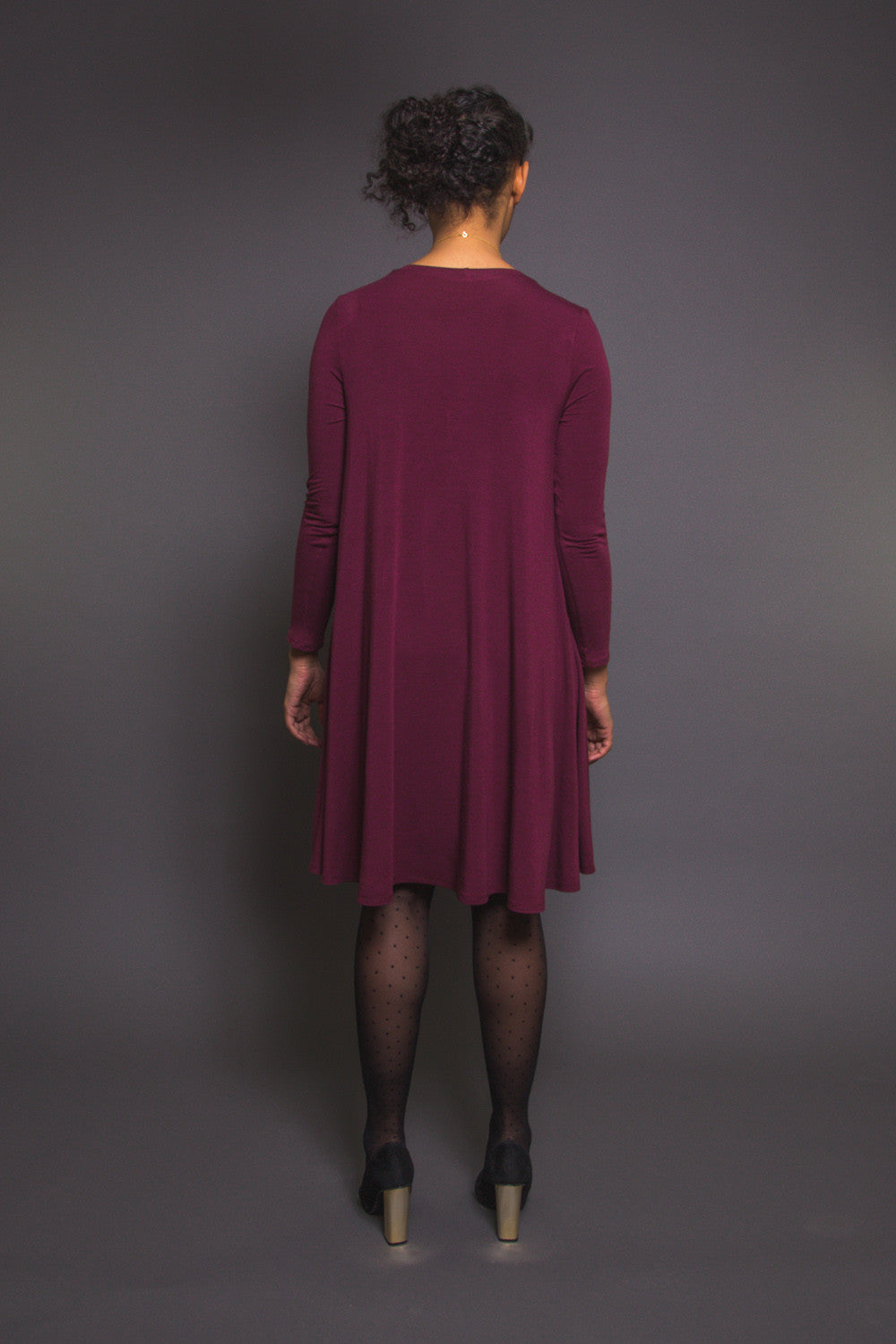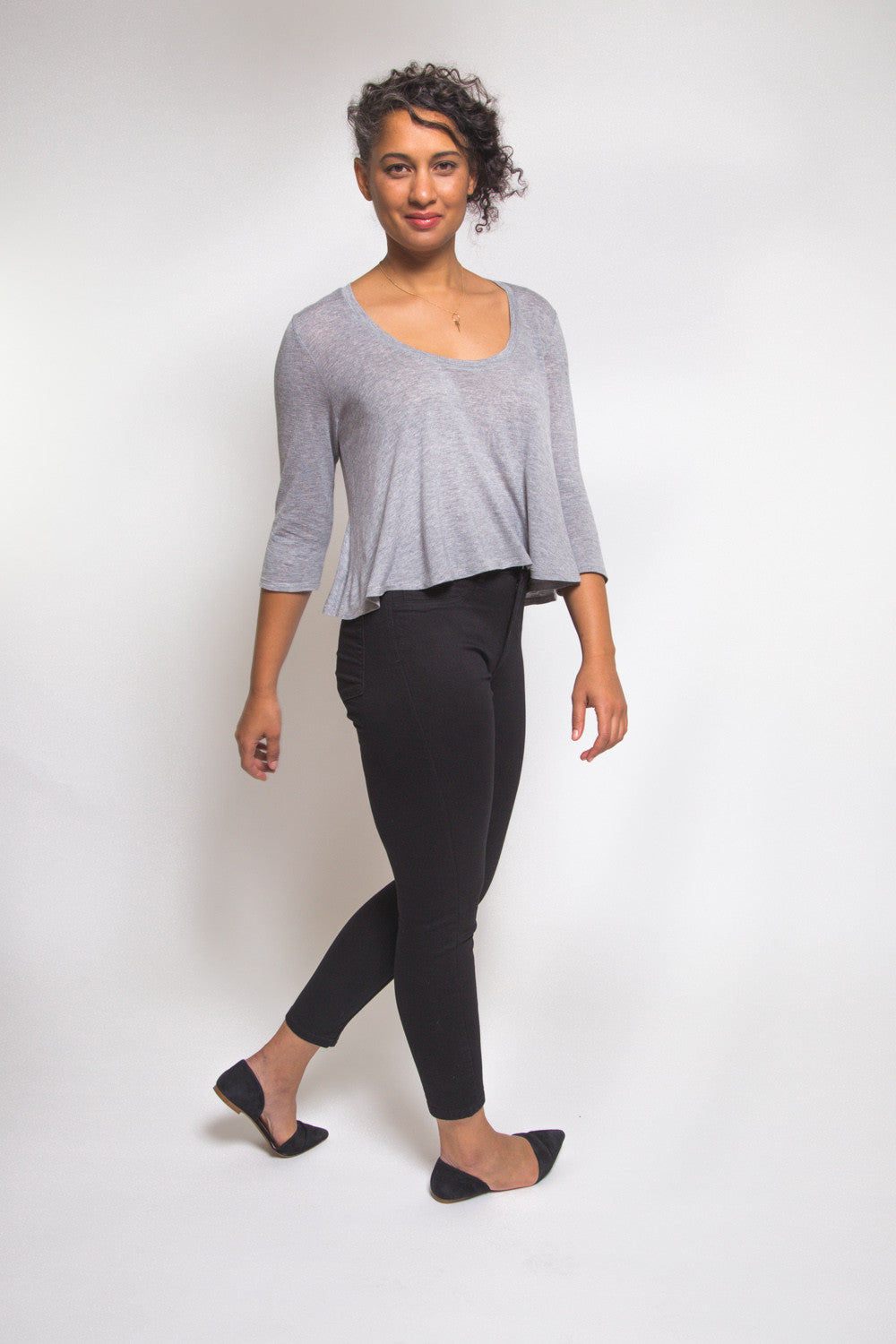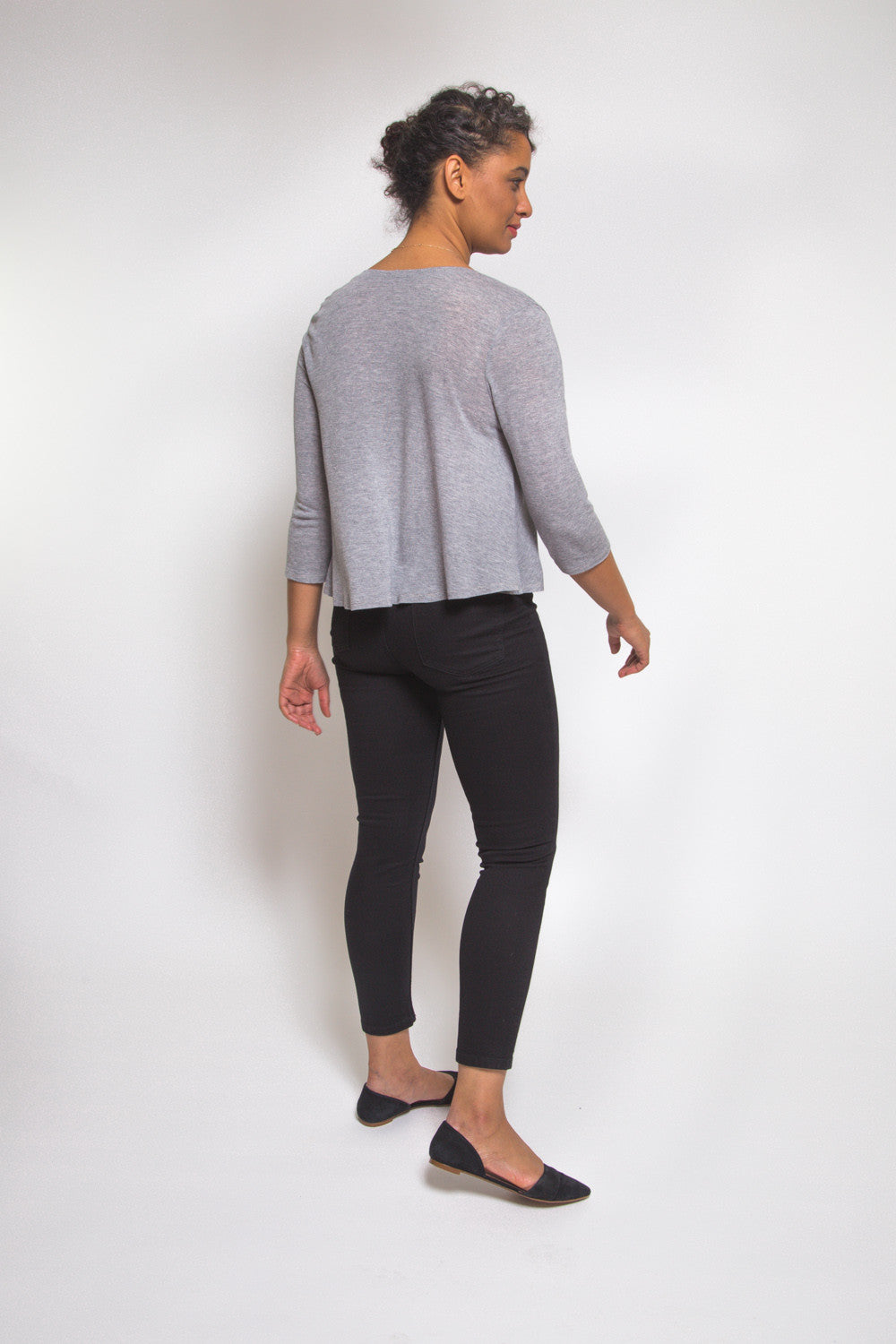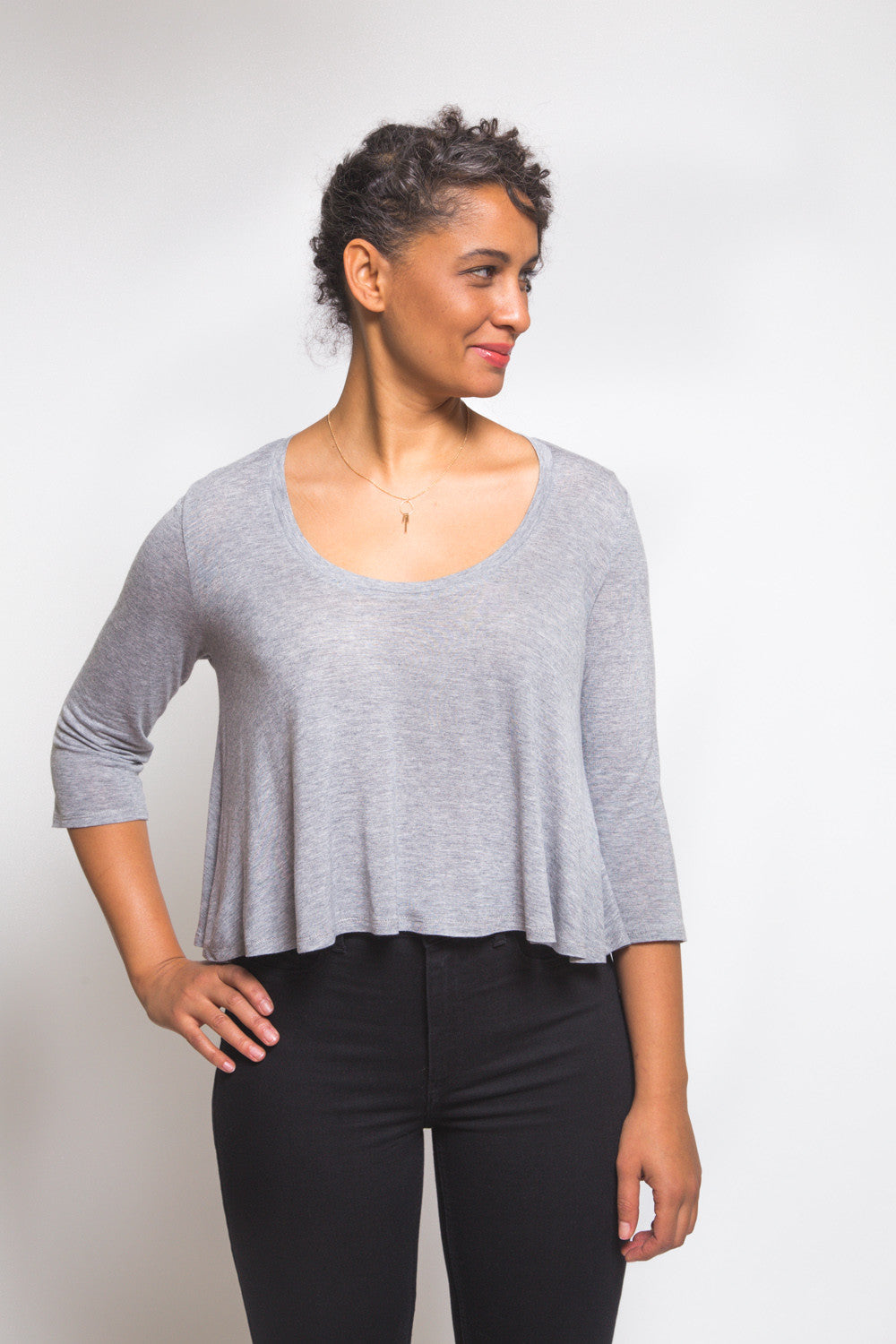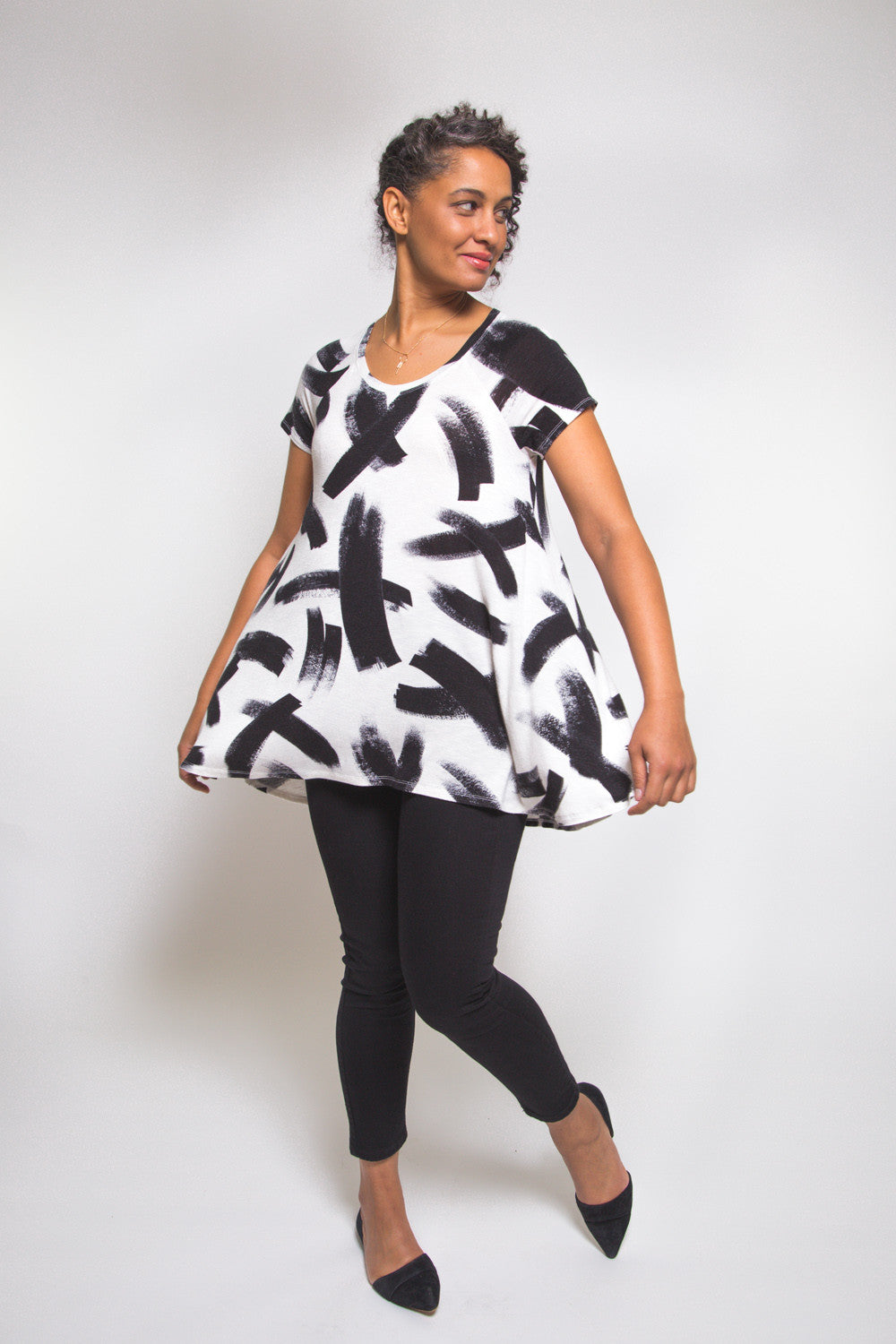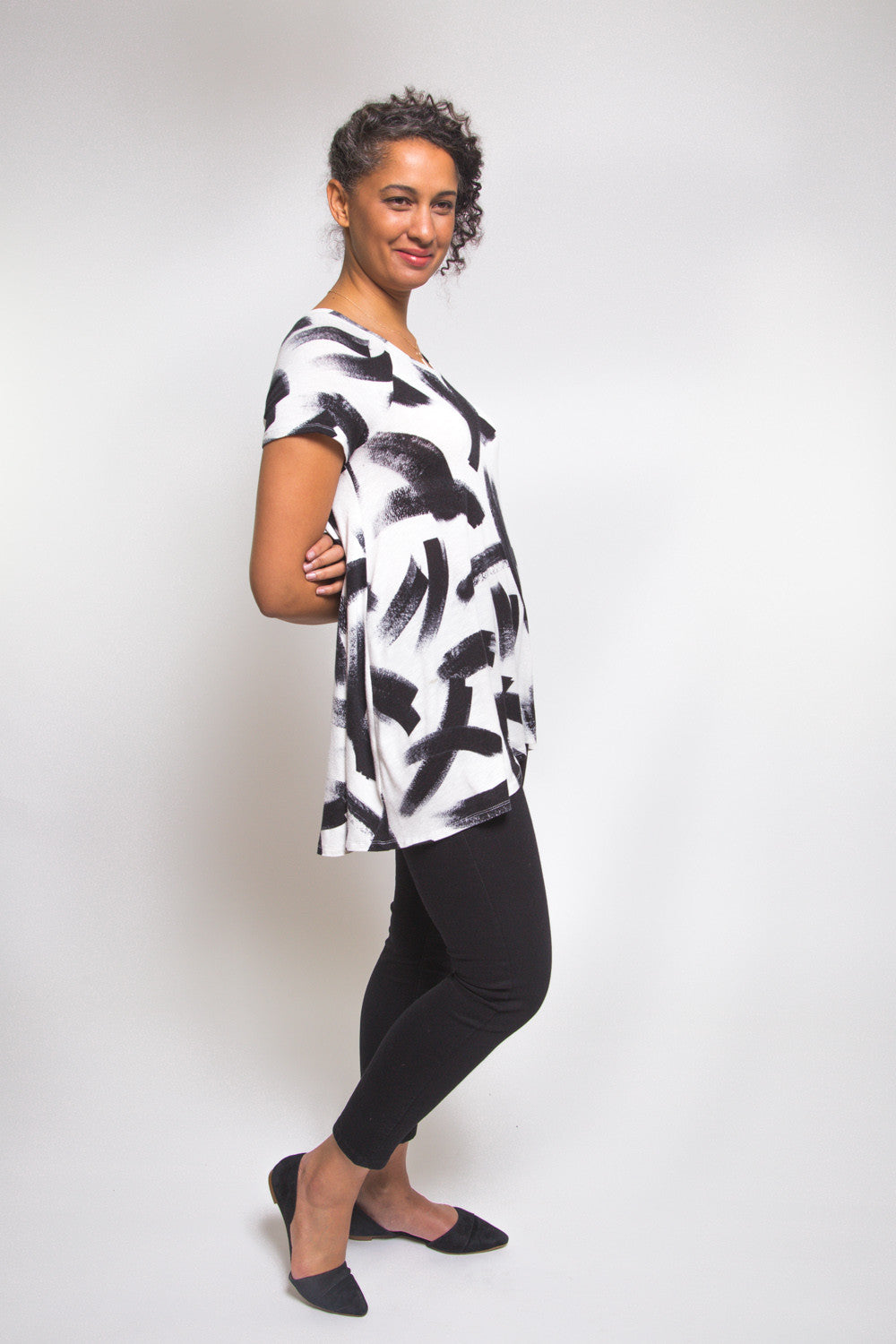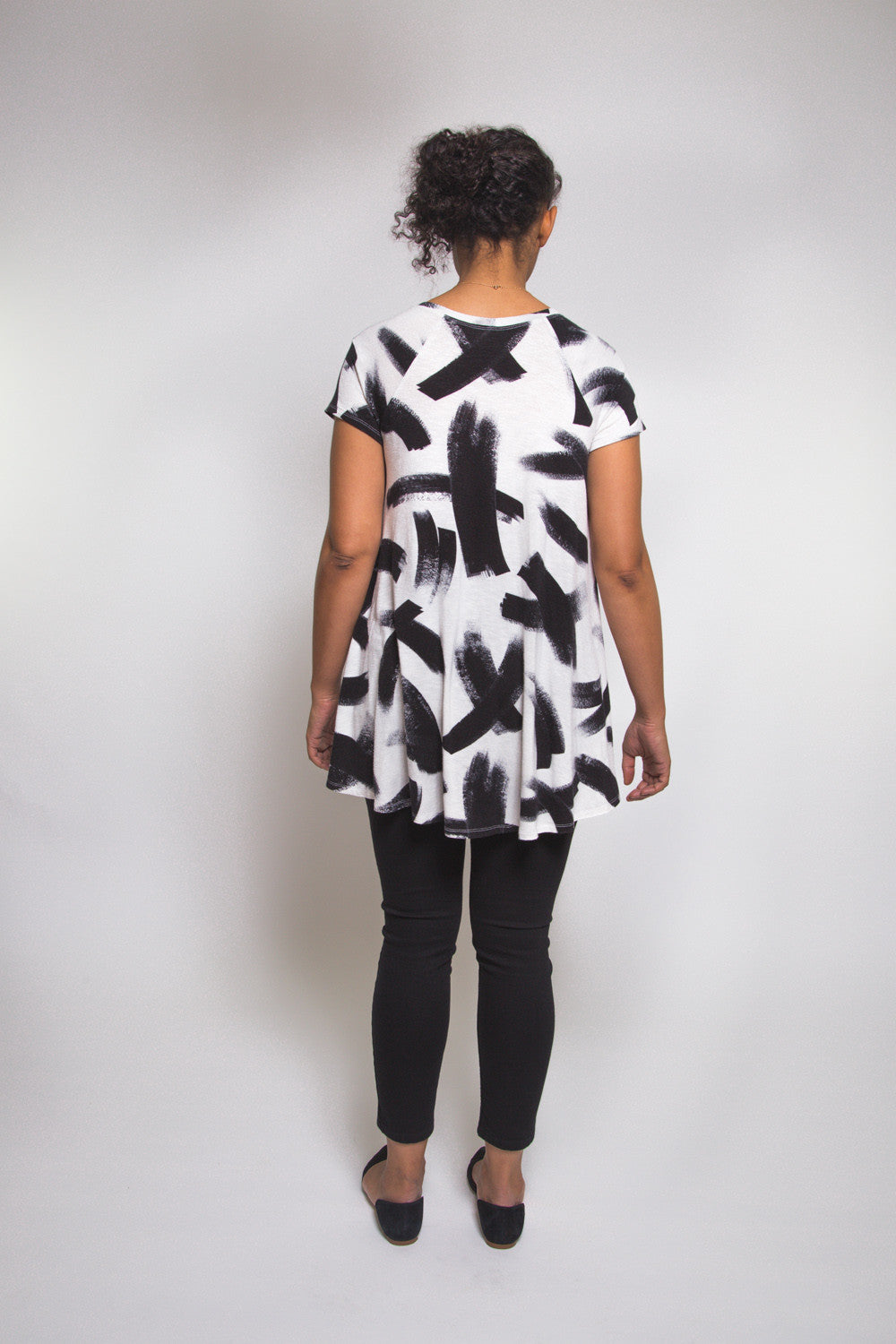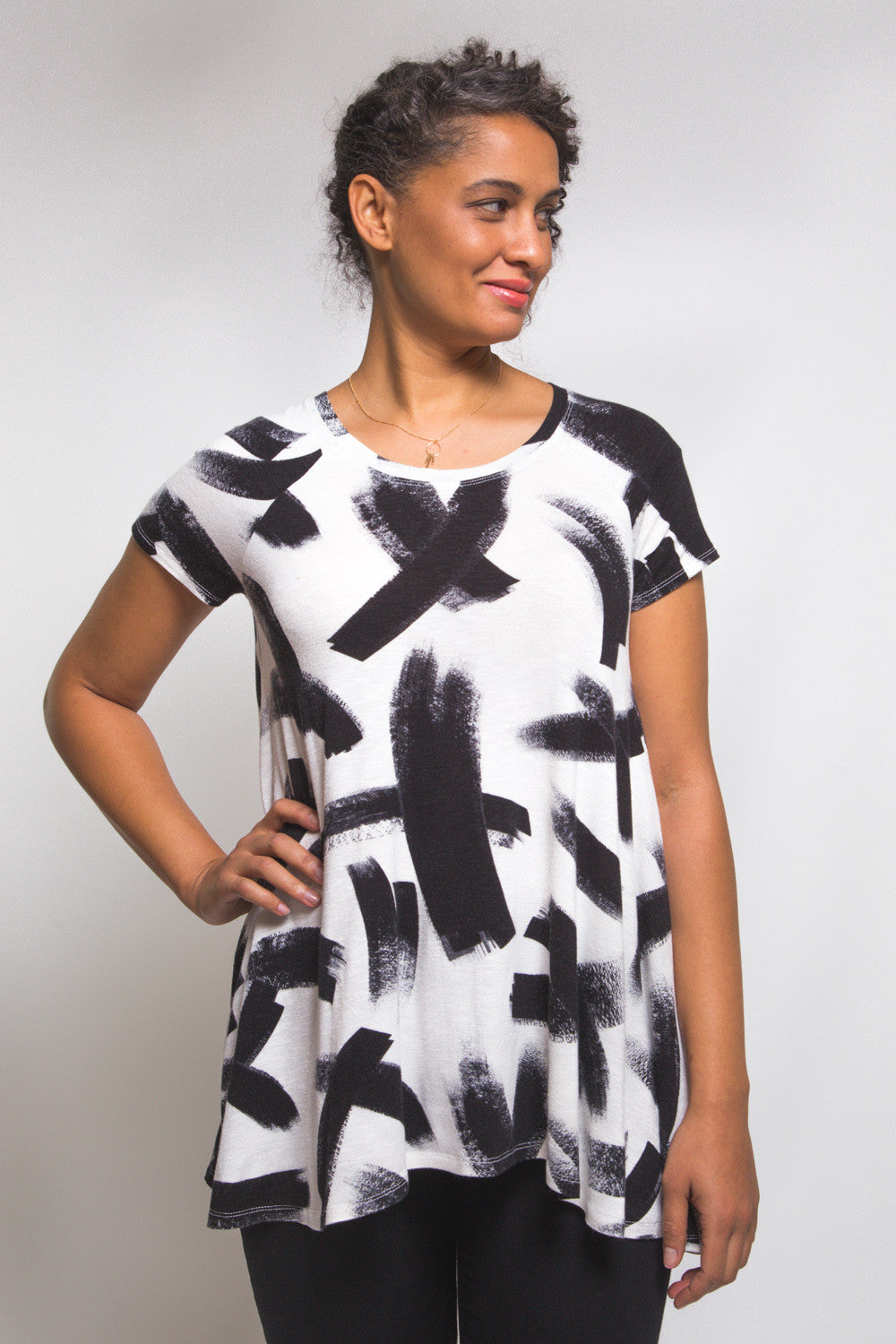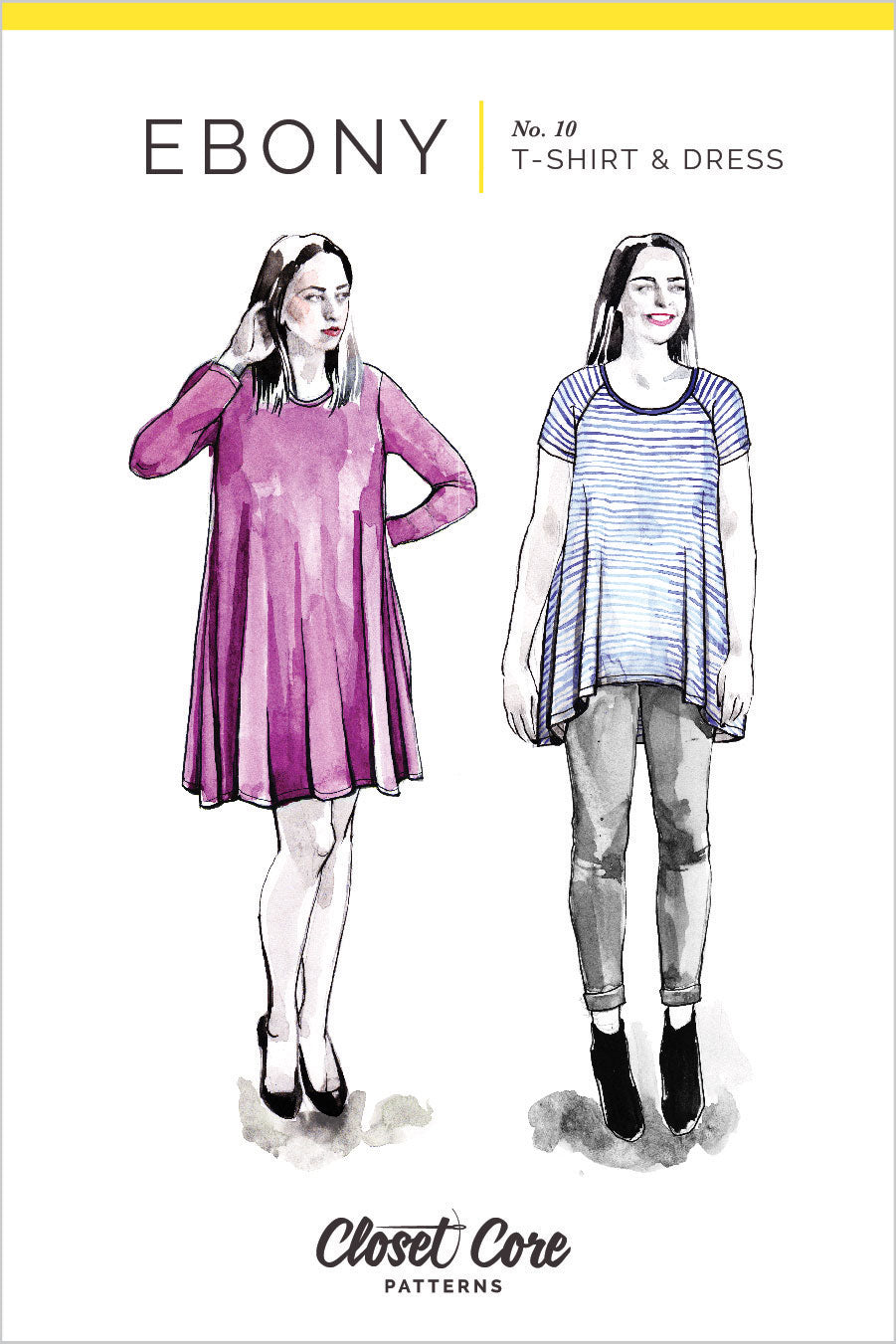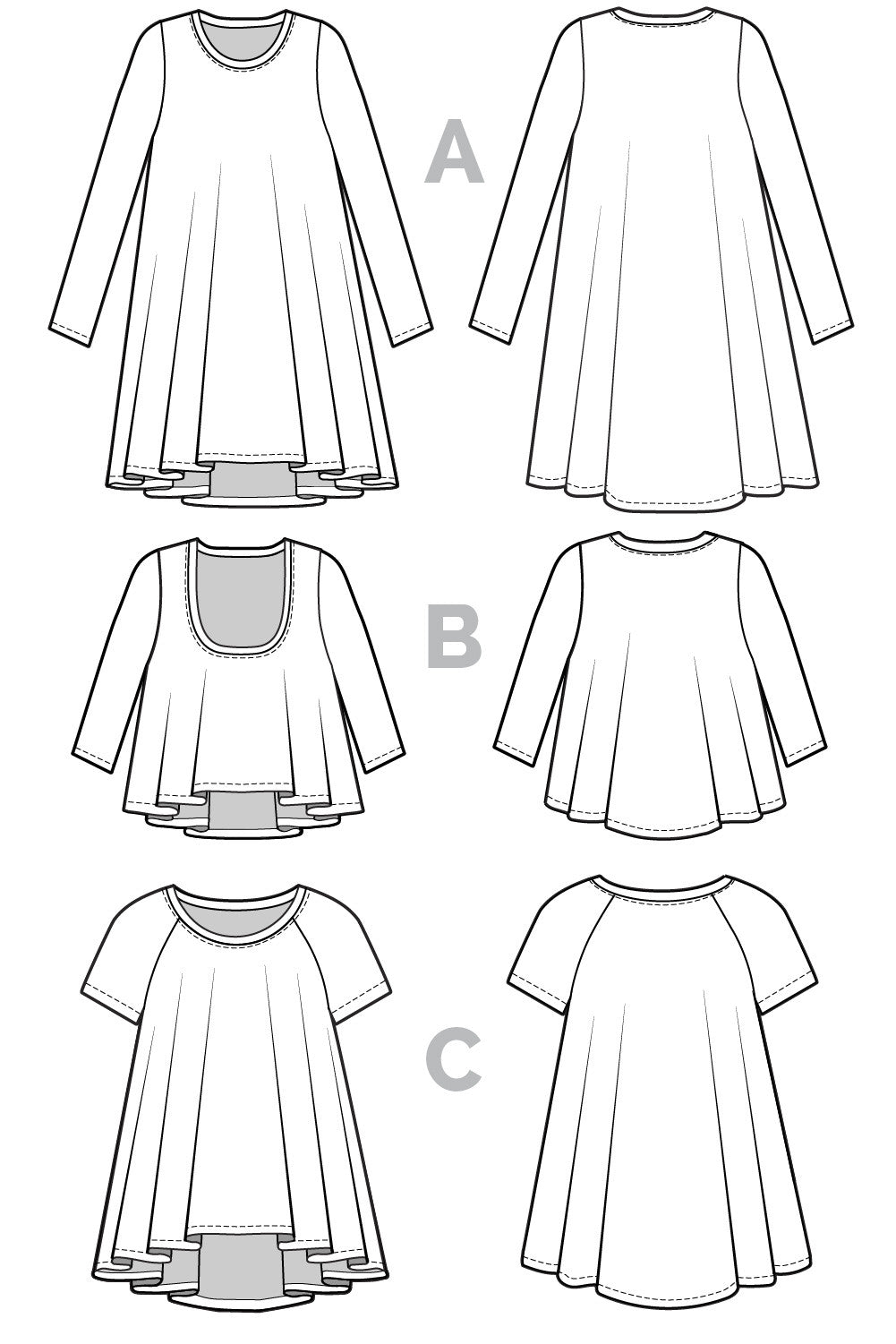 Ebony T-Shirt + Knit Dress Pattern
Details
Supplies
Sizing
Info+
An elegant basic featuring a fluidly draped silhouette, the Ebony Tee is a versatile wardrobe staple you'll want to wear every day.
Make a swingy knit dress or modern cropped top, with your choice of scoop or jewel neckline, and long or 3/4 sleeves. For the ultimate leggings companions, make an Ebony tunic, with a cascading hem and short raglan sleeves. All necklines are finished with a knit band.
Suggested Fabric
Make a fluid, drapey tee with light to medium-weight knits with at least 30% crosswise stretch, such as rayon, cotton, silk, merino & linen jerseys. A more sculptural Ebony can be made with sturdier fabrics like ponte and scuba knits.
Shop Perfect Match Fabrics
Yardage (sizes 0-20) - 58inch / 1.5 m wide
VIEW A ~ Sizes 0-6 = 2.25 yd (2 m), Sizes 8-14 = 2.5 yd (2.3 m), Sizes 16-20 = 2.5 yd (2.3 m)
VIEW B ~ Sizes 0-6 = 1.25 yd (1.2 m), Sizes 8-20 = 1.5 yd (1.4 m)
VIEW C ~ Sizes 0-12 = 1.75 yd (1.6 m), Sizes 14-20 = 2 yd (1.8 m)
Additional Supplies
Stretch or jersey needle
Polyester thread
1/4" wide clear elastic or twill tape to stabilize shoulder seams for Views A & B
Optional: double needle to finish hems
View our size charts
When purchasing a PDF pattern, all size ranges available are included with your download.
PDF File Details
Sizes 0-20
Sizes 14-32
Letter / A4
20 - 30 pages depending on view
Copyshop / A0
2.5 pages
Projector Files?
NO
Layered Files?
YES
FAQ
How do I print my PDF pattern?
All of our patterns come in a Letter/A4 format (for printing on a home printer) and 36"x48"/A0 format (for printing at a copyshop). Some patterns also come in a projector format. Please check the INFO+ tab under the description to see page counts and file formats available.
For more help printing and assembling our PDF patterns, please visit our PDF Printing Guide
How do I download my PDF Pattern?
First, we suggest creating an account in our shop so you can access all your files in one place at any time!
After you place an order, you will land on a page with a custom download link. You can download your pattern then, or use the link included in the order confirmation sent via email. If you don't receive a download link via email, please check your junk mail as it may have been rerouted (and add us to your safe senders list so it doesn't happen again!)
Am I charged for taxes?
All Canadians are charged GST and possibly PST depending on where they live in Canada. We do not charge taxes in the US.
Customers based in the EU and UK will also be charged VAT on all goods. Regulations have changed in recent years requiring VAT to be collected based on where the customer resides (and not where the company is located) so we are legally required to collect and remit VAT even though our company is based in Canada. You can read more about the VAT regulations here.
What currency will I be charged in?
Use the dropdown at the top of our menu to choose USD, CAD, AUD, GBP, or EUR dollars to view prices and checkout in the currency of your choice.
For AUD, GBP, and EUR currencies, the price you'll see is linked to the daily exchange rate between USD and your currency, which means prices may fluctuate. For our Canadian customers, we have established set prices that will not vary with exchange rates.
Shipping + Returns
Shipping
American customers: Packages in the US are shipped via USPS First Class and Priority Mail twice a week. Please allow 8 to 12 days for your parcel to arrive.
Canadian customers: Your orders are sent via Canada Post letter or parcel post. Please allow 8 to 12 days for your parcel to arrive, and wait up to 3 weeks before contacting us. 
International customers: Estimated delivery dates are listed below the shipping price when you checkout. We have two possible services. International First Class is for packages under 2 kilos and takes approx 10-40 days to arrive depending on your location. International Priority is a bit faster and should arrive at your destination in approx 8-20 days. Both services include tracking for *most* destinations.
Order tracking
Most shipping services we offer come with a tracking number. This will be sent to you via email you once the order has been processed in our warehouse.
Given the huge volume of mail and the challenges that the pandemic, holiday season, and environmental conditions impose on the performance of the mail service, we ask you to please be patient with the delivery of your packages, and get in touch after 3 weeks for Canadian and US shipments, and 6 weeks for international shipments.
If the above mentioned waiting times have elapsed, please message us about your delay. We'll be happy to work with you to figure out a solution.
Exchanges + Returns
For physical goods: We grant refunds for physical items like print patterns and kits if they are returned to us in sellable and unopened condition within 30 days of purchase. Please contact us prior to shipping back your order to make sure you are eligible for a refund. 
For digital goods: We cannot issue refunds on digital goods like PDF patterns and courses if they have been downloaded or watched. If you have not downloaded your file and would like a refund, please contact us.
From the Closet Core Community
Share on social with the hashtag #ClosetCoreEbony
Love it!
Not cheap, but easy, a great fit and really versatile. Great for successful, happy sewing.
Sassy Swing
This pattern sews together quickly, is flattering, versatile, easy, and hot flash proof. I altered the sleeves to elbow length and added bag pockets 4 inches below the bottom of the armhole for a Summer swing dress with the high neckline in an edgy mid century modern cotton Lycra print. Next I made a summer nightie with the low neckline in a Cotton spandex tie dye in pastel colors. I am planning to make a long sleeved/ pocketed version in black and off white bamboo Lycra that I'll wear in Autumn with black boots, in Winter with black velvet leggings, and next Spring with a white lace petticoat. I also want to make the low necked tee; I think it is loose enough at the bottom I can tie it when I do handstands in yoga to stay modest. (I almost always add pockets; it makes life so much easier.)
Ebony
Loved this pattern. Made a dress and a top out of super stretchy bamboo jersey. Easy fit and sew. Will definitely keep this pattern for more makes.
Not exactly haute couture, but very versatile.
This pattern is a basic that can be a 'go to' whenever you need a new anything: a top, a 'throw on' dress, a nightgown, a lounge garment, a maxi. I love it for its simplicity of design, its ease of construction, and its adaptability to many different kinds of fabrics. You can even make it as a gift without worrying about whether or not it will fit the gift recipient. In my opinion this pattern is well worth the price tag.
Ebony T Shirt
Fantastic pattern, I made the tunic and love how it turned out. The instructions were clear and easy to follow and the garment turned out perfectly with no modifications required. I especially liked the blog notes which showed how to add long sleeves to the tunic.