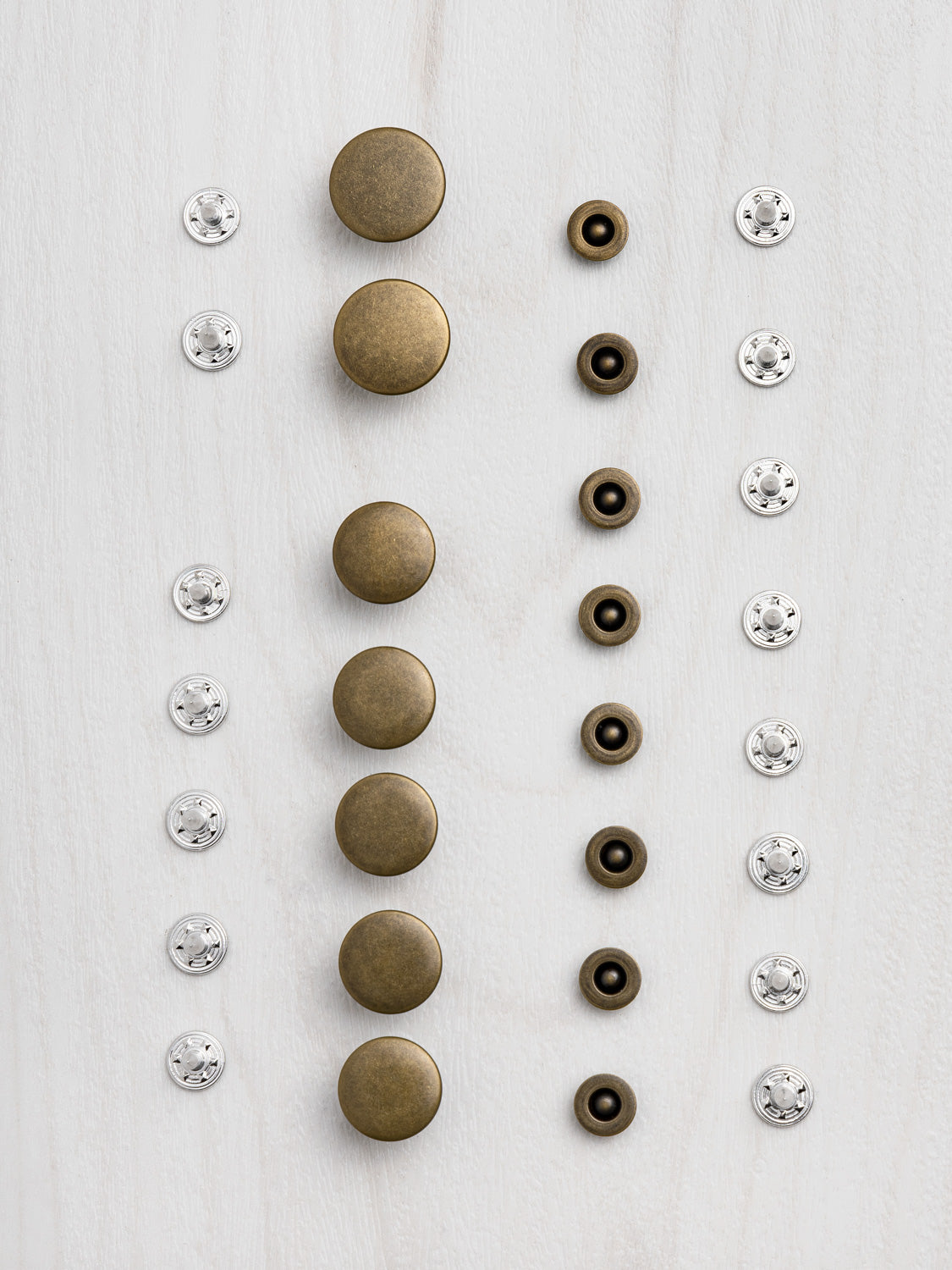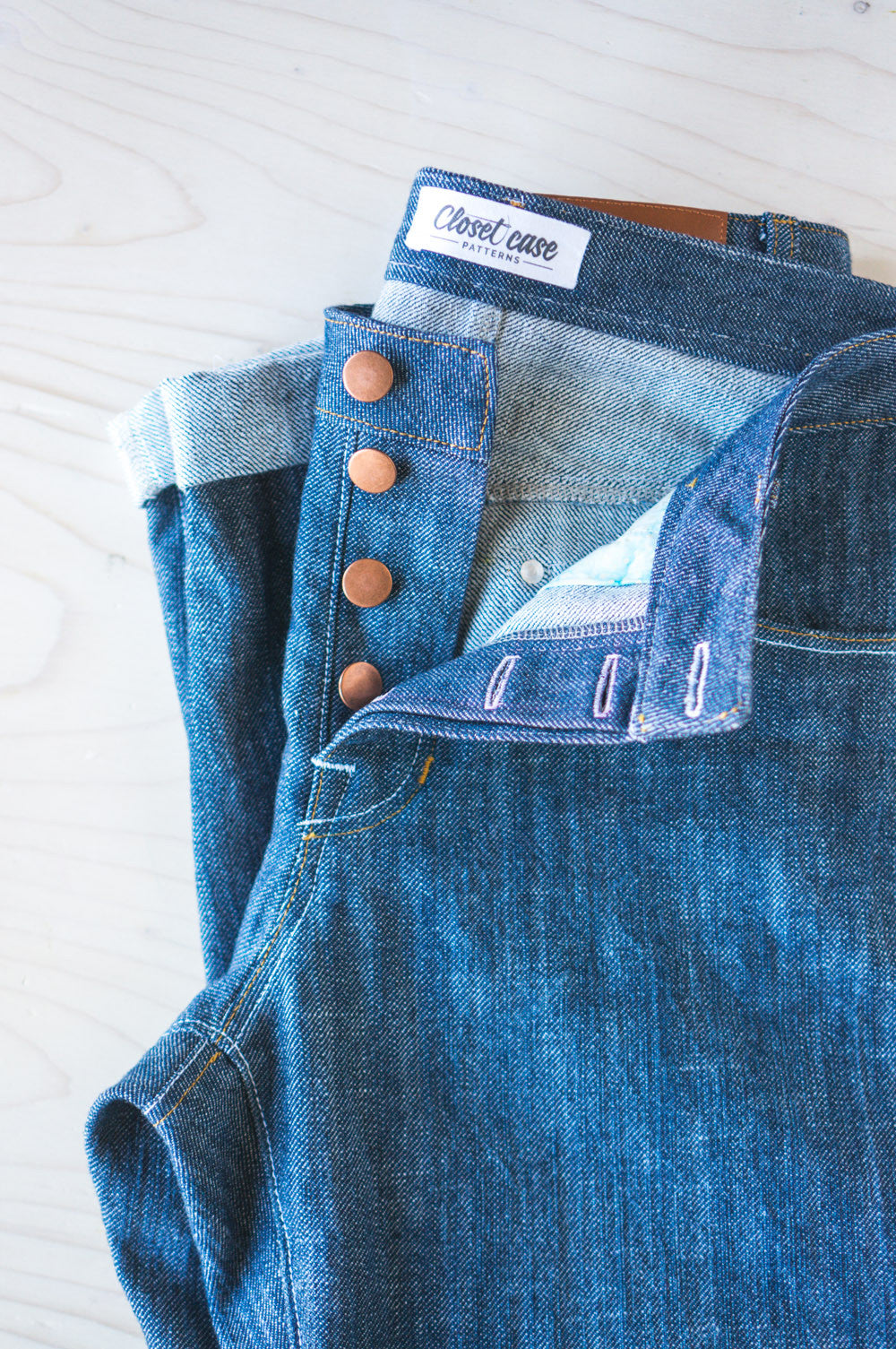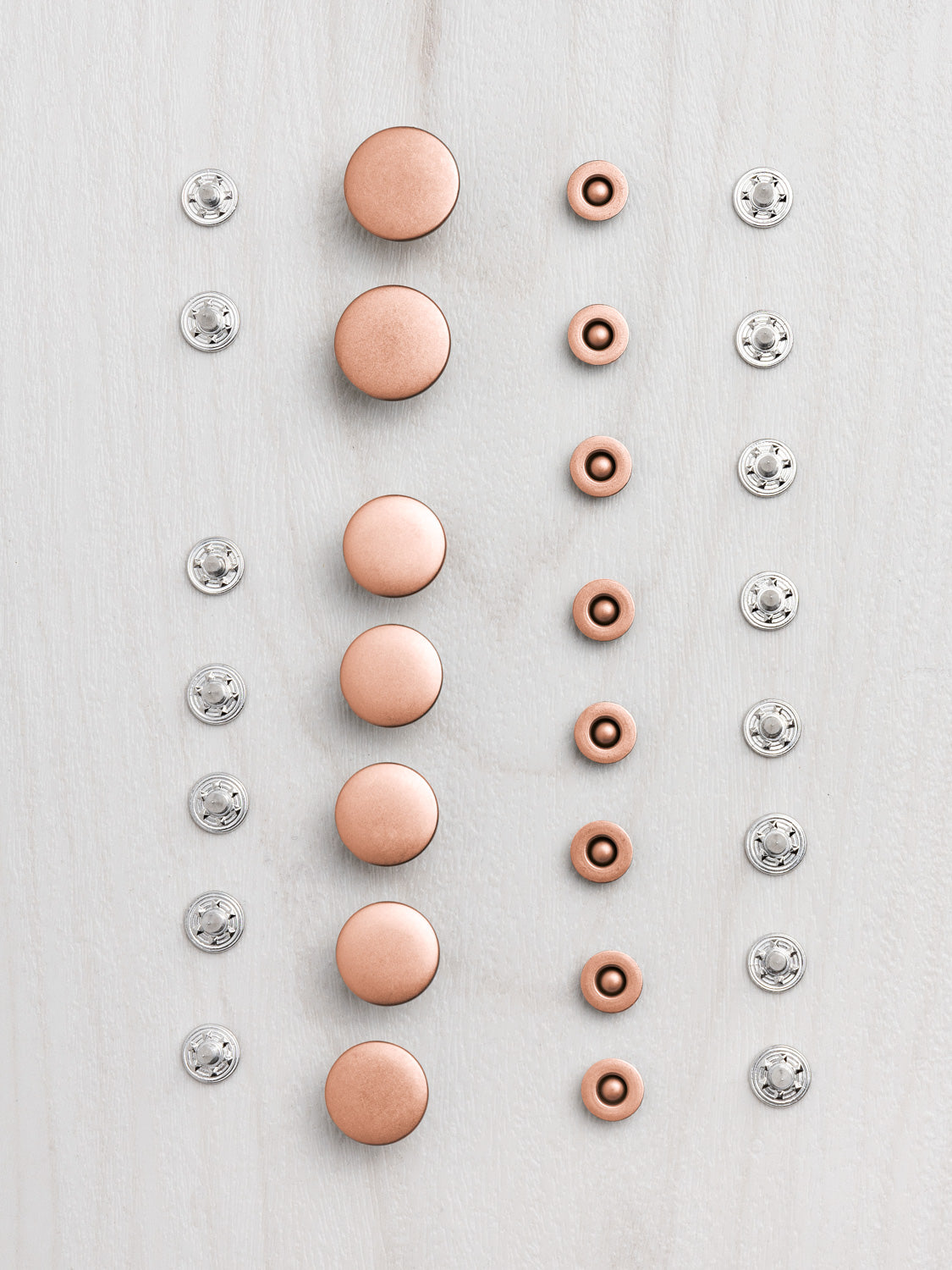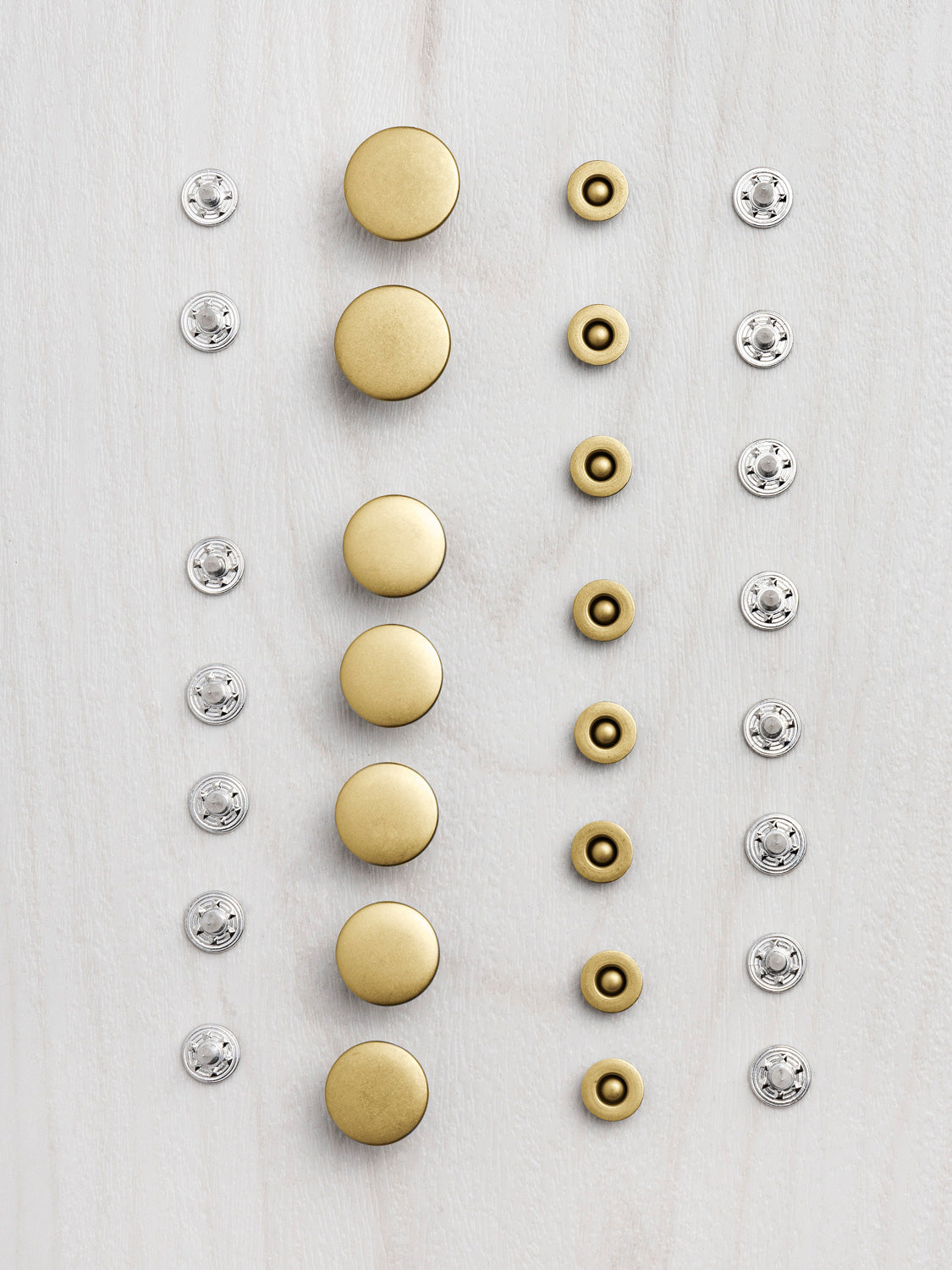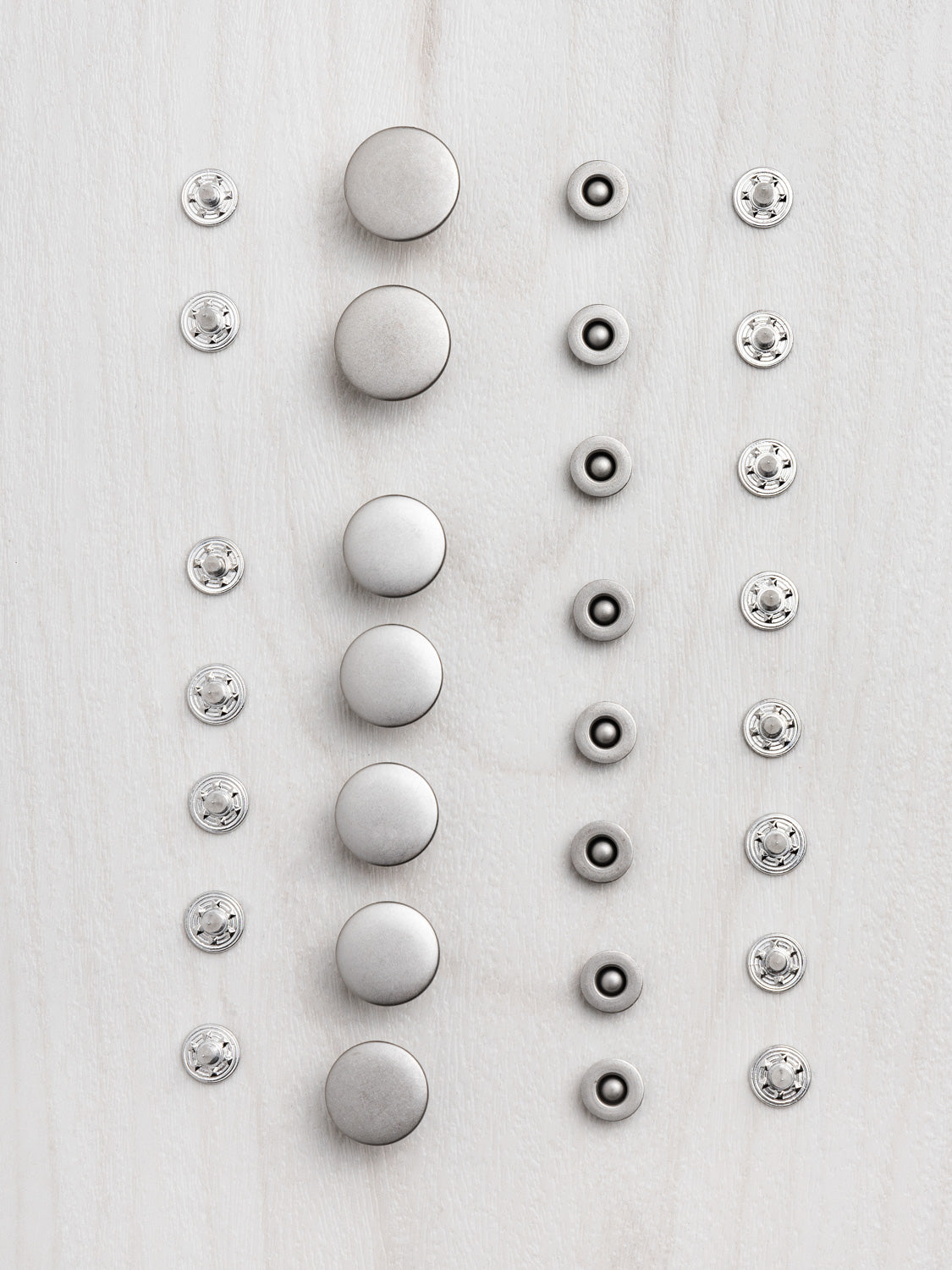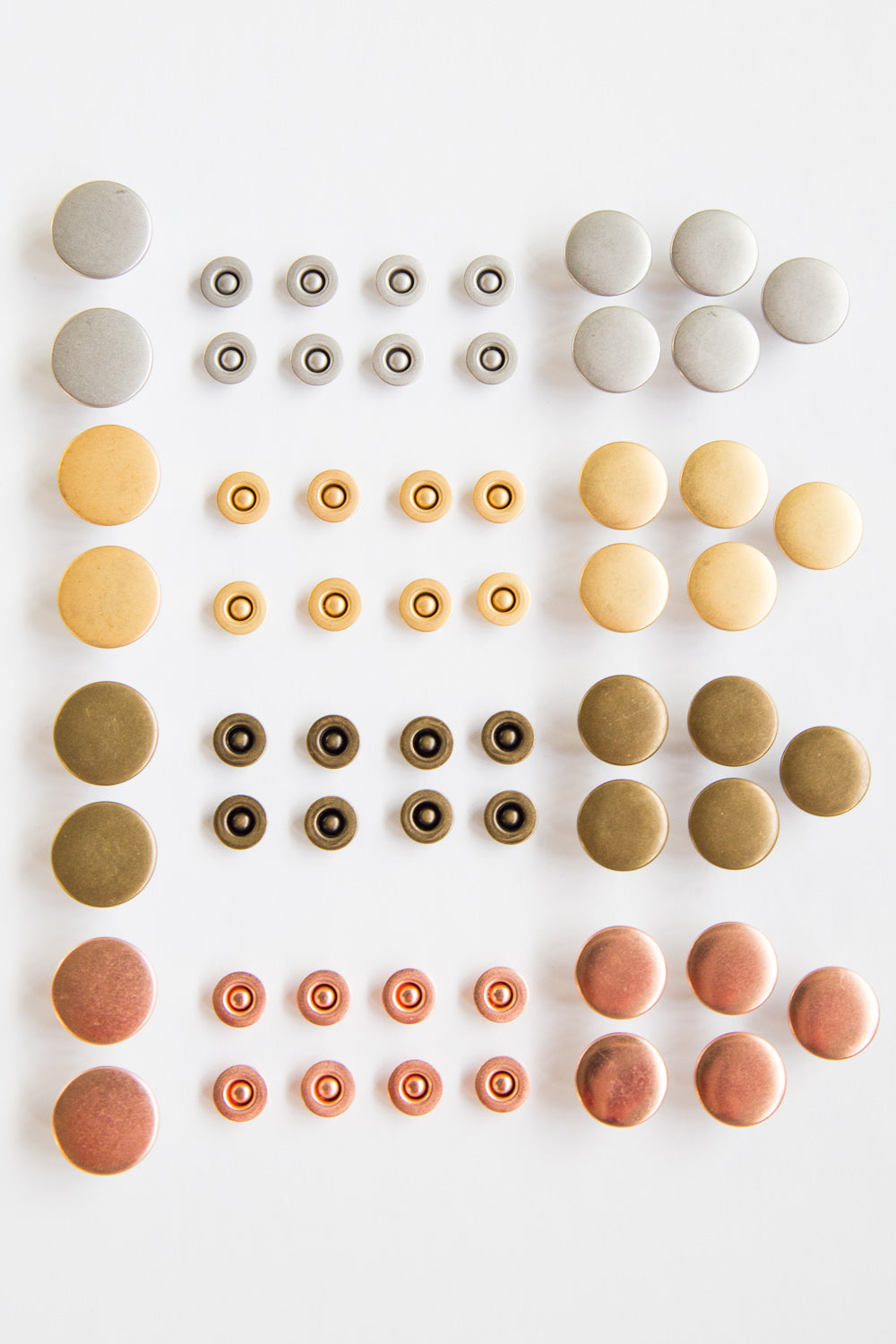 Button Fly Jeans-Making Kit
Details
Supplies
Sizing
Info+
Sourcing everything you need to make jeans can be a pain; get all the jeans hardware you need to make a pair of Morgan Boyfriend Jeans or Ginger Skinny Jeans in one simple kit!
This notion kit for button fly jeans includes:
8 x rivets in your choice of copper, gold, antique brass or nickel
2 x 17mm jeans button in your choice of copper, gold, antique brass or nickel
5 x 15mm "button fly" buttons in your choice of copper, gold, antique brass or nickel
Please note we've included enough hardware for practice installation and there are no needles included with this kit.
View our size charts
When purchasing a PDF pattern, all size ranges available are included with your download.
At this time, only sizes 0-20 are available in print format.
PDF File Details
Sizes 0-20
Sizes 14-32
Letter / A4
Copyshop / A0
Projector Files?
Layered Files?
FAQ
How do I print my PDF pattern?
All of our patterns come in a Letter/A4 format (for printing on a home printer) and 36"x48"/A0 format (for printing at a copyshop). Some patterns also come in a projector format. Please check the INFO+ tab under the description to see page counts and file formats available.
For more help printing and assembling our PDF patterns, please visit our PDF Printing Guide
How do I download my PDF Pattern?
First, we suggest creating an account in our shop so you can access all your files in one place at any time!
After you place an order, you will land on a page with a custom download link. You can download your pattern then, or use the link included in the order confirmation sent via email. If you don't receive a download link via email, please check your junk mail as it may have been rerouted (and add us to your safe senders list so it doesn't happen again!)
Am I charged for taxes?
All Canadians are charged GST and possibly PST depending on where they live in Canada. We do not charge taxes in the US.
Customers based in the EU and UK will also be charged VAT on all goods. Regulations have changed in recent years requiring VAT to be collected based on where the customer resides (and not where the company is located) so we are legally required to collect and remit VAT even though our company is based in Canada. You can read more about the VAT regulations here.
What currency will I be charged in?
Use the dropdown at the top of our menu to choose USD, CAD, AUD, GBP, or EUR dollars to view prices and checkout in the currency of your choice.
For AUD, GBP, and EUR currencies, the price you'll see is linked to the daily exchange rate between USD and your currency, which means prices may fluctuate. For our Canadian customers, we have established set prices that will not vary with exchange rates.
Shipping + Returns
Shipping
American customers: Packages in the US are shipped via USPS First Class and Priority Mail twice a week. Please allow 8 to 12 days for your parcel to arrive.
Canadian customers: Your orders are sent via Canada Post letter or parcel post. Please allow 8 to 12 days for your parcel to arrive, and wait up to 3 weeks before contacting us. 
International customers: Estimated delivery dates are listed below the shipping price when you checkout. We have two possible services. International First Class is for packages under 2 kilos and takes approx 10-40 days to arrive depending on your location. International Priority is a bit faster and should arrive at your destination in approx 8-20 days. Both services include tracking for *most* destinations.
Order tracking
Most shipping services we offer come with a tracking number. This will be sent to you via email you once the order has been processed in our warehouse.
Given the huge volume of mail and the challenges that the pandemic, holiday season, and environmental conditions impose on the performance of the mail service, we ask you to please be patient with the delivery of your packages, and get in touch after 3 weeks for Canadian and US shipments, and 6 weeks for international shipments.
If the above mentioned waiting times have elapsed, please message us about your delay. We'll be happy to work with you to figure out a solution.
Exchanges + Returns
For physical goods: We grant refunds for physical items like print patterns and kits if they are returned to us in sellable and unopened condition within 30 days of purchase. Please contact us prior to shipping back your order to make sure you are eligible for a refund. 
For digital goods: We cannot issue refunds on digital goods like PDF patterns and courses if they have been downloaded or watched. If you have not downloaded your file and would like a refund, please contact us.
Sturdy and beautiful
After using the jeans buttons kits from Dritz, I was ready to try something a bit sturdier. This hardware set from Closet Core was very sturdy, easy to install, and just beautiful!
Perfect
Close Core's Jeans Making Kits are well made, robust and available in a good range of colours. I bought (and used) both the button fly and zipper sets both of which come with sufficient buttons and rivets to have a practice go (or a failed attempt) to install them and still have enough to complete the project. Although I live in the UK, I chose to order from Canada because these rivets are solid and therefore easier to install and, as I purchased several sets at once, were actually cheaper than the leading brand available in UK. Although I had to wait a little while for them to arrive, the postage was very reasonable.
Love the kits!
I love your jeans patterns and really appreciate the button fly kits. I just finished my first pair of Morgan jeans, and the quality of the hardware helps make the jeans special. I'll keep ordering! Thanks!
The only jean buttons you'll ever need
These are the only jean buttons I buy. High quality and love the choices in finish!
Button Fly Morgan Shorts
Button Fly Kit was exactly as advertised. My first time making the Morgan pattern, so I decided to start with cuffed corduroy shorts for my daughter. They came out great. I was glad to watch the installation tutorial that came with the pattern, otherwise I would not have known to clip off the pointy end before hammering on the rivets.
Perfect!
Look great and are very easy to install.